Review: 'Three Billboards' Director Martin McDonagh Brings Play 'Hangmen' to New York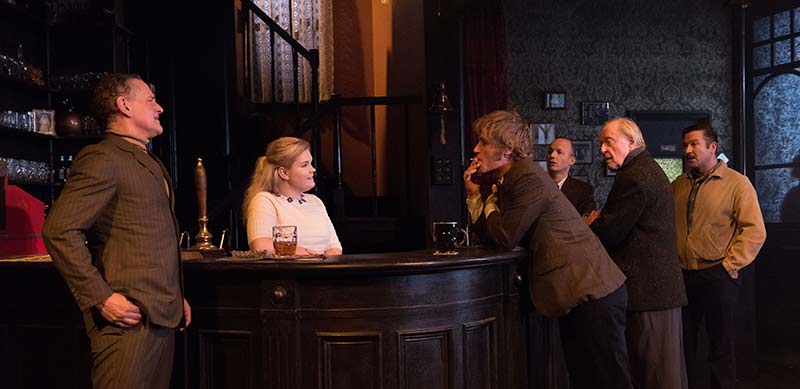 It isn't hard to imagine that somewhere in Martin McDonagh's attic there is an appallingly bad script with putrefied pages, because thus far, even his flawed work is compelling when counterbalanced against that of anyone but himself. Going back to the first McDonagh play this reviewer saw, The Lieutenant of Inishmore, it seemed as if whoever was responsible for writing this black and bloody Irish sectarian escapade must be a) a prospective if not frustrated filmmaker, possibly with a strong disregard for the conventions of theater, b) the possessor of punk sensibilities and c) far from cultivated or dulled by theatre school training. Further investigation confirmed these suspicions but the content of McDonagh's output over the years has been far from predictable. Unemployed at 24, he wrote half a dozen hit plays in under a year. His venture into writing and directing films produced Oscar-winning short Six Shooter followed by the feature-length In Bruges, Seven Psychopaths and the current Oscar contender Three Billboards Outside Ebbing, Missouri. McDonagh has reclined back into his theater seat with Hangmen, currently playing at the off-Broadway Atlantic Theater (home to earlier pre-Broadway McDonagh plays including The Cripple of Inishmaan) after a successful hit and run in London. While the bulk of his previous plays have looked at a remote and rustic Ireland from a second generation slant, in McDonagh's case London-Irish, Hangmen is set in Oldham, Northwest England in the mid-1960s. But like Ireland, Great Britain's segments differ and scuff with the kind of complexity and animosity that holds tight in any ancient populace. McDonagh has taken this age-old discord and dangled it from the gallows pole.
Hangman Harry Wade (Game of Thrones' Mark Addy) and his stuttering assistant Syd (The League of Gentlemen's Reece Shearsmith) struggle with Hennessy (Gilles Geary), a young prisoner who isn't about to have his neck broken without a fight (Harry: "I know you're a good lad." Hennessy: "Then why the fuck are you hanging me for then?"). Flashing buzzing striplights mark the card-flip scene change into Hangmen's central environment, Harry's pub, which his tolerant wife Alice (Sally Rogers) and shy teenage daughter Shirley (Gaby French) help run. It is 1965, two years after Hennessy's execution, the year that Britain has done away with capital punishment. Harry is peeved that his legacy is that of the second most famous hangman in England. His rival, the first hangman of England, also a publican, is Albert Pierrepoint (Maxwell Caulfield). Incidentally, the real Albert Pierrepoint, the freelance hangman of hundreds including some of the most notorious names in British crime (guilty or not) that spawned plays and films of their own, ran a pub under the delightfully incongruous moniker, Help the Poor Struggler. Harry is a self-styled cock (a word that pops up in Hangmen wherever it can find an opening) of the north, as in the hardman of his area, used to ribbing, intimidating and rewarding his half-cut regulars, Inspector Fry (David Lansbury), Charlie (Billy Carter), Bill (Richard Hollis) and Arthur (John Horton) with on the house pints. "Hanging's too good for 'em," says boozy Bill, lending fresh absurdity to a common English saying.
Enter Mooney (Johnny Flynn), an aloof modish young man from London and a doff of the cap to Joe Orton's Mr Sloane. Flynn plays Mooney to perfection with just enough seesaw villainy and likely lad nerve to keep you guessing as to his motives. His presence in the pub maximizes the north-south divide. He is the epitome of everything that Harry detests about what is modern and beyond his territory (Harry: "London are ya?" Mooney: "Round that way." Harry: "Well you either are or you aren't.") Harry fancies himself as a community pillar for his part in the country's former justice system. There is blood lust in his boastfulness. The mention of number one hangman Pierrepoint by newspaper reporter Clegg (Owen Campbell), snooping around the newly disenfranchised executioner, is Harry's cue to brag and blast in an interview. Commenting on the two-hundred Nazis hanged by Pierrepoint after the Nuremberg trials, he says, "They do what they're told don't they, they follow orders." Harry's interview together with his daughter's sudden disappearance triggers a sequence of plot twists that unravel into futile justifications for petty revenge.
The exceptional cast, gamely directed by Matthew Dunster, triumph in anguish and comedy. When Syd performs a clumsy chair stunt to conceal ghastly suffering, it is a moment of after-dark Buster Keaton hilarity. Anna Fleishle (scenic and costume design) and Joshua Carr's (lighting design) pub interior is so convincing in its aesthetic and atmosphere that the audience may as well be dipping into pints of mild and peanuts while casually listening in on their fellow regulars. It is a homely nostalgic setting for anyone that knows it, perhaps a dreary one for those who don't, but its veracity is such that it fortifies the McDonagh trait of being violently funny. Hangmen tugs at the rotten business of retribution at the same time as eliciting unrepentant laughter. It may be McDonagh's best play yet.