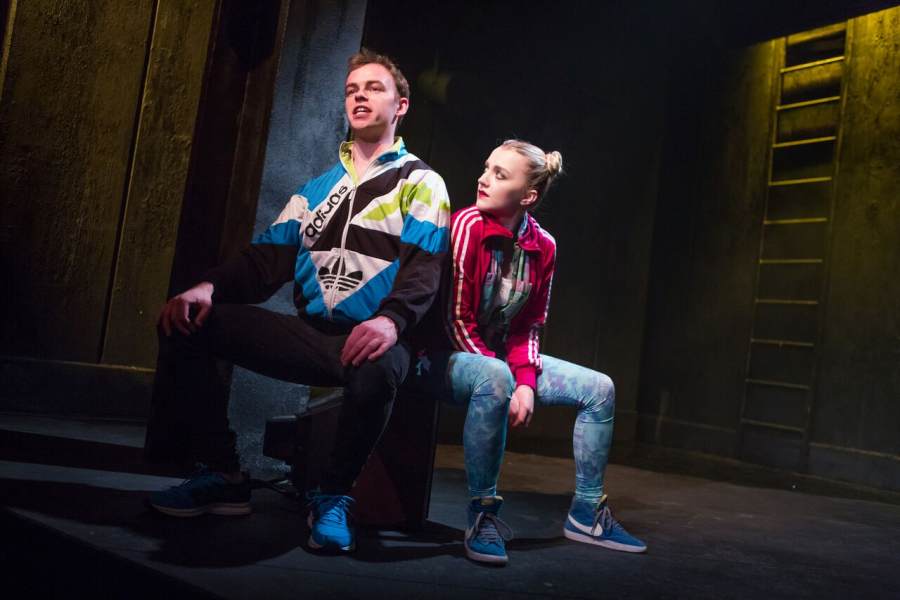 "What do we want to be?"
This is the central question asked by the character Runt in Enda Walsh's Disco Pigs. Runt was born in the same hospital at the same time as her best friend, Pig, with whom she has through childhood built an inseparable bond—indeed, more than a bond, practically a world unto themselves. It's a world in which Cork City becomes Pork City and the dialect thereof mutates into a language wholly that of the two friends. They invent their own games and routines-cum-rituals involving drinking, fighting and television. But with the approach of their seventeenth year, and accompanying sexual awakenings and dawning awareness of love, and different kinds of love, Runt begins to wonder what might lie outside the world they have constructed for themselves and to yearn for her own individuality apart from Pig.
Rightfully beginning with a scene of birth, Disco Pigs is a play about excisions, often violent ones at that. As Pig and Runt, who have through their lives acted almost as one organism, are torn out of childhood, they find themselves for really the first time harboring conflicting desires that push them into a kind of second birth; that tear them out of the womb of imagination and childhood friendship into new worlds and experiences necessary for the creation of themselves as individuals. The alternative would be a kind of death inside of each other.
With cultural references such as those to Baywatch, the Provisional IRA, and certain music, Disco Pigs is very much rooted in a specific time and place. But its themes and sentiments are universal and will resonate with anybody who has ever had to tear themselves away from something or someone they loved for the sake of preserving not only one's self, but the object of that love as well.
Directed by John Haidar, Walsh's Disco Pigs, is running in a funny, highly affecting and tightly fashioned 20th anniversary production at the Irish Repertory Theatre. Colin Campbell and Evanna Lynch, who play Pig and Runt respectively, prove themselves impressively adept at handling the relatively difficult material. The language used by the two friends in the play is not only grammatically unique and verbally strange, but it also frequently moves at a breakneck speed. They don't miss a beat. On top of that the actors are required to be almost constantly running around the stage, dancing, fighting, and tumbling. Campbell in particular marries word to movement with a rare naturalness, and, especially in the scenes set in the discos, exhibits a physical fluidity that is at once frenetic yet controlled. Lynch shines more in the quieter moments, when she asks questions like "What's the color of love, Pig?" In these moments she shows in her character a hidden tenderness that is increasingly suffocated by the amalgamation with her unintentionally smothering, frightened friend. With skillful lighting design, directing well-tuned to the script, and the performances of Campbell and Lynch, this production of Disco Pigs crafts a dizzying swirl of emotions that begs the question of all: "What do we want to be?"
The 20th Anniversary of Disco Pigs runs at the Irish Repertory Theatre through February 18th.