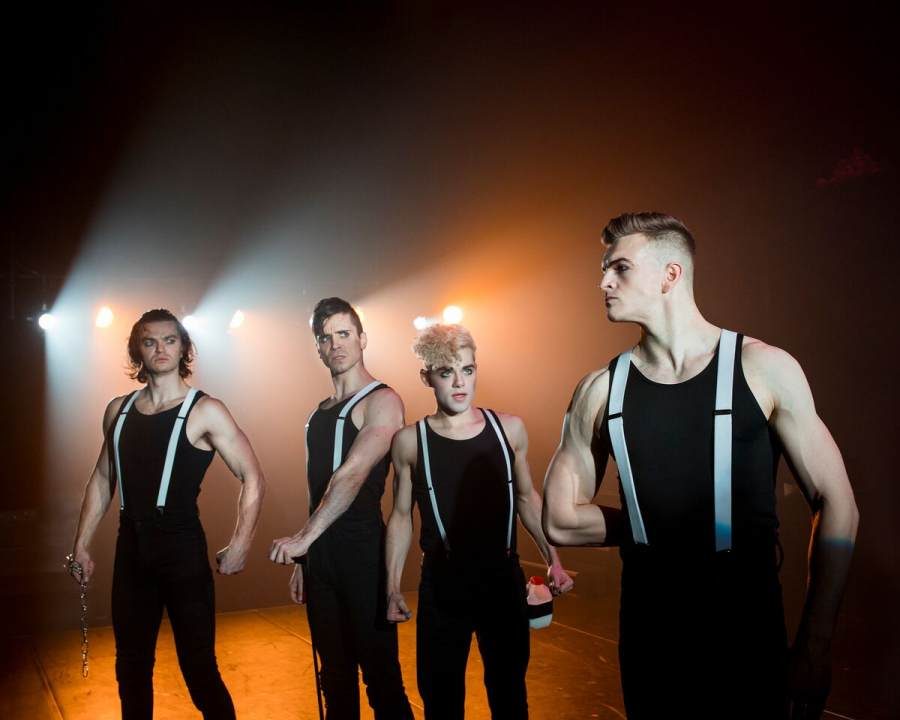 "What's it gonna be then, eh?"
Well well well, one scenario could be a Hi-NRG music video featuring the dancing droogs. Another, the once seen never forgotten Pacino movie Cruising. Such associations spring to mind while watching Liverpudlian director Alexandra Spencer-Jones' all-male production of A Clockwork Orange, now in its 8th year of international touring with her Action to the World theater company. But the hookup to such references may have been triggered by Frankie Goes to Hollywood's Relax, an anticipated component of the the play's jukebox soundtrack (which includes Bowie and Placebo), one to rival Master, then Mistress of the Moog synthesizer, Walter (now Wendy) Carlos' A Clockwork Orange film score. Spencer-Jones, faithful to Anthony Burgess' 1962 novel, has made a wise move in evading Stanley Kubrick's intergenerational must-see 1971 film adaptation. Instead, she has opted for lassoing Burgess' teen-speak Nadsat dialect with as much nimble, combative choreography as the pumped-up cast of nine can generate.
Our antihero Alex deLarge (Jonno Davies), an adroit 15-year-old Beethoven fanatic and his three droogs, Pete (Misha Osherovich), Georgie (Matt Doyle) and Dim (Sean Patrick Higgins), nourish themselves with drug-laced milk before committing savage acts of rape, theft and murder without fear or care for consequences. Such are the wanton concessions of youth whose comedown equates to "feeling a bit shagged and fagged and fashed…" But there are indeed consequences for little Alex and despite the "probationary glance" from his post-corrective advisor Mr. Deltoid (Timothy Sekk), he is sentenced and incarcerated. Alex serves his time until the Minister of the Interior (Ashley Robinson) makes a move to "kill the criminal impulse" with a new aversion experiment, the Ludovico Technique, a process by which the impulse to fight and fornicate is met with extreme nausea. Now a political pawn, Alex undergoes treatment by watching a series of violent film clips. "Films are real horror show. I want to viddy," he says, seduced by the Pavlov's Dogs method until he comprehends that he can never again listen to the incidental musical accompaniment without vomiting. "He did no harm. Why did you punish him?" Alex screams at the doctor. "Who?" "Beethoven!"
Upon release from prison, unable to listen to his beloved Ludwig Van and physically repulsed by all that previously excited him, Alex accidentally finds himself at the home of Frank Alexander (Brian Lee Huynh), a writer and activist whose life he destroyed prior to his jail term. "To turn a decent young boy into a piece of clockwork…." bewails Alexander who is politically opposed to the bar on the freedom to choose.
It is the cast that provides the striking aesthetic against a near-naked set. Casual observers of the play can marvel at the sinewy, shirtless, Lego-abdominal wonder of it all. But at times, it is their exuberant buoyancy that challenges the notion of whether this version of droog mishaps should necessarily be avoided on a dark night. Nonetheless, they are a tight band of bromancing brothers. Other than Brit Jonno Davies who has played Alex deLarge for a number of years, the rest of the new American cast, including Aleksander Varadian and Jimmy Brooks, play multiple roles. At its very best, Spencer-Jones' A Clockwork Orange shows us the jubilance in ferociousness, the uncultivated young adult kicking off adolescence, redemption through the passing of time and the precarious business of how to convey rape, molestation and beating the yarblockos off each other via the medium of movement. It is a fact that the physical precision executed here is inventive and impressive.
The question Burgess posed 55 years ago as to whether it is better to be freely bad or conditioned into artificial goodness has never been timely. Instead, it is an unceasing topic that each generation continues to investigate via Burgess' novel, Kubrick's film and now, given its long-running success, Action to the World's contemporary stage play.