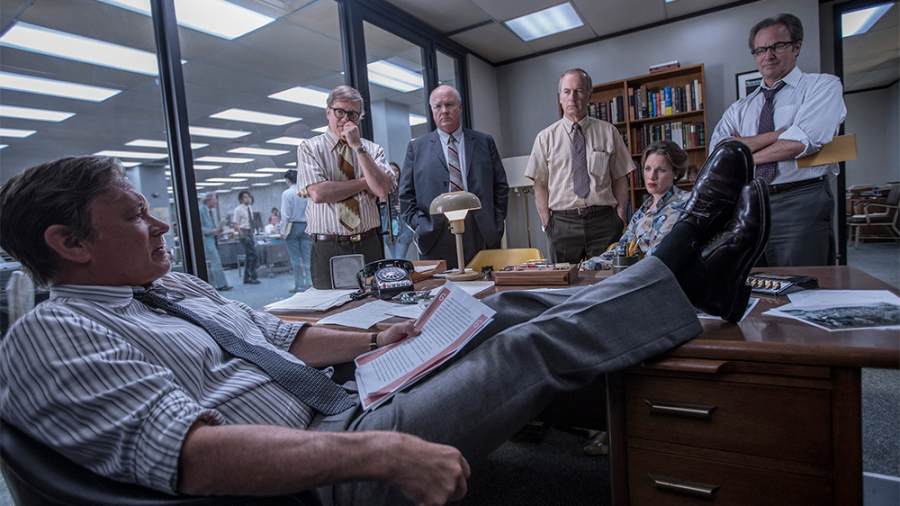 The Pentagon Papers detailed a decade and a half of US presidents willfully continuing the Vietnam War, despite each successive administration believing it to be a defeatist failure. The New York Times were the first to print excerpts. Under Nixon, the Attorney General charged them with having violated the Espionage Act and an injunction followed. The Washington Post were quick to pick up on the the story and obtain the papers in full. Steven Spielberg's The Post focuses on this publishing speed race and the principled courage of the free press in the face of imperious political opposition. If the scenario sounds familiar, it's meant to.
As with Lincoln and Saving Private Ryan, Spielberg lands us in the thick of sodden blood and earth warfare, but up close Vietnam War conflict is merely the scrim for Rand Corporation's Daniel Ellsberg's (Matthew Rhys) brief arc of intent. Employed under Defense Secretary Robert McNamara (Bruce Greenwood), he gathers McNamara's vast array of classified documents, designed as a historical reference compendium for the government and makes copies with the aim of releasing all to the public. With slipping sales and a White House ban on covering Tricia Nixon's wedding, The Washington Post's first female publisher Katharine Graham (Meryl Streep) is at loggerheads with executive editor Ben Bradlee (Tom Hanks) over the fate of the paper. Following The New York Times' scoop, assistant managing editor Ben Bagdikian (Bob Odenkirk) seeks out Pentagon whistleblower Ellsberg and gets the goods. Herein, Bradlee and Graham must decide upon truth-will-out integrity versus peril to the paper and potential jail time, before the Nixon administration can extend its injunction on the grounds of collusion with The New York Times.
Hanks' Bradlee, reminiscent of Clark Gable's newspapermen roles, is a sardonically charming man with an inviolable moral compass. His riposte to a journalist who says he'll have an urgent piece written up by Thursday is, "Well, what if we pretend you're a journalist and not a novelist." The Bradlee/Graham relationship has an old-fashioned caper feel. Though they may bicker and disagree, their respect and admiration for one another is visible even through the smoky black lung 1970s haze. We have come to expect Streep's skillfulness at duality; she betrays Graham's courtly exterior with bewilderment behind the eyes. With helmet hair and pointed gaze, she looks a lot like Streep-does-Thatcher in The Iron Lady, but internally, she plays Graham's uncertainty to perfection. That Hollywood tic of rewarding Streep with shiny objects is not for nothing.
The cream of the acting crop will always accept a casting invite from Spielberg, but other than a brief scene in which Sarah Paulson as Bradlee's wife Tony, takes him down a peg for not seeing eye to eye with Graham, she is limited to a sandwich-serving wifey role, a missed opportunity for a lesser known actress capable of making just as many sandwiches with less star quality panache. Other known actors turn up with a line here and there, less like cameos than underutilized mushroom pop-ups. As well as being a barbed swipe at Trump, The Post genuflects to the knocked-down and up-again female fall-out with 2017. Graham may be overlooked by the Post's male-dominated boardroom but by the film's close, she faces a sea of admiration from female onlookers. Moments like this, though understood and appreciated, jar - as the camera paddles a little too long in aspirational luster; a Spielberg trait in otherwise masterful cinema.
The Post's co-writer Josh Singer also co-wrote Spotlight, another account of the press taking on a murky super power. The difference here is that Spielberg took this screenplay and ran it in the opposite direction of last November's ballot results. His fast footprints are all over the film and its timely relevance is calculated in its references to the clandestine and erroneous dealings of the Trump administration.  Filming occurred during mid-2017, while the final cut occurred only last month. The burnished browns of The Post's turn of the seventies aesthetic appear like a wistful shadows in comparison to the blinding 2017 that this earlier era points at. Longtime Spielberg collaborator, Janusz Kaminski, choreographs his cinematography like a cub reporter, lowdown and listening in with risk and trepidation. Another long standing Spielberg ally, John Williams, tones down his trademark soaring theme music (probably because he didn't have enough time) and opts instead for the subtle augmentation of short scenes. The Post is a forthright film with a mission that segues breathlessly into Watergate. But for those habitual Spielberg moments of dewy-eyed, sentimental string-pulling, it is a resilient, well-played "resistance" tribute and call to arms to the first amendment.