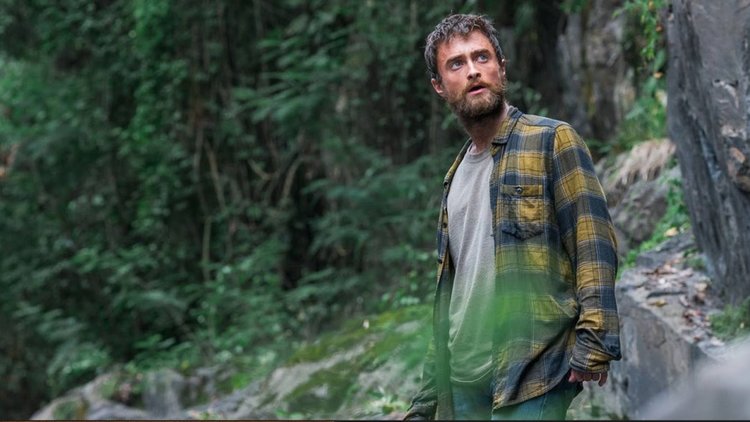 Those who enjoy roughing it may not be suited to the hotel and pool package vacation, but it's not such a bad place to lay the holiday head when compared with the monkey dining, snake flinging, forehead-full-of-worms tribulations of Jungle. Getting a good night's sleep on this hellish backpackers ordeal, a theme revisited by Wolf Creek director Greg McLean, isn't part of the itinerary.
Justin Monjo's screenplay, based on Israeli writer and adventurer Yossi Ghinsberg's memoir, lets us know immediately by way of Daniel Radcliffe's narration that Yossi (Radcliffe) wants to experience the extraordinary. At first, his experiences are common backpacker fare; making new friends while being dazzled and awed by unfamiliar Bolivia, then the hint of romance and a spin on hallucinogens, followed by a comedown with Camus, as in heavy reading in lightweight hammocks.
When Yossi meets self-proclaimed jungle guide Karl (Thomas Kretschmann), he is seduced by tales of adventure and a tucked-away tribe in the Amazon jungle. Yossi's new traveling companions, Swiss teacher Marcus (Joel Jackson) and American "legend among the backpacking community" Kevin (Alex Russell) the photographer, are just as keen to sign up. But Karl's questionable profundity together with his eagerness to recruit for a risky expedition seem immediately suspicious, presumably to everyone but this optimistic trio.
So off they go, flying in a rickety little plane over lush terrain, a canopy atop the prickly, bitey unknown, before inching on foot through unfriendly thickets. When Karl utters, "Look at the world, perfectly balanced, the problem is us, people...we're the cancer, we need to disappear, seriously," we know the lads are headed for worse than Karl's tedium and dubious navigational expertise. Accidents, injuries and four's-a-crowd fever have them splitting up until it is Yossi's onerous, hallucinatory journey we are left tracking.
Stefan Duscio's submerged POV cinematography carries the weight of a pertinent and distressing beauty, better without the special effects that pepper Yossi's imagination; his flashbacks and fictitious visions are uneasy and unnecessary. Radcliffe, who shed the self-conscious skins of the boy wizard long ago, has improved on camera over the years at the same time as making interesting artistic choices. The effort and enthusiasm he proffers is visible in his countenance. With little dialogue to lean on, his depictions of fear, despair and wonderment are persuasive. Jungle gets to the heart of its darkness when there is no human interaction. Cumbrous exchanges and the all-American hope in Kevin's insistence that his friend is still alive somewhere, minimize Yossi's lonesome odyssey. The same goes for the Hollywood-ambitious musical score that falls flat against the pulsating stridency of the jungle. The young, determined, starving man, armed with nothing but stubborn willpower against an untampered patch of haphazard landscape, is quite enough to pull us through.