She's Done 'Gypsy,' 'Sweeney,' and 'Follies,' What Sondheim "Mountain" Will Imelda Staunton Climb Next?
When Lady Sandra Abbott's (Imelda Staunton) marriage of forty years falls apart, she finds new hope when her sister (Celia Imrie) takes her to a community dance class where she finds new friends, and even the potential for a new romance. Richard Loncraine's Finding Your Feet is a remarkable romantic comedy, that gives Oscar nominee Staunton a showcase for her multiple talents: she makes you laugh, think and breaks your heart. Staunton is coming off an incredible year that also saw her earn two Olivier Award nominations for Best Actress in a Musical for her work in Follies, and Best Actress in a Play for Who's Afraid of Virginia Woolf. We spoke to Staunton about her recent stage work, Finding Your Feet and she commented that she will take a break from the stage to pursue more work on film and television, so we can only hope more parts like Sandra will come her way.
Characters like Sandra tend to be relegated to be supporting characters, do you find that leading roles are harder to find on film than they do onstage?

I think you're absolutely right. The film industry is a lot tougher and they're obsessed with only having 23-year-olds in films rather than showing people on their 60s having lives, and enjoying themselves. It's rather refreshing to see this sort of character onscreen.

You have an OBE and a CBE, what advice would you have given Sandra about how to carry her title?

She should've carried it a little lighter. That would be my advice for her, she thought it was the be-all and end-all of everything and it wasn't.
I love the dance sequences in the film, you've done plenty of musicals lately, were the other actors coming to you for guidance and tips?

We had a great choreographer, besides the five main actors, we also were dancing with 12 to 14 people aged 60 to their late 70s. It was so exhilarating to do these scenes, especially because we were doing modern dance, it wasn't a bunch of old people waltzing around the room. We did all these different styles and they were great to do. Those sequences in the film are very uplifting, we shot them with extras and also real audiences, so in between breaks we'd change the audience and many people got to watch us dance.
Sandra talks a lot about everything she gave up when she married, she probably hadn't done anything art related in decades and dancing saves her. Have there been instances when art has also saved you?
The thing is art is what I am. Acting, singing and performing is where I am in my element. Theatre, film, scripts and stories have been my education, they're more than a job. I get to live all these different lives, I've been living many people's lives for 41 years and that's shown me how to have empathy, and how to be able to listen to other people's points of views. It's been a great opportunity for me to become a better human being.
You were sensational in Follies, and since you mentioned living other people's lives, how does someone recover after doing a song like "Losing My Mind" for instance?
Those sort of moments are more difficult during rehearsal when you're still trying to figure out what it is. When you do them you plug into the moment, into the feeling. That song is very emotional but it's also very technical. I am my own worst critic, so I criticize every note I sing. The song just does it in the end, you deliver the song and people are already invested in her journey, so you can't overdo it. Like all Sondheim, who I think is the Shakespeare of musical theatre, you don't have to do anything with his songs, you just do them. Your performance also slightly changes, so you're never really exhausted, the rehearsal is the most difficult part.

You get to work with Joanna Lumley and Celia Imrie, two of the funniest people in the business. What was it like to share scenes with them?

Celia and I first worked together in 1978, I'd met Joanna before but we'd never worked together, and it was great! We're all funny people, so everything felt right, the writing was good, you had good people delivering the lines, it was an absolute treat.

Going from Momma Rose to Martha to Sally, women living in illusions as their worlds begin to crumble, what compels you to play characters who are in this situation?

They're so interesting, aren't they? They're so flawed and vulnerable, but can give this very brash exterior. I love their complexity, I've always been attracted to pain, I guess it's my Irish side that loves melancholy. I'm attracted to it because I probably think I understand it, I don't need to like the characters I play, I just need to understand them.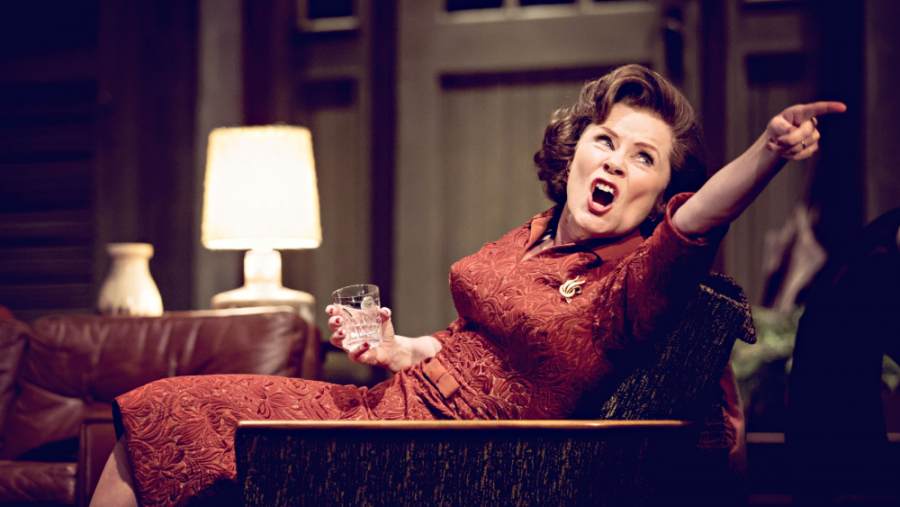 Both Gypsy and Follies were broadcast, was it surreal to see yourself giving a stage performance onscreen, since theatre is so ephemeral?

It is a bit weird, I haven't seen Follies and I don't think I will. Gypsy I've seen, because we shot it in three days, it seemed to work OK. But you're right, a stage performance belongs in the theatre, but I think it's absolutely brilliant they do things like NT Live, because the amount of people who can see it across Scotland, America, across the world! It's such a great idea.

Stephen Sondheim told you, you had to play Momma Rose after he saw you in Sweeney Todd. Did he elaborate on the connection between both characters?

I think he saw the toughness I can have. My Mrs. Lovett was tough and vulnerable, and he somehow transposed that into Rose. He said I should play Rose after my very first preview of Sweeney and I thought "you're crazy, that's another bloody mountain to climb." But God, I loved doing that.

Having done Into the Woods, Gypsy and Follies, what other Sondheim characters are you looking forward to playing?

Are there any left? I've done the big ones already, so I think that's it. But God, what a journey I've had with him. We're email buddies and it's very nice to have him in my life.
Finding Your Feet is in theaters today.
---