Interview: Tom Lenk on Playing Oscar Winner Tilda Swinton, and What Musical He'd Love to See Her In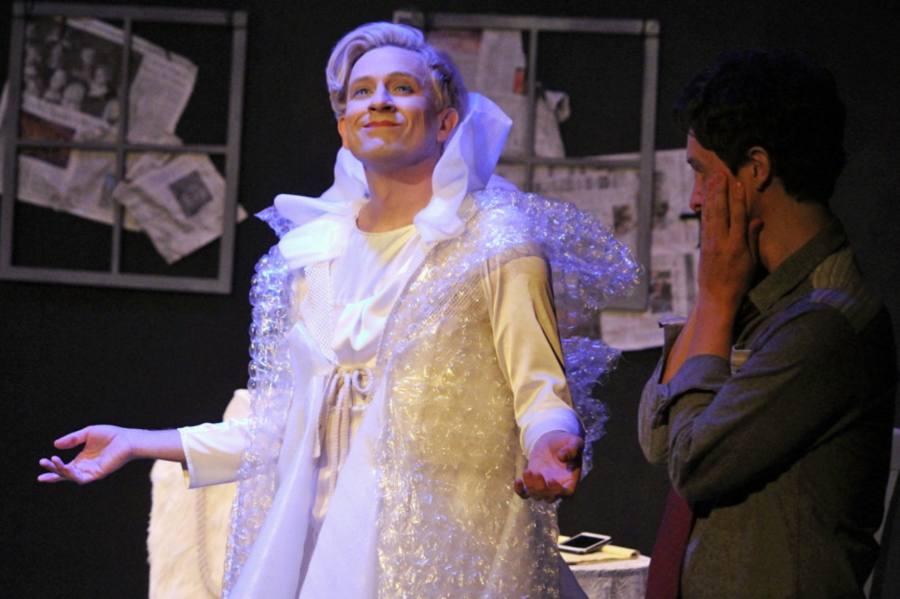 Academy Award winner/trendsetter/celestial being Tilda Swinton has yet to make her New York stage debut, but while we await for her to grace us with her presence, comedian/Buffy alum Tom Lenk is playing her (or a version of her) in the hilarious Tilda Swinton Answers an Ad on Craigslist, a play by Byron Lane (who also co-stars) in which Swinton arrives to study a poor sad sack mortal, to play the part that will win her another Oscar. After a successful run in Los Angeles, the show is now at the Laurie Beechman Theater, where the intimacy of the venue and the free-flowing booze make for an unforgettable, delightful experience. We spoke to Lenk about taking on a larger than life character like Swinton, and he explained how a classic Disney movie encouraged him to play her, "Byron wasn't aware of this when he wrote the script, but there are so many references and undertones of Mary Poppins in the script, and that's how I knew I needed to do the show, I know every line in that movie." Lenk describes the play as Mary Poppins meets Our Town meets A Christmas Carol, and he's onto something there. The show's joys are plenty and eclectic, just like Tilda herself.
What on Earth was Tilda Swinton doing on Craigslist?

In my mind she doesn't even use a computer, she lives in a castle in Scotland, so I'm not sure she's used real Craigslist, but our imagined Tilda Swinton is trying to find a character to study for her next really big film.
I find Missed Connections on Craigslist to be so fascinating, there's a treasure trove of stories for great dramas there.
I can't go into it now, but I have a whole life-changing story that involves Craigslist ads, it's a whole other show, so you'll have to come when I'm doing a storytelling night. It was something mortifying, crazy and embarrassing, but just know that yes, those characters exist in the world of Craigslist and they're waiting for you in real life.
Which of Tilda's qualities allowed you an entry point into Swintonworld? When did you know you had the character?
I'm not an impressionist, so this is my imagined version of her, just like my friend Drew Droege's Chloe Sevigny is not her at all, but it's also totally her. I've watched a lot of Tilda's interviews and films, so I tried to capture her essence. She's also Mary Poppins, Patsy and Edina from Absolutely Fabulous, so I'm infusing a lot of comedians that I'm obsessed with. I don't know if I'm getting her, but friends of hers who have seen the show have said she'd really like it, I'm hoping at some point she reaches out and asks us to do a performance for her. I'd love it if she was the only person in the theater too.
She is so nice in real life, she's so down to Earth in her very alien kinda way. She's always so nice to journalists.
That makes me so happy! On Instagram I create red carpet outfits out of garbage, and I've gotten a positive response from the celebrities whose looks I've recreated, people like Kylie Minogue, Nicole Kidman, Jessica Biel have all reposted them. It's celebratory, it's an homage, I make fun of fashion and beauty standards, but I celebrate the people. This show is the same to me, it's very celebratory of Tilda, and in the end her character represents the catalyst for change. She comes to this very depressed gay man's life and shows him how to be himself. It's ridiculous and hilarious, but it has a lot of heart, it's very sweet. I honestly would do this show everyday for a year, I'd pay to do this show.
There are so many great films about celebrities becoming the spiritual guides of people in need, I love Play It Again, Sam and A Touch of Pink, for instance. So what celebrity would you like to summon to pull you out of a funk?
Tilda Swinton, I've come to love her so much. She's very original, her dramatic performances are great and then she does something like Trainwreck! I need to sit down and have tea with her sometime.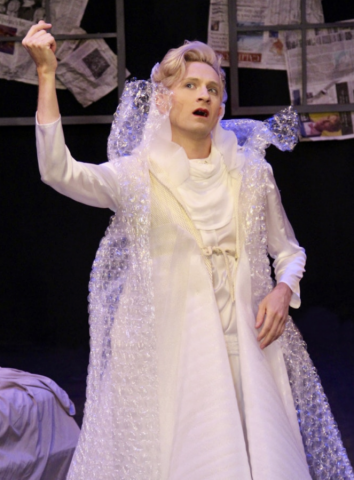 Which of her performances do you think is underappreciated?
My favorite to revisit is Snowpiercer. I love the way she uses fashion and ambiguity, her use of male and female energy. I haven't seen Okja though, that's on my list.
So what's your favorite Tilda look?
It's an editorial shot where she's in a pale blue tent and she's pulling a rose, her hair is sticking straight up, it's so crazy.
Allow me to stick an Andrew Wells question here, what do you think Tilda's demons would look like if she were to summon them?
They would be pale hairless cats.
Terrifying! You were ahead of the times by sporting a mustache in Much Ado About Nothing, everyone has one now though, are you planning on bringing yours back?
I would but it was hard to live with. It constantly took explaining, people wouldn't recognize me, not even my friends. It was a lot! I don't know if it was helpful either, it looks really good on some people, like those who live in Brooklyn or Silver Lake.
What's the Stephen Sondheim character on your bucket list?
When I was in college I played Jack in Into the Woods and now I'd love to play the Baker. I love that show, and I'm appropriate for that part now, you can age your way through several roles in that show.
You've done movies and stage, and some people who are purists refuse to see movie adaptations of stage musicals, what's your take on that?
I will say this, I originated one of the roles in Rock of Ages in LA, and I got to do it on Broadway, and I haven't seen the movie, so I'm not the right person to ask. I really enjoyed the Into the Woods cassette in high school though, my friend showed it to me and it blew my mind, we'd rewound it, memorize the Witch's rap, it was such a turning point in my formative years, so when I saw the movie I was annoyed the children were close to being teenagers, when those characters are about the transitioning from adolescence into adulthood. Their songs are about sexual discovery, so to me that was totally off, those things shouldn't have been singing those songs! But I did love Meryl Streep as the Witch, I'd never seen that song acted so thoroughly. Anna Kendrick was amazing in that movie too! But when people can't sing, that's annoying to me, my ear goes automatically to the autotune. I'm not one of those people who are like "I will only see the stage version," I don't always take things seriously, so watching the movie version of Les Miserables half of me is laughing and half of me is really into it. I'm a Gemini, so that makes sense. But watching Les Miz I remembered the reason why people don't sing live in movies is because they have to do takes over and over again, so by the end of the day your vocal cords can't do it anymore! So watching the movie, I saw how seriously these people were taking the songs, and part of me was bawling.
Cast Tilda in a musical, maybe as Maria Von Trapp?
Yes! I did Buyer and Cellar in some regional theaters, a one man play to me was the greatest challenge and triumph of my career, I love that only some people saw it, and it will only live in their memories, so I'd love to see Tilda Swinton do a one woman version of Jesus Christ Superstar where she plays all the parts. Maybe I can do that. Or a version of Gypsy where she's Momma Rose and all the other characters live in her mind.
For more information on Tilda Swinton Answers an Ad on Craigslist click here.