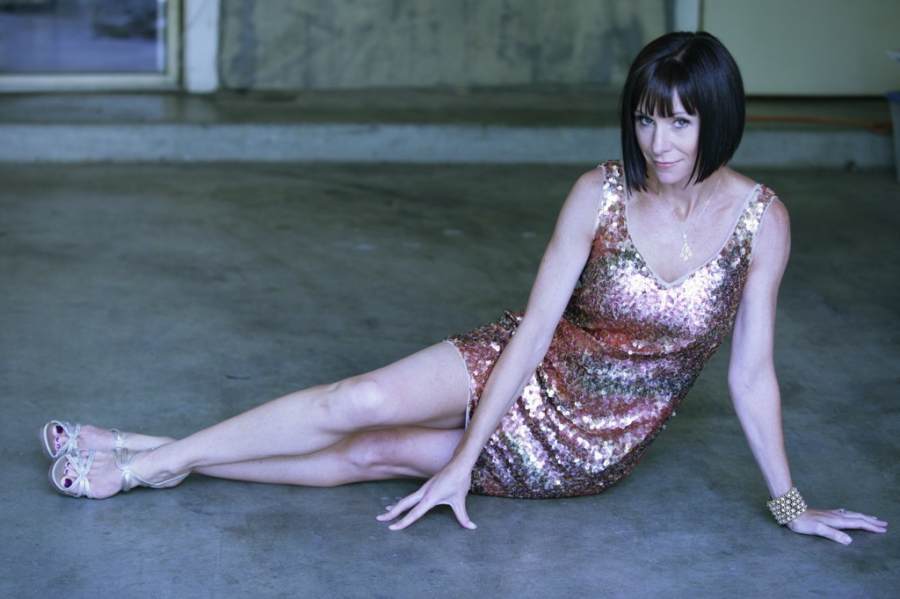 On April 18, 1994, Beauty and the Beast opened on Broadway, forever changing the landscape of what a movie adaptation could be like onstage. The show expanded on the story of the beloved animated classic (itself another landmark achievement when it opened to wide acclaim in 1991) and invited audiences to imagine a world with objects of slightly different, but not less magical, proportions, new songs, and introduced audiences to Susan Egan, the charming, bright, actress who played Belle opposite Terrence Mann's dashing Beast. The show went on to earn 9 Tony Award nominations and ran on Broadway for 13 years, to celebrate the anniversary of its opening we go back with Egan, to almost a quarter of a century ago (!) as she first encountered the songs by Alan Menken and Howard Ashman that would define a generation, getting to know Belle, and the experience of putting that bright yellow dress on for the first time.
You'll be celebrating Alan Menken's legacy with the New York Pops on April 30. What was the role of Alan Menken's work in your life before you got to be in the show?
In 1994 people would've said The Little Mermaid, or even the film version of Beauty and the Beast, which I hadn't seen before I auditioned. But in my case I was obsessed with Alan Menken because Little Shop of Horrors is my favorite musical, I lived in California so I didn't see it Off-Broadway, but I loved my cast recording, and my high school senior class did a production of it because I insisted we had to do it. I love, love that show! I was unbelievably nervous for my final callback not only because we had to sing for the choreographer, director and Disney executives, but because Alan Menken was there and you had to sing his music to him.
What was that audition like?
I remember entering the room and then leaving it five minutes later, I have no idea what happened in between [laughs]
What songs did you have to prepare for that callback?
They called it "the best of Belle," she didn't have a solo by then, so they gave us little snippets from other songs, "there's something sweet and almost kind" etc.
Being onstage must be incredible, but being in a Disney show must add another level of magic. What was it like to be part of a show that defined so many people's childhoods?
When we did Beauty and the Beast there had never been a Disney show on Broadway, a lot of producers had asked Disney if they could produce some of their materials or co-produce something, and Michael Eisner said "let's do it on our own." Disney broke rules and changed things in a very positive way, they were very protective of their first material, Beauty and the Beast had been nominated for the Academy Award for Best Picture after all, and they insisted we had to look like the characters from the movie, I'm 5'4 and Terry [Mann] is 6'2, and that height difference isn't exactly what the poster shows, so they put Terry in lifts and put me in flats so we'd be the exact proportion.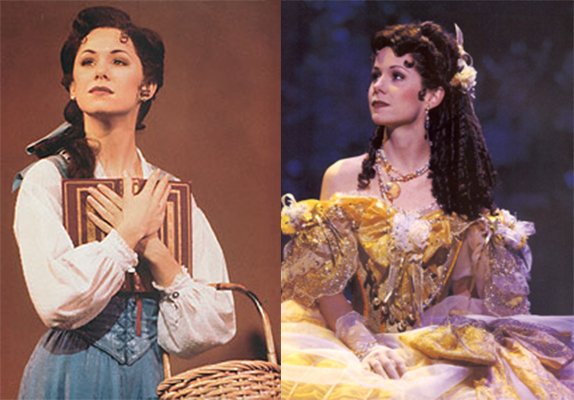 Did the show change a lot during rehearsals?
We rehearsed in Houston for several months and Terry had to wear some prosthetics to make him look more like the Beast, Jeffrey Katzenberg said his favorite performance of the show was our final run through in the performance hall before we had the prosthetics, that has always stayed with me, because he saw how beautiful Terry's face was and knew we didn't need all the extra things. The designers went through a quick redesign and removed the prosthetics from the actors' faces so we could see them. Beauty and the Beast was a great learning experience, look how much they got right, because by the time they opened their next show The Lion King, which didn't resemble the movie at all, audiences didn't feel betrayed, they felt reinvigorated. Look what they're doing with their live action films too, they're taking audiences to new places. Beauty and the Beast is 90 minutes and our show added an hour of material, we didn't know if people would like it, but in a way we learned that our work had been done for us because people came in loving the material, and got to spend more time with characters they love. They got to see Belle sing with her father, sing "Home," and by the time the live action film came out, which I call Beauty and the Beast 3.0, they got even more background on the characters.
How was the arrival in Broadway?
We were not necessarily welcomed in New York, we were made fun of, and yet the 1994 Tony Awards commercial was "Be Our Guest," there were no scenes from other nominated shows. We only won one Tony, for Ann Hould-Ward's costumes, deservedly so. And look now how many shows Disney has on Broadway.
Speaking of the costumes, when I was little I dreamt of wearing Belle's yellow dress, so what was that like? If it was uncomfortable I don't want to know!
I'm surprised people don't ask this more often! Disney has deep pockets so we filmed the commercial six months before we even started rehearsing, long before I met the rest of the cast I had been fitted for the yellow dress. Ann Hould-Ward had costumed Into the Woods which was my favorite show I'd seen on Broadway, the amount of thought and detail she put into the dress was unbelievable. Audiences wouldn't get to see most of the things like the bloomers she made to go under the dress, which were embroidered with little flowers. Ann said she wanted Belle to have something beautiful her mother would've made for her. The dress is also its own character, I would come out and the spotlight had a yellow filter on it, so it was even more yellow than the fabric. All the little girls came to the show in their Disney store versions of the dress, which their mothers had to tear off them to wash every now and then, so one time Terry was in the West Wing talking to Lumiere and Cogsworth, the music started, and the spotlight reveals me and this four year old girl, center row, stood on her chair and shouted "she looks just like me!" We all laughed, it was exactly why we were there.
What songs from the show do you find yourself singing the most these days?
I'm always humming other people's music, rather than Belle's songs, I love "Human Again" which is a wonderful waltz, I love the melody and think it's ironic they cut this song from the original movie because they thought the movie might be too long, when in fact the song is about the very theme of the movie. The Beast and the objects want to be human, Gaston is human but is not humane, so it was also the only song where I'd sit on stage and listen to it. It was also very meaningful because it was Howard's lyrics which was pulled from the trunk and included in the show as a tribute to him. This song means so much to me.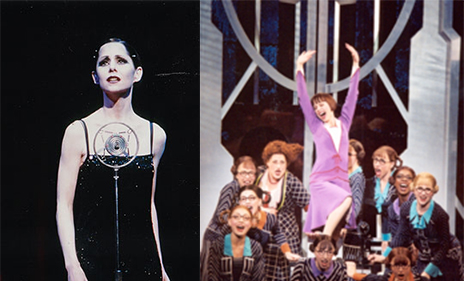 You went on to do other animated movies, but onstage you did Thoroughly Modern Millie and Sally Bowles in Cabaret, was there an element of not wanting to be labeled as an eternal Disney princess behind those darker choices?
I have been doing this for 20 plus years and no one has ever asked that, and you nailed it! Yes, as a matter of fact as soon as I finished the run of Beauty in Los Angeles, Dick Scanlan called me because he wanted to do a workshop of Millie, I turned it down because I felt Millie was the new odd girl in town and it felt like Belle in a different era. I jokingly said "I want to play a flapper like Sally Bowles before playing a flapper like Millie," talk about manifesting, Millie went to Sutton Foster which was great, and I ended up doing Cabaret. Near the end of Sutton's run in Millie, I was asked to do it again, I said yes, did my last performance of Cabaret on a Sunday, and started in Millie the next day. The truth is, those bright candy colored costumes in Millie were what the doctor ordered, she was the perfect balm going from the damaged Sally to the optimistic Millie. If you're going to play two flappers, you couldn't find two more different flappers. I also had broken by Disney princess mold and now joke that I went from Disney heroine to heroin addict.

Actors always infuse their characters with little secrets, was this the case with you and Belle? Is there something you'd feel comfortable sharing?
There was an entire backstory, we talked about where Belle's mom was and why she moved with her father to this town, but you know what, they are secrets. Robert Jess Roth who directed the show had also asked me this question, and Burke Moses who played Gaston told me not to share those with anyone, "they're yours" he said. This also helps other actresses who play Belle because they have to make their own secrets, rather than copying what other actress did, this would turn it into a xerox of a xerox of a xerox. So I've kept these things secret, I like talking to other actresses who play Belle about this, and I love that they come up with their own secrets. Belle's background in the 3.0 movie was not my background, but that's OK, that's Emma Watson's Belle, and I love that.
---