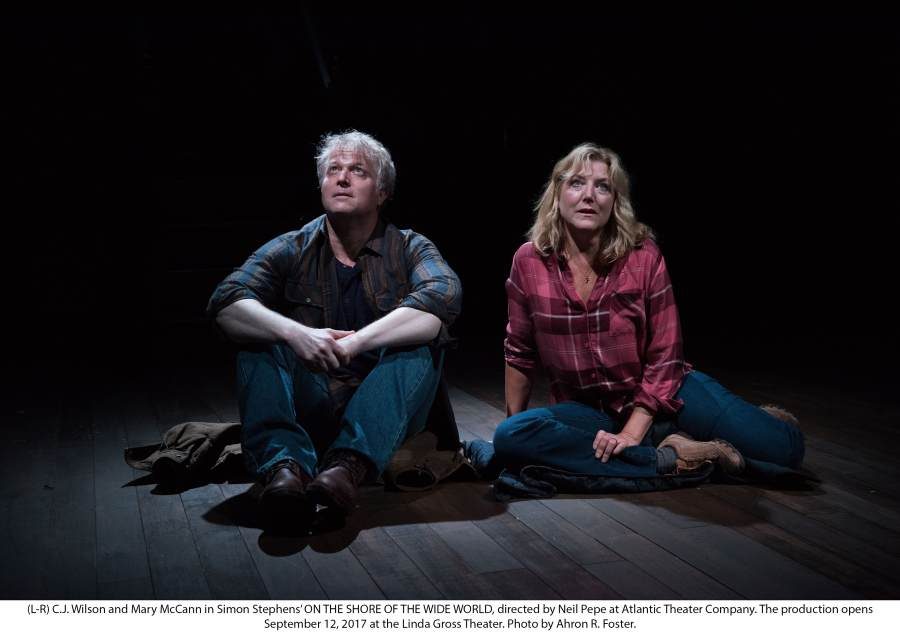 As family dramas go, On the Shore of the Wide World, now playing at the Atlantic Theater Company, tends to steer clear of the high intensity that is typical of its genre, instead opting for subtle and intricately crafted moments, delivered by a stellar team of actors and directed with delicacy and nuance by Artistic Director Neil Pepe.
The play, written by Simon Stephens, who is best known for his Tony-winning adaptation of The Curious Incident of the Dog in the Nighttime, delves into the lives of three generations of a working class British family, and follows them through the course of a year, as they encounter issues both typical and more drastic: drinking problems, cancer diagnoses, adultery, young love, the death of a child, all intertwined in a surprisingly subdued way.
The set, designed by Scott Pask, effectively provides  insight into the mundanity of the world; despite its various levels, most characters remain in one quadrant for most, if not all, of the piece, giving the sense that they are all trapped within their own universes.
Performances in On the Shore of the Wide World are uniformly excellent. Of particular note is C.J. Wilson, whose portrayal of Peter, a house restorer, and husband to Alice and father to Christopher and Alex, is gentle and nuanced and poignant -- words that can be used, in fact, to describe the piece at large as well. Ben Rosenfield, Tedra Millan, and Wesley Zurick, who play Alex, Sarah, and Christopher respectively, bring  tenderness to their roles and provide some of the most charming moments in the play. They, like the rest of the piece, are tentative and subtle, and yet so carefully crafted and well-written that by the end you feel intimately connected with them.
As the play comes to its final moments, it would be easy enough to question whether there was any climax at all. Ultimately, the beauty and the brilliance of this play is in its almost lack thereof, and the fact that every contributing element, from the set to the costumes and lights to the script to the gentle and deliberate direction and the meticulously crafted performances, is working towards this vivid portrayal of the deeply and universally human tendency of being trapped in one's own life, both by circumstances and by oneself, and only ever skimming the cusp, or staying on the shore, of what is out there in the wide world.