thEATer: John-Michael Lyles of 'Sweeney Todd' on His Favorite West Villages Eateries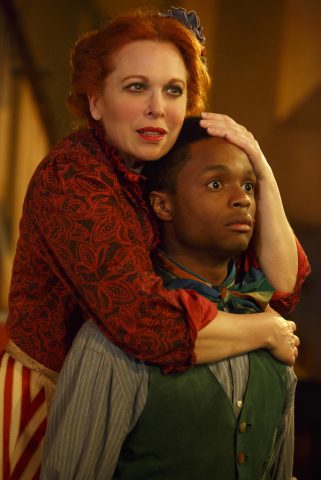 Midtown isn't New York's only neighborhood for great theater. In this installment of thEATer, we interviewed John-Michael Lyles, who is currently starring as Tobias in Sweeney Todd. Check out John-Michael's favorite eats in and around the West Village!
Dinner with the family before a show?
I worked at Westville all through college and for a small time thereafter, and not only are their Brussels sprouts to DIE for, but they were incredibly supportive of me as I navigated the audition grind with side jobs, so we always swing by the Westville on 10th street (the original location) and enjoy some Brussels sprouts or a life-changing strawberry rhubarb pie before a show!
Quick Meal on a two show day?
To put it lightly, Sweet Green's harvest bowl has Changed. My. Life... I absolutely can't get enough of it.
Sugar fix?
I keep a big ol' bowl of little Reese's Peanut Butter Cups in my dressing room. After Toby has gone through the wringer of a two-show day, a little chocolate peanut butter fix backstage is the perfect send off.
Place with a cool vibe to grab a drink?
There's a sneaky little speakeasy above the Five Guys across the street from the theater, and nothing brings me more joy than the look of surprise on a friend's face when I lead them through the Five Guys and reveal the hidden bar upstairs!
Pizza?
John's Pizzeria of Bleecker Street is AMAZING. Norm Lewis treated us all to some pies to celebrate his final week as Sweeney, and we all left with very happy food babies.
Place where you always run into your friends?
The downtown A train at 145th is the watering hole for all of my biddies, old and new! Harlem is a popular neighborhood, and I always run into castmates and classmates during my commute to The Barrow Street.