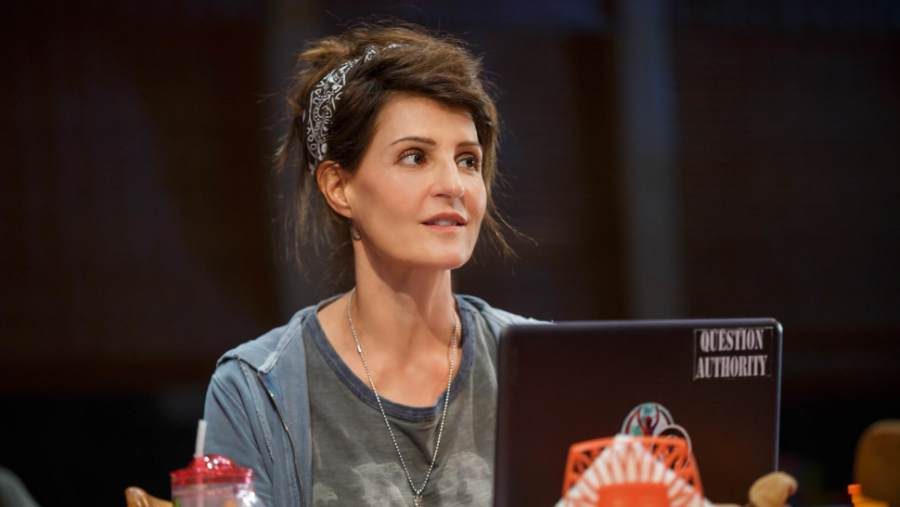 If you leave Tiny Beautiful Things, which opened last night at The Public's Newman Theater, without having wept along with the rest of the audience for at least a few moments, you make up the small minority. In a time when large-scale horrors seem to penetrate our world every day, Tiny Beautiful Things delves into the more personal, albeit equally painful tragedies of everyday humanity, and although rivetingly sad, even depressing at times, it also manages to be cathartic and hopeful.
The play is directed by Thomas Kail of Hamilton fame, based on the book by Cheryl Strayed, otherwise known for her novel Wild which became a film starring Reese Witherspoon, and adapted, co-conceived, and starring Nia Vardalos (My Big Fat Greek Wedding). Vardalos's character, Sugar, of the online advice column "Dear Sugar," wanders through her cluttered home (excellently crafted by set designer Rachel Hauck), as the voices of her advice-seekers penetrate deeply into her walls and her soul. Teddy Cañez, Hubert Point-Du Jour, and Natalie Woolams-Torres, as the many letter-writers who enter Sugar's life, give careful yet heart-wrenching performances across the board, allowing the emotion of their characters to overtake them only sometimes, while mostly restricting themselves to the confines of the words on the page. They are only letters after all. Yet Kail's consistently brilliant direction brings Sugar as close to her letter-writers as she can be, making for a poignant exploration of "radical empathy" -- a term coined by Cheryl Strayed's "Dear Sugar" predecessor, Steve Almond. In one instance, when the agony is so deep that the entire audience is audibly in tears, physical contact is made, as Sugar embraces a father, beautifully portrayed by Teddy Cañez, whose child was killed in a car accident.
Kail's intimate direction seems even more of a feat given the size of The Newman Theater, which is the largest of The Public's downtown stages, holding significantly more seats than The Shiva Theater, where the show had a successful run last year. Vardalos's performance is nuanced and deeply human, and as Sugar delves into some of the deepest and most personal moments of her life in order to help her letter-writers fight through their pain, her delivery is raw, truthful, and full of so much warmth and honesty that it impossible not to feel the strength of her embrace. Methodically, Sugar goes through the same process with every letter, receiving them, reading them, and then creating a response filled with warmth and intention. It is through, or perhaps despite, this sense of order, which never wavers in the play's 85 minutes, that so much of the poignancy of the piece is developed; it is not as much through action, as the lack thereof, that develops these people, these problems that are so deeply human and so profoundly universal, and this celebration of our ability to empathize, and to support and hold on to each other even in the hardest of times, a message that rings especially true today.