Review: Sarah Burgess and 'Hamilton' Director Thomas Kail Team Up for 'Kings', a Play about Money and Politics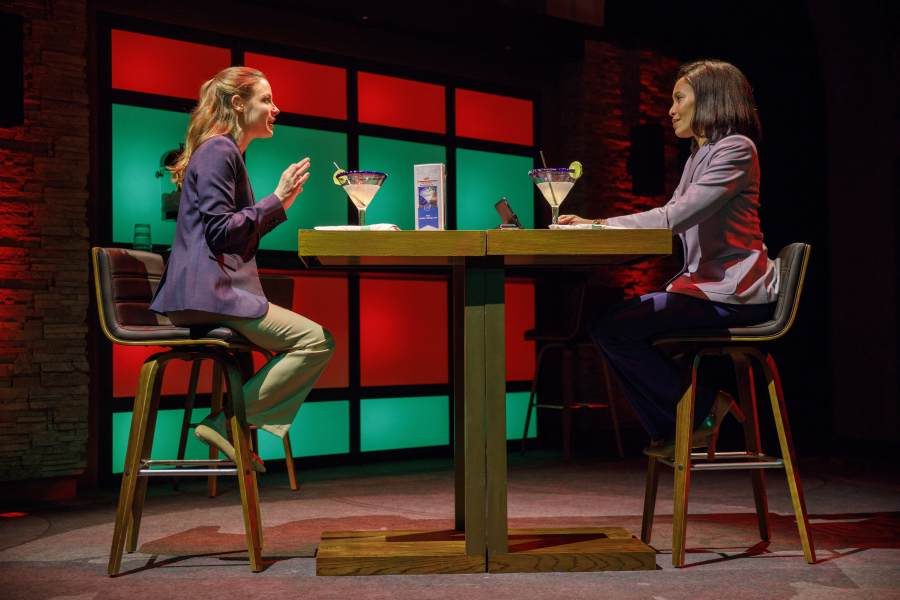 Playwright Sarah Burgess impressed theater audiences in 2016 with her play Dry Powder, an insightful behind-the scenes picture of private equity firms.  Directed by Thomas Kail (Hamilton) and produced by The Public Theater, the drama illustrated the driving force of money.
In her newest work, again directed by Kail, Burgess tackles the finances of politics, notably donors and lobbyists.  The two young lobbyists in the drama, Kate (Gillian Jacobs) and Lauren (Aya Cash), are courting Rep. Sydney Millsap, a woman thrust into politics. Millsap is a Gold Star wife and the first person of color to represent her district. Eisa Davis depicts Millsap as an optimistic candidate fatigued by the tedium of fundraising.  Despite it all, she tries to stick to her principles.  She announces that she'll take donors' money but won't necessarily do what they want unless it meets the needs of her constituents. Later she idealistically votes to levy taxes on fund managers and, consequently, begins to lose important financial support.
When Texas Senator John McDowell (the always wonderful Zach Grenier) tells her that she's destroyed her career, she decides to run against him in the primaries and wins. Later a super PAC uses media ads to attack Sydney's dead husband. Although the approach is underhanded and untrue, the message is that the big money and the media exert powerful influence in politics.
There are several familiar lines in the play, dialogue often used in politics; although we nod in recognition, it's with sadness.  Told to vote against the tax, Millsap is instructed to explain that she's for it and then to say "but it doesn't go far enough."  She's told to meet donors and "be who you need to be."
The show has a lot of money talk and the play could have been better served with the concepts and labels simplified.  I watched as some in the audience glazed over at the complex financial conversations. There are a few political barbs about the politicians presently running the country, yet there was little response from the audience, unlike other current shows where the audience laughed in recognition.
In the play, both lobbyists are filled with platitudes and their dialogue, especially towards Millsap, is nearly identical. Empty words. Both young women sound like they are merely reciting their lines and Jacobs, of TV's Community and Love, has little nuance to her speech. The two older, more-seasoned performers, Grenier and Davis, are more convincing.
There's sad truth in Kings; the rich have political sway and influence politicians. That's the present reality and we need only look the current debate about gun control and the NRA to see it in action. Despite Millsap's desire to effect change and represent her district, her campaign needs money. Money requires compromise. "Say what you want but privately tell them you won't." Principles fall by the wayside and reputations are destroyed. Trying for a high impact ending, the show ends with Kate, somewhat disillusioned sitting alone on the stage, but the audience didn't even realize that the play had ended.
Kings still needs some work to be effective. The play has some potential but "it doesn't go far enough."