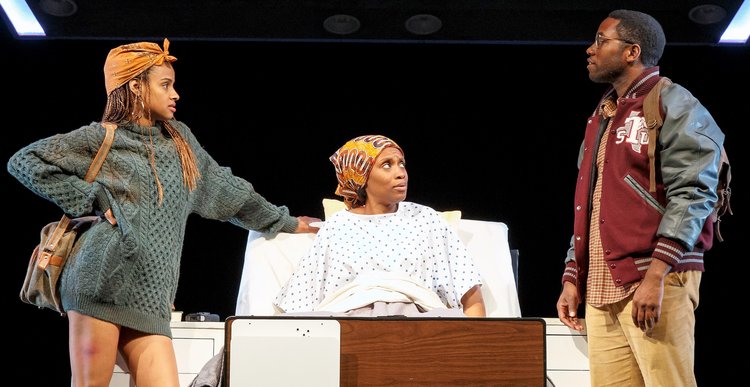 Mfoniso Udofia's Sojourners and Her Portmanteau, two plays that make up a nine-part saga and that are currently playing at New York Theatre Workshop under the direction of Ed Sylvanus Iskandar, are, above all, a master class in acting.
The two parts, which are meant to be viewed in tandem (either on the same day or on two separate nights), tell the story of a Nigerian-American family over the course of several decades. At a time when immigration is one of the most prevalent topics in the American psyche, these plays hit particularly hard, and even in their slower moments, one cannot help but be completely captivated by the expertly executed performances delivered by every member of the cast.
The two plays bring us into two different periods of the families life. In Sojourners Abasiama Epkeyound (an excellent Chinasa Ogbuagu) and her husband Upkong (a charismatic Hubert Point-Du-Jour), move to Texas so that she can study biology at a university there. The expectation is that she will only stay until her studies are through, at which point she'll return to Nigeria to share her knowledge with her country. It becomes clear that this was not the case after all in Her Portmanteau, in which we find Abasiama's family some 30 years later, now with an American daughter living in New York, and her, a seemingly permanent resident of Massachusetts.
One of the most unique notions of both plays is the concept that immigrants do not always come here as an escape, and often, their "American lives" don't add up to the lifestyles they kept in their mother countries. Abasiama is shocked and repulsed at some of the vulgarity she observes in the native Texans, including a prostitute, Moxie, who enters the gas station she's working at covered in bruises and hardly able to read. She is committed to returning to Nigeria as soon as her studies are over, especially with a baby on the way. It is this decision that ultimately leads to her parting ways with her husband and her infant child, Iniabasi (played in Her Portmanteau with depth and truthfulness by Adepero Oduye).
Udofia's script is authentic and sometimes raw, and Iskandar honors these elements, letting certain moments linger for a bit too long for the American attention span, although it's quite possible that this is intentional. When the play itself lags, the uniformly excellent performances maintain the momentum. Ogbuagu seamlessly transitions between Abasiama in Sojourners and her American daughter Adiagha in Her Portmantau. Jenny Jules, who then takes over for Abasiama, maintains a riveting strength and vulnerability. At the core these plays possess such a strong sense of humanity that it's easy to forget that these are actors reciting lines from a script, and you may find the characters lingering in your head, so raw and real that you find yourself toiling over what their futures might hold.