thEATer – NYMF Edition! NYMF Actors Remy Zaken, Wilson Jermaine Heredia, and Emily Skeggs on Their Favorite Eats in the Theater District
Every summer, the Midtown theater scene grows exponentially with the return of the New York Musical Festival, commonly known as NYMF. During this exciting time of year, the theater district is flooded with up-and-coming composers and playwrights, and actors both new to the scene and already beloved among Broadway fans, presenting new musical theater works in establishments across the Theater District. In this edition of thEATer, we've chatted with three stars of NYMF productions, Remy Zaken (Spring Awakening, Dear Evan Hansen) of Camp Wanatachi, Wilson Jermaine Heredia (the original Angel in Rent) of Pedro Pan, and Emily Skeggs (Medium Alison in Fun Home) of The Shakespearean Jazz Show, about their favorite theater district eats. Check out their answers below!
---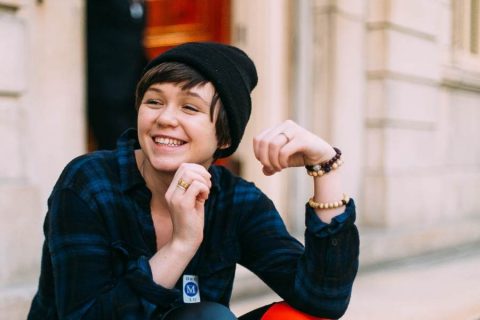 EMILY SKEGGS:
Post-show hang out?
I love the couches at the bar in the lobby of Citizen M. It's super comfy, they make great, big drinks, it's usually not crowded at all. Great place to wind down and catch up with friends after a show, and if it's a nice night you can sit in the courtyard. Best part about it? They have Cards Against Humanity.
Dinner with the family before a show?
I like to keep it light before shows. Thalia on 8th Avenue is a great place, they have something for everyone, everything from sushi to lasagne, and it has an awesome old school atmosphere.
Dinner with the whole cast?
Sapporo Ramen is a true Midtown staple. The best ramen with a super chill vibe. I hope it's there forever. Also, B-Side Pizza and Wine Bar has the most amazing spicy honey pizza, it's a great post show indulgence.
Caffeine fix?
Oof, do I love my caffeine. Culture is a great coffee shop in the Times Square area, and there are a couple of locations that are central to casting offices and audition spots. It's always a great little treat to grab one of their coffees with a little of their house-made maple flavoring.
Quick meal on a two show day?
Little Beet is truly awesome. It's super tasty and good for you, I always feel like I'm getting a home cooked meal that will fuel me for the next show. That grilled salmon is awesome, and I put the chimichurri sauce on everything.
Sugar fix?
If I didn't say Schmackery's I think I'd be banned from Midtown. But, seriously, that hummingbird cookie is Queen. But ALSO the monkey cake from Amy's Bread is also Queen. Two Queens to rule this sugary kingdom, ok? Also, I guess I have an affinity for foods named after animals?
Place with a cool vibe to grab a drink?
I love an adventure, so the Frying Pan is my favorite. An old tug boat parked in the Hudson River?? That is also a bar?? And if you're brave you can explore the ship with your friends and sit in the belly of it while it rocks with the tide. Or head up to the captain's office and stand at the wheel and stroke your big pretend beard and yell "LAND HO". It's an overall nerd out. But I also love Artbar, great comfy couches or old fashioned vinyl booths, super chill vibe, and open laaaaaaaaaate.
---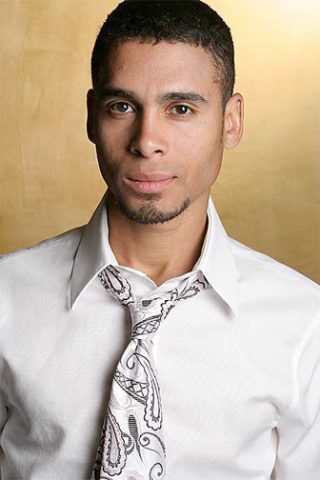 WILSON JERMAINE HEREDIA
Post show hang out with friends?
I like going to Characters on W 54th Street. Good food and proper pints of beer.
Caffeine fix?
Grande mocha with almond milk and honey at any Starbucks but preferably the one at 42nd and 8th.
Quick meal on a two-show day?
I like going to the Theatre Row Diner on 42nd and 9th. Love their corned-beef hash and eggs because it's always a good time for breakfast. Another great between-show place is Yum Yum Bangkok at 9th Ave. between 45th and 46th. Accessible Thai-Asian fusion restaurant that fills the belly and doesn't break the bank.
Post-show hang out?
A cool place to have drinks and complete the NY after-theater experience is Joe Allen on 46 Street between 8th and 9th or even before a show! Great drinks and nice ambiance.
---
REMY ZAKEN:
Pre-rehearsal breakfast?
I will be picking up Juice Press before my Camp Wanatachi rehearsals. They are the only juice place worth their salt, in my opinion. Not only do they have a ton of green juice options, they also have fruit juice and mixed greens/fruits options. I love their smoothies (Advanced Berry Blend all the WAY), as I like to keep the fiber in my fruits/veggies. Their açai bowls are the perfect pre-rehearsal breakfast. Stacey Mindich, the incredible producer of Dear Evan Hansen, provided us with Juice Press between shows when we were Off-Broadway and it was AMAZING! We all felt super energized for the next show. They also have vegan lunch/dinner soups/salads. And some killer desserts - raw chocolates...YUM!!! They also have these Ginger Fireball suckers that I take as a cold preventative. It's a must-have for anybody who doesn't want to miss a show!
Dressing room delivery?
Just Salad - When I was doing Dear Evan Hansen Off-Broadway, I ordered Just Salad to the stage door so many times that my castmates starting taking selfies in front of Just Salad as they walked by and sending them to me, asking why I wasn't home. 😉 I always make my own salad because my interests vary day to day. They're also the best about allergies - they use a different cutting board and clean the utensils before they handle your salad.
Quick meal on a two show day?
Dig Inn!!!!! Dig Inn gets points because they promote a well-balanced meal - protein, starch, and green veggies. They have a ton of options and they're the healthiest "fast" food I've ever had. I recently converted my friend Kay Trinidad into a Dig Inn groupie during rehearsal for Spelling Bee at Cape Playhouse. I usually get their steak (it's so juicy and cooked to medium perfection) on top of the greens salad, and then get sweet potatoes and green beans as my sides. I'll probably run up to Dig Inn between our concerts on 7/31!
Classic NYC establishment?
I'm not sure if most people know about this place because it is so high up on the island! I told Max [King] when we first started dating that I wanted to go somewhere I had never been, and I had never been above 145th Street. He took me to New Leaf Restaurant and Bar in Fort Tryon Park. Although I consider it a classic NYC establishment, you don't really feel like you're in the city, which is a nice escape. It's in the middle of the park and you can dine outside, so there's a very peaceful vibe to it. Their menu has an emphasis on seafood, which is a favorite of mine. I had the best octopus I've ever had the first time I was there. They have live music on Fridays, which adds some romance to the evening. Also, any net profits are donated to the park, so you're eating for a good cause 🙂
Favorite restaurant in all of NYC?
I hesitate to say just because it's already so popular. 🙂 The Mermaid Inn on the Upper West Side is my absolute favorite restaurant in all of NYC. It's where Max and I went for our first date and we try to go every month. We would eat there weekly if we could!!!! The ingredients are all natural, fresh, and the highest quality. We always go for happy hour and order a ton of oysters and clams. The menu changes seasonally so we get to try something new. I loved their skate dish with citrus, green olives, and hearts of palm. Max likes their fish tacos and squid ink pasta. Max always orders a fun cocktail too. I love their lavender lemonade.
For more information about NYMF visit: http://www.nymf.org/