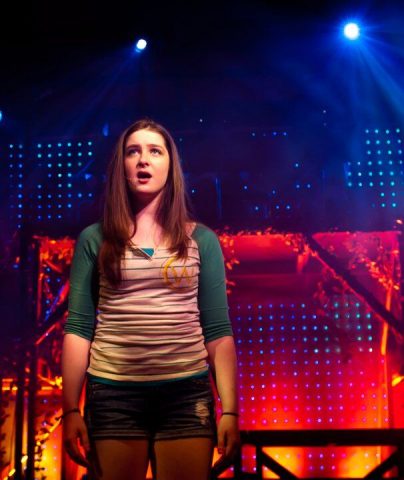 Lesbian love at a repressed Jesus camp? No one could have seen that one coming! Director Mia Walker stages a concert version of the 2009 electro-musical Camp Wanatachi for the 2017 New York Musical Festival (NYMF) at The Green Room 42 @ Yotel, and gets everyone in the mood for archery, bonfires and love. Part camp, part satire and bursting with teenage hormones, Camp Wanatachi is an exploration of first love and heartbreak at an all-girls Christian sleepaway camp.
Camp Wanatachi follows the sexual awakening of Jana (Marissa O'Donnell) during one very memorable summer at Camp Wanatachi. The object of Jana's infatuation is sexually advanced Titi (Jillian Mueller), the beautiful and sophisticated new girl who shocks her fellow campers with unabashed talk of oral sex and riding bareback (horses, of course). The rest of the "tribe" includes Jana's "BFF for life" Lauren (Keaton Whittaker), a cheerleader with a jealous streak, Gothic "freak for Jesus" Daisy (Remy Zaken), and two unnamed Tribe members (Liz Byrne and Hannah Delmonte).
While the other campers are busy making virginity pledges and gathering golden feathers to win the coveted Wanatachi Princess title, Jana and Titi get busy mooning over each other and declaring their undying love. It's easy to get caught up in the overpowering teenage lust because the actors do a great job of bringing it to life. Anyone who's crushed on the person they shouldn't be crushing on will be able to relate.
For more on NYMF visit: http://www.nymf.org/
Mirroring the not-so-chaste love between the two girls is a sputtering romance between a counselor from the girls camp and one from the boys side. The spirited Corky (Sami Gayle) and guitar playing Joel (Travis Artz) have been enjoying a dalliance that led to one shameful night in the Six Flags handicap restroom. Of course, the most righteous are the ones with the most skeletons in the closet.
With a book by Bekah Brunstetter and Natalie Elizabeth Weiss and music/lyrics by Weiss, Camp Wanatachi is fun to watch and has performances that will send chills down your spine, especially those by O'Donnell and Mueller, two vocal powerhouses. Although the vocals are often drowned out by a regrettable echo-like microphone effect, you get the idea that these are well-trained voices.
Even though Camp Wanatachi: In Concert is not a fully staged musical, the performers, including a six-piece orchestra plus beats by Travis Stewart aka Machinedrum, fill the intimate setting with music and dance and do a fine job telling the story of a budding romance set to a catchy electronic-pop score. It will make you feel like a kid at summer camp.