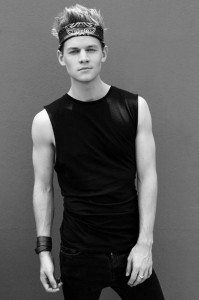 Do you ever see someone many years younger than you who demonstrates so much talent, charisma, and self-possession that you just sort of resent them for it? Like, where they're so good at something - and so young - that it makes you hate them? Like, where you enjoy them SO MUCH that you want to vomit and then immediately find some way to suck their youth from their body, a la Bette Midler in Hocus Pocus?
Well, that is how I felt when I saw Joel Creasey in Rock God.
At 24 years old, Creasey is basically a veteran stand-up comic: this is not his first freaking rodeo. Already a star of some notoriety in the Australian stand-up comedy world, he is relatively unknown stateside, although I sincerely doubt that stays the case.
In Rock God, the comic details the many ways he has attempted to become famous while also opening up about the many female "rock gods" that he has idolized along the way. These "rock gods" include his mother, Belgian tennis player Kim Clijsters, and Australian comic Fiona O'Loughlin (who, as far as I can tell, is kind of like Australia's Roseanne, minus the TV show and some of the crazy). Having said that, don't let Fringe fool you: this is not storytelling hour with an Australian funny man. This is crude, kinetic, hilarious story-based stand-up comedy from a gay boy who hides relatively little.
First of all, he's adorable, but he balances his good looks with a deliciously fun mix of vanity and self-deprecation. Second, he's clever as hell, and cattier than a cat in a cat costume. Most importantly, however, he is present with his audience and makes the material work for the people there at that time on that day. (This is a good time to mention that I saw him at 3 pm on a Tuesday, the most atrocious time for stand-up comedy I could possibly think of).
From one gay guy to another, I applaud his ability not just to be himself, but also to derive some of the most well-structured and clever stand up I've ever seen FROM being himself. His material covers a lot of gay ground: everything from hooking up with his mother's Zumba instructor to getting drunk and judging a naked-man competition at a Manhattan gay bar. I am the first to admit that, as a gay man in his late 20's, I am well within the parameters of his demographics; however, his style and humanity make it difficult for me to think of him as strictly a gay man's comic. Our audience was a mix of ages, races, and sexualities, and I'm fairly certain we all found him delightful. His focus is the joke within the context of the story, and that story happens to be about the time he got drunk and slept with one of the naked-man competitors.
I strongly suggest catching the show. If you miss it, then YouTube Joel Creasey in the meantime before he hits it big here. While you do that, I'll be figuring out how to steal his youth.
Rock God continues its run at the New York International Fringe Festival through August 15 at the Players Theatre.  For more on FringeNYC shows, click here.