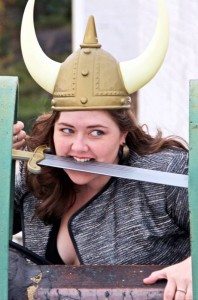 I had the pleasure of catching the very impressive Lisa Flanagan this week in La Donna Improvvisata, a show that makes improvising an entire one-person opera look remarkably easy.
It begins with Flanagan asking the audience to choose an opera character archetype from a list on the piano, then requesting four musical notes which the pianist will use as the opera's theme.
With that - and nothing else - Flanagan launches immediately into 60 minutes of beautiful, funny, and poignant musical theatre. It's long form improv at its best from a performer with a wonderfully trained voice, keen sense of story structure, and seemingly instinctual ability to create compelling characters out of nothing.
Our story was about a young girl obsessed with adventure books who dreams of building an exciting life of her own. Her father has other plans and announces that he has sold her into marriage. Like any plucky heroin, she runs away from home, meets a magical tree nymph, gets arrested for trying to rescue a prince, and eventually lives happily after.
One of the most impressive things about Flanagan is her composure. At no point during the show did I think, "She has no idea where she's going with this." It was so polished that I kept having to remind myself this isn't a scripted play and that she is, in fact, pulling off a major feat. There's a sizable difference between improvising a sixty minute monologue and improvising a freaking opera. The former allows room for pauses, thinking, interjections and the like; the latter requires an inordinate amount of focus and technical skill but offers very little space for thinking.
This may not be a terribly smart thing to do, but I have a bit of a bone to pick with the Fringe Festival. This is the second day-show I've seen from this year's festival: both have been great shows with no audience. I will never understand the motivation behind giving any performer a 3 pm time slot in a black box theatre on a Thursday at Astor and Lafayette. We had ten people in our audience (because OF COURSE we did! It's 3 on a Thursday!). While Flanagan still managed to give an enthralling and hilarious performance, she deserved better.
La Donna Improvvisata continues its run through August 24 as part of the New York International Fringe Festival. For more on FringeNYC shows, click here.