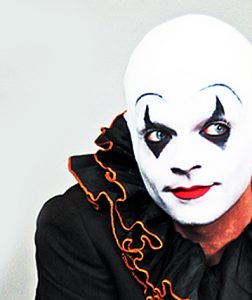 From Rapunzel to Hansel and Gretel, some of the most beloved and well-known tales in the world are the products of the Brothers Grimm and their collection of Grimm's Fairy Tales. But not all of the stories these German brothers told have reached the iconic status of Cinderella or Sleeping Beauty. Bringing some of these lesser-known tales to the forefront is Little Stories, a simple yet endearing piece at this year's New York International Fringe Festival that will charm children and adults alike.
Directed by Michael Heitzler and adapted by Jack Herholdt, Little Stories takes on six of the Brothers Grimm's not-so-classic tales, from The Fisherman and His Wife, about a fisherman's wife's escalating wishes and the magical fish that grants them, to King Thrushbeard, the tale of a bride who has to settle for a wandering minstrel after rejecting a king. The six short stories are tied together by a clown (Herholdt), who presides over the proceedings.
True to its title, these tales are, in fact, "little"—short vignettes performed simply at a quick pace. The stories will likely be unfamiliar to most (though in the case of some stories, this obscurity feels understandable), and Little Stories' talented troupe of players bring them all to life in a clear, entertaining, and concise way. Many of the vignettes do end quite abruptly, and with extremely understated transitions between the tales, it was hard at times to tell when one had reached its end. As the Clown, however, Herholdt does a charming job at bringing things together, with a simple yet charismatic portrayal that's both playful and mysterious. Those with an aversion to clowns will find this portrayal to be suitably non-threatening—though Herholdt's frequent trips into the audience will likely unsettle anyone who likes the fourth wall to remain intact. (Sitting toward the back and away from the aisle is recommended for those who don't want to be singled out.)
Aiding the storytelling are the minimal yet lovely sets (designed by Scott Connor) and puppets, which are imbued with a handmade, arts-and-crafts feel. A quilted "sea" and magical tunnel are especially creative, and the production's hand-crafted aesthetic gives their low production values a particular charm. The well-crafted puppets (designed by Jan Leslie Harding) are a true highlight of the production, giving the proceedings an added whimsy that matches the magical tales. From this charming stagecraft to the joy of discovering these unknown fairy tales in such a delightful way, Little Stories is the perfect choice for families at this year's Fringe.