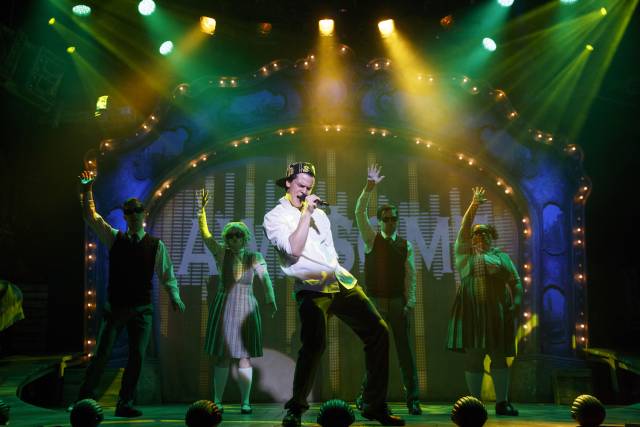 In Ride the Cyclone, six Canadian teenagers board a roller coaster — and only one makes it out alive. The question of which teen ultimately escapes this tragic fate is at the center of this witty new musical, which is now playing at the Lucille Lortel Theatre in a production by MCC Theater, following a 2015 Chicago premiere.
Directed and choreographed by Rachel Rockwell and featuring book, music and lyrics by Brooke Maxwell and Jacob Richmond, Ride the Cyclone tells the story of a high school choir group from Uranium City, Saskatchewan, who find themselves in purgatory after being killed in a freak roller coaster accident. Presiding over this otherworldly realm is The Amazing Karnak, a fortune telling automaton with the skill of knowing exactly when a person's time on earth will come to an end. Karnak tells the group that one of the six will be saved — after a game to determine which teen will be gifted with this fortunate fate.
This game forms the bulk of the musical, consisting of a pastiche of songs that let each teen show off their own inner lives, from Ukranian bad boy Mischa Bachinski (Gus Halper)'s rapping to gay teen Noel Gruber (Kohlby Wardell)'s Edith Piaf-esque torch song mourning the tragic Parisian life he never had. And if the song styles are recognizable, so too are the character tropes on display. With the exception of dismembered-beyond-recognition Jane Doe (Emily Rohm), who now exists as a hollow shell of a former self she can't remember, the teens largely fit neatly into existing types: In addition to Mischa and Noel, the show centers on Ocean O'Connell Rosenberg (Tiffany Tatreau), the Type-A overachiever; Constance Blackwood (Lillian Castillo), the nice, overweight best friend who never gets the spotlight; and Ricky Potts (Alex Wyse), the introspective disabled teen with a heart of gold.
The musical uses these familiar tropes as a kind of shorthand, relying on stereotypes to define its characters rather than giving them unique characteristics of their own. When the show does defy its tropes, giving characters unexpected traits or fleshed-out backgrounds that play against our preconceived notions, it does so largely by telling us through narration, long speeches or song, rather than showing us who these characters are for ourselves.
Though its characters are going through a crisis where the stakes are — quite literally — life or death, Ride the Cyclone also spends the bulk of its time trying to desperately avoid the macabre reality of its own premise. The show is much more eager to veer toward the whimsical and bizarre — bass-playing rats, feline space operas — than allow its characters to grapple with the emotional realities of the tragedy that's just befallen them. Much of the show feels more like a slightly existential episode of Glee than a thoughtful consideration of how we place value on a person's life.
This doesn't mean the show's lightheartedness isn't enjoyable. On the contrary: the musical's sparkling wit is frequently quite funny, and the well-written music, if more derivative than wholly original, makes for some truly wonderful numbers. But much of Ride the Cyclone feels conflicted about what it's trying to be, particularly when its campy pep is contrasted against the production's lush, eerie design, marked by Scott Davis' foreboding carnival-style set and Greg Hofmann's deeply hued lighting. All of the show's shifting tones, however, are carried out perfectly by its excellent ensemble of performers, who take on both the comedy and tragedy in the piece with equal aplomb.
Ultimately, however, Ride the Cyclone redeems itself as it rolls along and figures itself out by confronting the show's own premise, rather than reveling in wit and whimsy. Once it embraces the struggle at its core and goes beyond tropes to claim the characters as its own, Ride the Cyclone evolves into something quite lovely and affecting, with a thoughtfulness that transcends the earlier scenes and blends perfectly with the otherworldly design. At last, the show finds its power and, like the characters at its core, leaves the earthly realm behind.