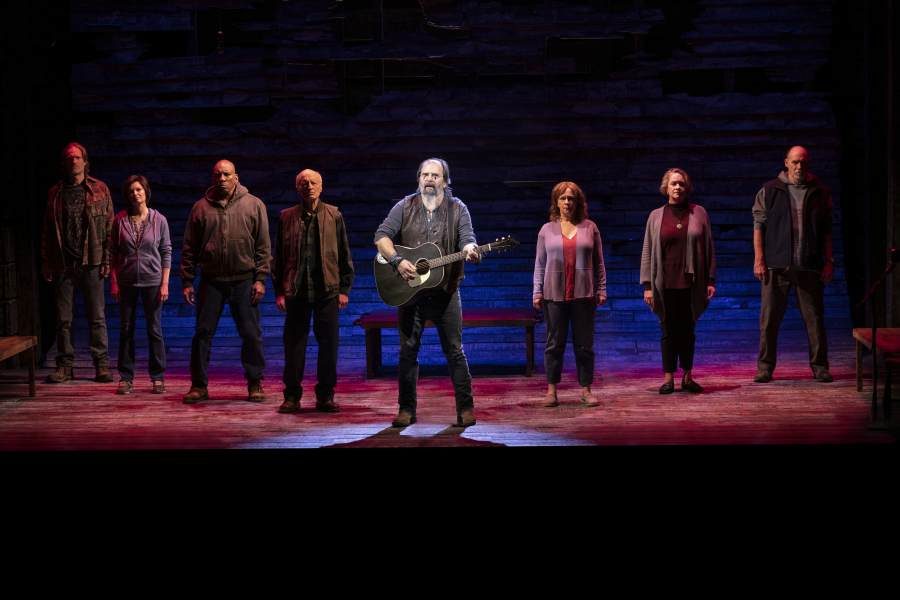 In my experience, any production that includes Steve Earle on its creative team is sure to have at least a few good things going for it. In the case of Coal Country, Audible Theater's new limited engagement of The Public Theater production at Cherry Lane Theatre, that certainly holds true. With or without Earle, Coal Country was probably destined to be a riveting, heartbreaking piece of documentary theatre. But Earle's soulful, folk-inspired mountain music transforms a good play into a great one.
Written by Jessica Blank (who also directs) and Erik Jensen, Coal Country tells the story of the 2010 Upper Big Branch Mine explosion in West Virginia through first-hand accounts. We're introduced to Montcoal--the small but proud community that has powered the Big Branch Mine for generations, and we see the toxic shift that occurs when Massey Energy moves in: making Montcoal a dictatorship under tight-fisted tyrant Don Blankenship.
Blankenship soon cuts corners where safety is concerned, and on April 5, 2010, the mine explodes, killing 29 miners. For days, family members wait in a company building near the mine for news of their loved ones. Finally, they're offered a settlement in exchange for silence, and treated to a lecture on coal mining that explains how the explosion was inevitable and definitely not Massey's fault. (What's most infuriating is that Blankenship gets off with little more than a slap on the wrist: one year of prison time and a fine he can easily afford.)
In many ways, Coal Country feels similar to productions like Come From Away and Is This A Room. Real-life characters recount their version of an event; and we laugh at, root for, and mourn with strangers who have somehow come to feel like family. The 8-person cast gives a tour de force in the full spectrum of emotions: from carefree nostalgia, to shock, to despair, to rage. At each step, we're there with them. Thanks to theatrical osmosis, we become the characters and they become us. We're cramped in a stuffy building awaiting news we dread to hear, standing over the unrecognizable remains of our loved ones, raging against peace talks, benumbed with grief.
Meanwhile, a guitar or banjo in his lap, Steve Earle shepherds the production from his seat at the edge of the stage. Opening with a song about John Henry, he grounds this story in the mythic tradition of West Virginia's mountain music. Later, he takes center stage for a rousing number that recounts the names of the 29 miners. Like a Woody Guthrie who's imbibed modern blues and country, he imbues the story with something even greater than the sum of its wonderful parts. It's no longer just about a West Virginian mining town, but about the whole human race--its longings, losses, and heroism. With its heartrending accounts and incendiary story, Coal Country was always going to strike a nerve. Thanks to Earle, it strikes a chord.