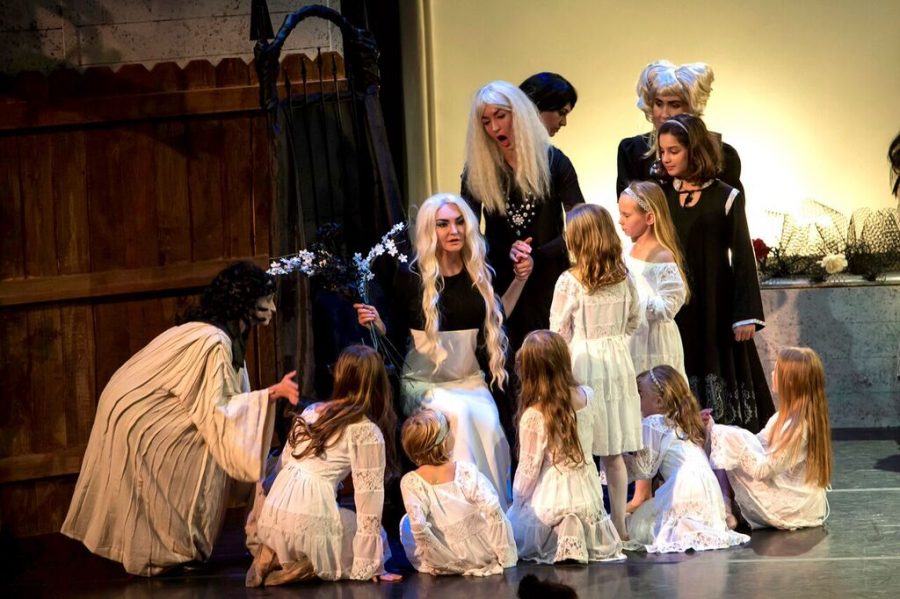 More than ten years since our favorite modern age demigod won us over, Percy Jackson is back in a deliciously dorky new musical. Playing at the Lucille Lortel Theatre, The Lighting Thief: The Percy Jackson Musical is sure to win over the books' young fans, the books' grown-up fans, and anyone in between.
As in Rick Riordan's novels, Percy Jackson (Chris McCarrell) struggles. With school, with constant expulsion, with ADHD and dyslexia, with his mom's smelly boyfriend – basically, he can't catch a break. This holds true when his school takes a field trip to a museum, and his math teacher turns into a giant bird and attacks him.
When she hears about the attack, Percy's mom, Sally (Carrie Compere), and his best friend Grover (George Salazar) take him to Camp Half-Blood, a safe place for the half-god, half-mortal children of the Greek gods. On the way, the group is attacked by a minotaur, and despite Percy's best efforts to save them, Sally dies before he can defeat the monster.
Heartbroken at the loss of his mother, Percy finds himself stuck at Camp Half-Blood, where he learns that his father is none other than Poseidon, one of the "big three." In yet another struggle to add to Percy's life, the big three – Zeus, Poseidon, and Hades, the three most powerful of the Greek gods – aren't supposed to have kids. Worse yet, someone has stolen Zeus' lightning, and as the son of Poseidon, Percy is suspect number one.
In the hopes of clearing his name and saving his mom from the Underworld, Percy sets out to find Hades and recover the lightning before a war breaks out between the gods. He's joined by Grover, who turns out to be a satyr, and Annabeth (Kristen Stokes), a daughter of Athena who's been dying to prove herself on a quest since she arrived at Camp Half-Blood five years ago. On the way from Long Island to LA, which is naturally where Hades is located, they encounter a seemingly endless series of monsters and challenges. And all the while, a threatening warning sounds in Percy's head, as the Oracle of Delphi warned him at camp that he'll be betrayed by someone he calls a friend.
With a book by Joe Tracz and music and lyrics by Rob Rokicki, The Lighting Thief: The Percy Jackson Musical embraces the clever energy and fun teen angst of the books. The songs skillfully flesh out the characters and their relationships with each other to lend the play stronger emotional weight all while keeping the energy and enjoyment high. Combined with the creativity of Lee Savage's scenic design and David Lander's brilliant lighting design, the musical beautifully captures the spirit of Percy Jackson.
It certainly helps that the main trio's winning performances, as well as those of their fellow demigods, play up their characters' trials and tribulations in thoroughly endearing ways. As any of the enthralled middle schoolers in the audience will attest, this show is witty, fun, and a perfect musical adaptation of the beloved book series on which it's based.