Rob Rokicki on new Monstersong "Silver Bullet," his preoccupation with werewolves, and his favorite Halloween memories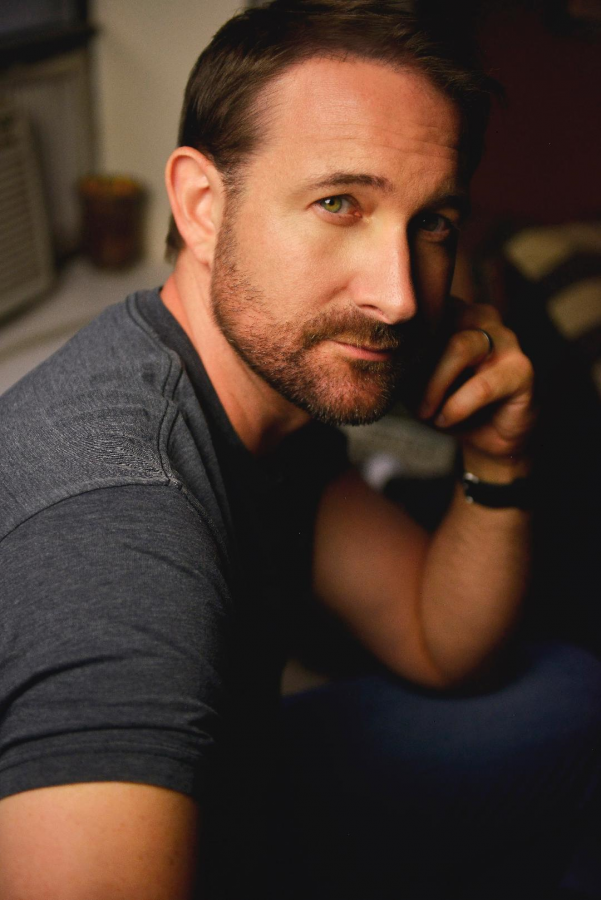 Rob Rokicki's Monstersongs is possibly the greatest (and definitely the funnest) Halloween album of all time. Released by Broadway Records back in 2017, the graphic novel rock album recently got an update with a brand-new song: "Silver Bullet." A collaboration with director Jenn Thompson, the song is performed by Samantha Williams as an 11 o'clock number that ties the whole album together. With the album and graphic novel now updated to include both "Silver Bullet" and a new prologue, we spoke with composer Rob Rokicki about the genesis behind "Silver Bullet" and Monstersongs, the evolving life of this spooky song collection, his favorite Halloween memories, and more.
So I love Monstersongs and I'm super excited for this new song. Can you tell us a little about it?
Basically, I thought the show was finished. Then I was working on a production with Jenn Thompson, and we started breaking the show apart, looking for something else for the young protagonist to do. It all came to a head and I thought, there's a real moment here for an 11 o'clock number where the young protagonist wrestles with the nature of good and evil. A lot of the show is about how this young person is processing the world through these archetypes of monsters, and how we other people. So this idea of puberty and coming of age and werewolves felt really right. The song asks the question: as we come of age, are we doomed to repeat cycles of carrying the anger of our parents? And how can we fight the hate in the world without making us hate, too? This became a revelatory moment, where all the other monsters, at the end of this song, echo their themes as well. It was the missing piece to the show.
It definitely has a different feel from the other songs, and it seems like the stakes are a little higher.
Exactly. The show is now licensed with Concord Theatricals, which is really exciting, and some of the theaters that have done it, when I've reached out to them to make sure they're including the new song, ask about using artwork for it or not. You can use David O' Neill's wonderful artwork that comes with the show if you license it, and he's done an incredible new piece of art for this song. But one of the things we wanted to do was let the song speak for itself. So we actually don't recommend using art when doing the song live, so people can really focus on the lyric. Have it be a real moment of introspection where the audience has to think more and be implicated a little bit more, which I think is really fun.
On that subject, I saw there's a theater in Nashville currently doing Monstersongs.
Yeah, there's been a few stagings of it. There's also a production in Madison, Wisconsin, and one in Amsterdam that's opening soon. There was a full concert version in Japan. That was quite exciting. We were working on a TheaterWorks Hartford piece reimagining the show and doing something really immersive---unfortunately because of COVID we had to cancel that production, but we were able to do a really great workshop of it, so we hope to do another production soon. It's really exciting to see all these other productions cropping up, and what they do with it. We allowed for inclusivity as much as possible in terms of casting, so you get some really fantastic, dynamic, interesting, diverse casts.
Speaking of casting, you worked with Samantha Williams to record "Silver Bullet." What was that like?
Samantha is a former student of mine. I adore her and I think she's an incredibly grounded, talented performer. And when I was thinking of things to collaborate with her on, this song seemed like a great idea. Actually, back in 2017, when we had the Broadway Records album debut party, she was in that concert. I believe it was her first professional concert. So it's really nice to have it come full circle. And the song itself, depending on who sings it and their life experiences, brings out all kinds of different themes, which is what Monstersongs does at its best.
On that note, I wanted to go back in time and ask how Monstersongs itself came about.
This happened way back in 2011 or 2012. I'd booked a Broadway show as an actor but the producers pulled out at the last second. I was a little floundering and needed something I could work on that would be tangible and exist. So the idea of a concept album came into my head. Initially I wanted to co-write a song with a different singer/songwriter for each monster. I wrote "Footprints" first with Joe Iconis, who is one of my favorite people and collaborators. And he basically said: you need to do this on your own, don't worry about collaborating with other artists, you have a great idea, just go for it. So I started exploring different monsters. But I still wanted someone to collaborate with, and so the idea came along of doing a visual concept album. That's when I remembered that my friend David O'Neill was an incredible illustrator. He's done a lot of children's books, but I wondered if he'd ever done anything dark and twisted. Then I saw some of these character sketches that he'd done that were really grotesque and amazing, and I said, would you like to collaborate? And he said sure. So we did one or two songs to see what would happen. We were playing with archetypes and the history of these monsters, as well as the metaphor we wanted to explore through the songs. Because all the songs are about love in one form or fashion, whether that's unrequited love like little Igor to Doctor Frankenstein, or apathy like the ghost not feeling seen in a relationship, or societal love in terms of the troll under the bridge---which is based on a homeless man that lived down the street from me. When society turns their back on you, how do you move forward without turning into the monster people assume you are? So David and I would come up with those things, and the idea again was, I'll find another illustrator to do the rest of these, but David said, I can do all these monsters, and each illustration was so different and unique, I thought, this is the perfect marriage. So now we have a physical graphic novel and a digital version which now has the new song. It was really a joyful experience collaborating with Dave like that, and the images and animatics he created can be licensed and used in the theatrical production. We're also developing the piece as a virtual reality videogame with designer Denise Koch out in Germany, who fell in love with the show when she saw a production of it in London. It's a show that touches people from all over the world in different ways, and I think the multimedia aspect of it is what's really exciting to a lot of directors, and the loose structure. You can do a lot with it.
Is there anything about how Monstersongs has been received that's surprised you?
Just the fact that people who find it and discover it become fervent fans of it (laughs). There is a small but growing contingent of folks that are really passionate about the piece and it's really exciting to see that, especially for something original like this. I love that feeling you get when a show is embraced by a community, especially a fandom, like Lightning Thief was. But for something completely original, it's really exciting. Folks that love avant-garde or off-the-beaten-path musical theatre, or folks who may not even like musicals, find themselves drawn to projects like this, I think. It pushes the envelope on what a musical can be, with the multimedia, the different structure, the genres of music and it being very rock and roll. It's also thrilling to see it done in different countries, with different casts so wildly unique to the areas they're in. It just shows what I was hoping for: that this show is about finding humanity in us, and monsters can look like anybody. How we other people. That kind of shared humanity we have. How are we monsters ourselves a bit too, right?
I know you always have a lot of projects you're working on at any given time. Is there anything you're focusing on now?
I'm really excited about a project called Experience Marianas that I've been collaborating with Sarah Beth Pfeifer on. It's a wild sapphic rock musical about a woman trying to escape an oceanic cult. Think Heaven's Gate meets Scientology. I liken it to my favorite musical theatre that deals with something scary in an interesting way, like Kander and Ebb does with Cabaret. I would aspire to hopefully have a show like that because I just love Kander and Ebb. They'll take a topic that seems taboo and make it so entertaining. What I wanted to do with Experience Marianas was take the idea of being indoctrinated into a cult, and for folks who don't think they'd ever be susceptible to that, to turn it on its ear and make the audience literally get indoctrinated in real time into this crazy world, where it feels very plausible, and to see the backstage and onstage world of people trying to keep up an organization that ends up being very toxic and dangerous. It's a really fun show. The idea is to hopefully have a lot of immersive elements. We just did a big production workshop of it at a college in the UK, the University Centre Weston, and it was thrilling. The audience got it. I was so scared: would they lock into it or not---and they were in it. They laughed; they got it. It's a very dark satire. It has some of my favorite music I've written, I released an EP with a couple of the songs last year, including a song called "True Believer." We're just looking for a home for it now because the show is in a really good place.
Just for fun, since it is Halloween and we are talking about monsters, do you have a favorite way you like to celebrate?
Halloween is my birthday. And I have a twin sister, so I'm probably going to go out to see my twin and my nephew. I have a new baby daughter, and it will be her first Halloween. So that will be fun. My favorite Halloween memory is having a birthday cake so scary that my friends were too afraid to eat it when I was a kid. It made me so happy. My mom did me proud. I was like, this cake is amazing. It was a terrifying skull. It was fully lifelike. Oh, it was really gross. I loved it so much.
Do you have a favorite scary movie?
I have a couple, Nightmare Before Christmas is one. There's this wild weird movie about a killer pig called Razorback. It is one of the weirdest movies and I love it very much.
What was your best-ever Halloween costume?
I did go as Johnny Cash with an actual ring of fire around me. That was pretty fun. I did a Lightning Thief-inspired Halloween costume when I went as Tyson the cyclops. My mother made me a really killer spider costume as a kid. There have been so many costumes.
How about your favorite monster?
Oh, that's a good question. I really like werewolves and I like werewolf movies.
Well, that's on brand with your new song, so that's good.
Yeah! Joe Iconis wrote an amazing song about a werewolf called "Run Away from You." So I wanted to write a werewolf song for forever but I was like, I need to find my own way in. And it just so happens that this moment in the show fit perfectly with the idea of changing and puberty, and cycles, the cycles of the moon, and I thought, oh my gosh, here is the perfect opportunity for a werewolf song. So yeah, I have my own werewolf song now, very happy with that.