'One More Seat at the Round Table' is a delightful fictionalized account of Camelot's long journey to Broadway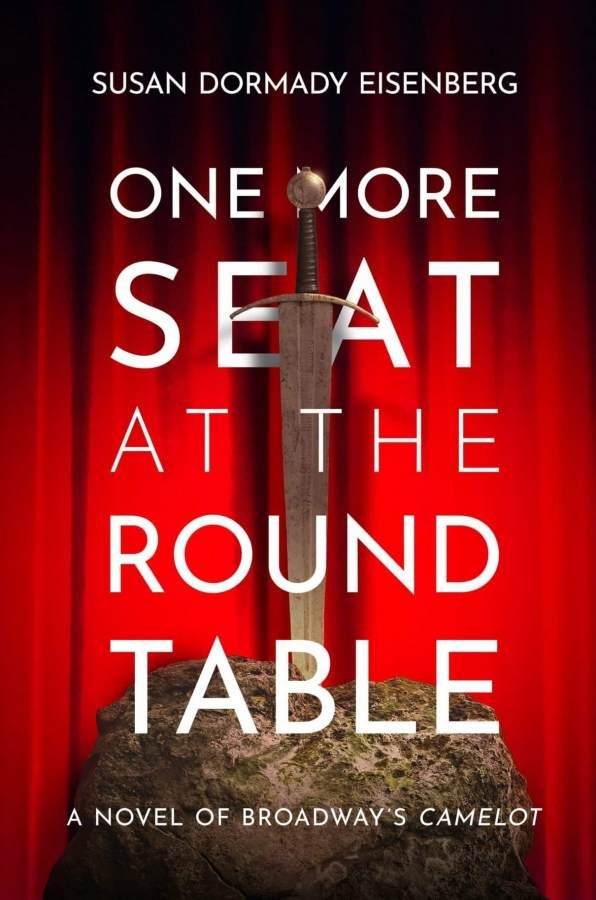 In the 1967 film version of Camelot (a movie I adore), there comes a moment when Arthur senses that the presence of his illegitimate son, Mordred, together with the forbidden passion shared by his beloved Queen Guenevere and his best friend Lancelot, have put his Round Table in jeopardy. "We must not let our passions destroy our dreams," he says, a plea to his queen and friend not to succumb: if not for his sake, for the sake of their shared dream. In the end, Jenny and Lance's passion does destroy their dreams. The dream of Camelot: a civilized place where justice prevails and might is used only for right, endures for no more than "one brief, shining moment."
There was a time when the musical Camelot itself seemed destined for as short a life. During its pre-Broadway development, the show was a whopping four hours long, and full of problems. Then two of the creatives--librettist Alan Jay Lerner and director Moss Hart--suffered alarming health complications that threatened to put the whole production on hold. Once it finally played for an audience, reviews were absolutely brutal. Yet in spite of its many problems, and beyond all expectation, Camelot went on to become one of the most iconic--and in my opinion, greatest--of all American musicals. (Thank you, Ed Sullivan and Jackie Kennedy.)
Susan Dormandy Eisenberg's One More Seat at the Round Table traces the story of Camelot's journey to Broadway as seen through the eyes of two fictional characters: production assistant Jane Conroy and ensemble member Bryce Christmas. Jane is an eager, ambitious young woman pursuing her dream career of working behind the scenes on Broadway. Bryce is a would-be star with a gorgeous voice and a day job waiting tables at Sardi's. As Camelot finds its groove, Jane and Bryce find each other. What follows is a highly entertaining look at a pivotal moment in Broadway history, balanced with a stormy but ultimately delightful romance. I adored every minute of it.
As a Broadway aficiniado, long-time Julie Andrews admirer, and lover of all things Camelot, I enjoyed the feeling of being a fly on the wall throughout the musical's development process. Jane and Bryce act as stand-ins to offer us peeps at stage and screen legends like Richard Burton, Robert Goulet, and, of course, Julie Andrews, whom Jane manages to befriend (not jealous at all). With glimpses of backstage drama, the creative process of Lerner and Loew, and the trial-by-fire ordeal of mounting a Broadway production, One More Seat at the Round Table is bound to appeal to theatre fans like me, especially if they have an interest in theatre history. (I guess this is the time to admit that one night when I was bored I just watched every internet clip I could find from the original run of Camelot.)
But this book is more than just a lesson in theatre history. At its heart is a compelling love story fraught with almost as many challenges as Arthur's and Guenevere's. As Jane and Bryce grow more and more attached to each other, they begin to realize that a relationship and a life in theatre are almost mutually exclusive. Bryce wonders if Jane could be persuaded to give up her Broadway dreams for a life with him, while Jane wonders if a relationship with Bryce will sabotage her career. Like Lancelot and Guenevere, perhaps Jane's and Bryce's passions will destroy their dreams.
I won't spoil the ending by answering my own question, but suffice to say, I was rooting so hard for Jane and Bryce that I couldn't stop reading. I had to find out if they would make it work or, like Arthur and Guenevere, part ways, and like the Round Table, sink into the oblivion of history: "less than a drop in the great, blue motion of the sunlit sea." While the dream of Camelot itself may have sunk into that sea, the musical did not, and neither does One More Seat at the Round Table. It sparkles.