Harry Hadden-Paton talks returning to Lincoln Center Theater, learning to dance for 'Flying Over Sunset', and reuniting with his Downton Abbey costars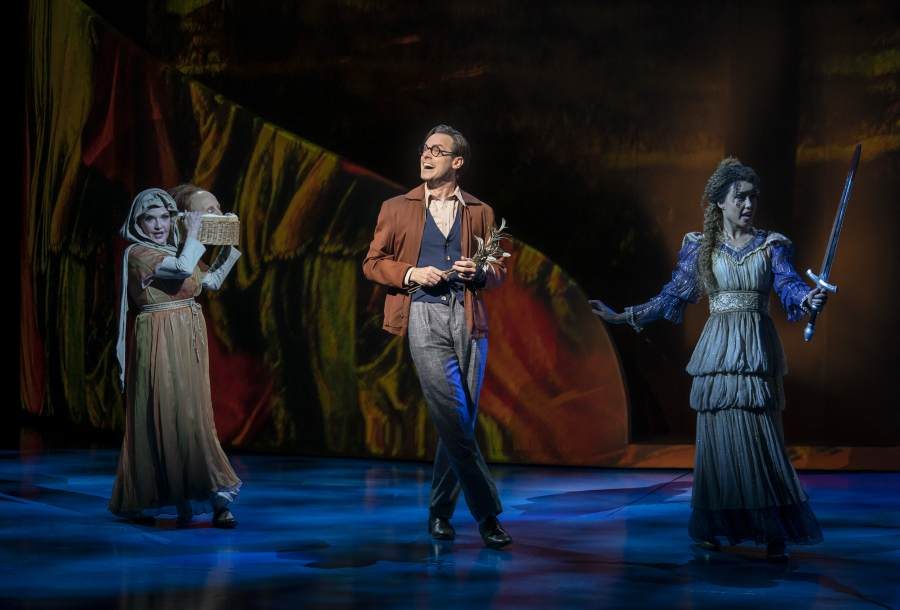 Michele Ragusa, Harry Hadden-Paton, and Kanisha Marie Feliciano in Lincoln Center Theater's
Flying Over Sunset
. Credit: Joan Marcus.
For Harry Hadden-Paton, the chance to do a new musical (and one written by James Lapine, no less) was a dream come true. The British actor who made his Broadway debut in Lincoln Center Theater's My Fair Lady was set to star as Aldous Huxley in Flying Over Sunset, again at Lincoln Center Theater. But the intriguing new show that follows Huxley, Cary Grant, and Clare Booth Luce on an acid trip was put on pause hours before its first preview. The date was March 12, 2020. Now, a year and a half later, Hadden-Paton is ready to tell the story with a new perspective, alongside costars Tony Yazbeck and Carmen Cusack. Ahead of Flying Over Sunset's official opening (finally!), we spoke with the versatile actor about My Fair Lady, Flying Over Sunset, and, of course, Downton Abbey, in which he plays Herbert Pelham, aka Bertie. And in case you were wondering, yes, he really is that charming and gracious in real life.
I have to ask briefly about My Fair Lady because you were so wonderful as Henry Higgins.
Oh, thank you.
You brought a vulnerability to him that I found really moving. How did you find that?
Well, the joy of My Fair Lady was that we had the estate on our side and we could access any of the source material and create our own version. And when you play the character, you have to empathize with him. He's a complicated chap. Ultimately, I felt for him. He didn't have the power of communication. Maybe it was the time he was brought up in, but whatever it was, he was not able to communicate in a way that we would recognize as socially normal today. He wasn't able to expand on his feelings. So I felt pity for him. And that got me through it really, because on the page some of it is quite brutal and cruel. But it was a real joy to do. And it's fun to be back at Lincoln Center Theater again now.
Yeah, how is it being back?
Amazing. It's different. The pandemic's given me a bit of closure on My Fair Lady in that respect. There's a bit of distance from it, which is good because I'm not comparing the shows. It feels very much like a different chapter. And just to be on stage is an amazing feeling. It's an honor to be able to do that after having it taken away from us for so long, to the extent that you sort of question whether you can actually get by without doing it. So it's wonderful to be reminded that this is what I do, and I'm good at it, and I should keep doing it.
My Fair Lady has a long history, as do many of the other shows you've been in. What's it like doing a new musical?
Well that's one of the reasons to do it. A new musical from James Lapine doesn't come along very often. So again, I'm incredibly excited and honored to have been asked to do it. To create something that no one's seen before that has no comparison—I always knew it would be amazing but I hadn't really expected how brilliant it is, certainly in previews, to have an audience who knows nothing about this show experience it for the first time. To feel them experience it whilst I'm doing it is extraordinary. For those tunes of Tom Kitt's to be heard for the first time is amazing, and to think that people will then listen to them on repeat because they're incredibly beautiful, it's a very exciting thing. And obviously it's still fluid. We only froze the show last night. So all these changes we've made, just to get it to where James wants it, have been very exciting, and hard work. But I think what's great is it's stuck completely true to James's vision. It's what he always wanted it to be when he started it 10 years ago. But whether it's by prescience or luck, it's incredibly relevant, more now than it would have been if we'd done it without there having been a pandemic. It's about communication and connection and perspective. And we've learned to value those things over the last year and a half more than we ever have before. Certainly I have. It's a very important piece of work to come out now as well, as people are micro dosing with these drugs and working out what scientific benefits they have, like they did in the 50s. They're re-experimenting with it now and that makes it very relevant.
As I understand it, you had to shut down Flying Over Sunset right as you were heading into your first preview.
That day. Two hours before.
Do you think stepping away from the show for a year and a half changed how you approach the show?
Yes, I think it did. The material didn't change at all. We all changed. We stayed in touch. We followed each other's progress with regular Zoom meetings. We got to know each other a lot better and could see all the battles each of us were going through, so it was a wonderful reunion in the end when we all got back together. But it also gave us some perspective. It gave us some distance from all the research we'd done, which I think was useful to just free us up, and make it more human in a way, less of an impersonation. It's helped us, I think. And it's given us perspective. Now, it's about telling the story, and it's about integrity and allowing James's vision to just be heard. So I think, as dreadful as it's been for Flying Over Sunset, I think it has been useful.
As you're learning this new show, have there been any challenges?
Oh yeah. I'm not a dancer. (laughs) But Michelle Dorrance has got some incredible choreography that works on a really base, spiritual level. And I'd say the whole show does. It's not a show that you can pull apart intellectually. It works on a human level, much deeper than that—in the waters of our bodies really. And so, I'm out of my comfort zone with the dancing, and with the singing to a certain extent as well. But I've never felt more alive. That's what I love about it. I love having a live audience, doing things that scare me. And when things go wrong, I just thrive on it because I'm reminded this is real and I'm alive and this is something I can be very grateful for.
Do you have a favorite moment in the show?
I love Huxley. I love my character, and I think that's important. This play catches him in a moment when he's lost his wife, his cohort of many years. And I think that's really interesting to investigate. But it's also about making connections with new people. At the end of the show, the four of us feel like we've been through something together. Maybe that's my favorite moment. We can look into our friends' eyes across the stage and feel that we've really bonded, and it's a lovely feeling.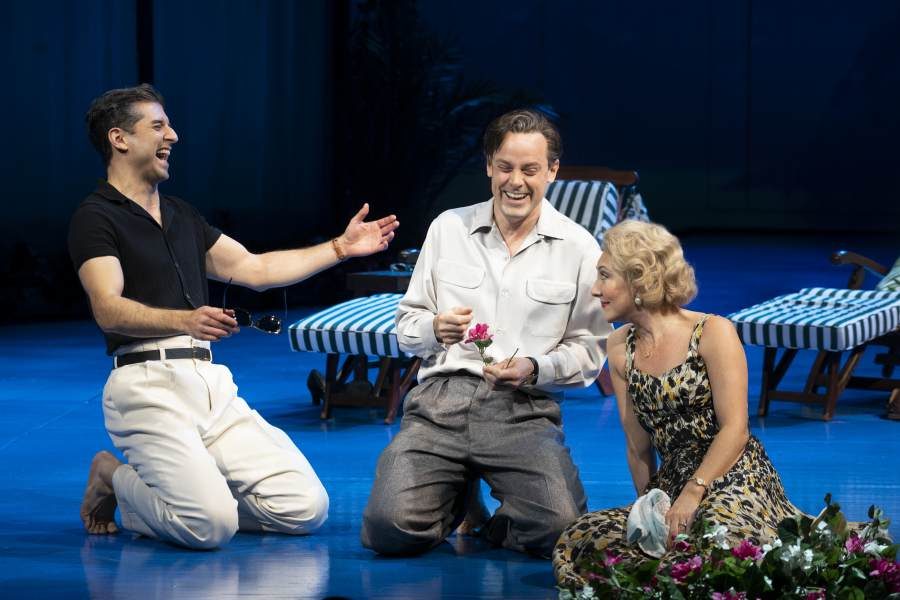 We've got to talk about Downton Abbey. 
OK.
I know you can't give any spoilers for the upcoming sequel, but can you tell us anything about what's in store for your character?
Well, Bertie is now part of the family, which is amazing. I get to be part of this huge ensemble of people that we've all grown to love. I have to pinch myself when I look around and see all these actors being brilliant--and also acknowledge that I outrank them all now in terms of my status, which is hilarious. But we had an amazing time on the movie. We've known each other for so long, there's a shorthand. It makes life very easy. We're supported by an incredible crew and design team and production. We had a month in the South of France, which, in the middle of COVID felt very spoiling to be able to do that. With all the restrictions, it's crazy that we got to do it and that we got through it without having to shut down. I feel lucky to have done it. And Bertie and Edith go from strength to strength. I can't really give away anything. But it's just wonderful to be part of it and we all love each other.
The title is Downton Abbey: A New Era. And it certainly feels like a new era right now as we're returning to some degree of normalcy.
Well, don't speak too soon.
I know. Knock on wood. But now that theatre is back, at least for the moment, do you have any goals or dreams for the future? 
I'm living a dream right now doing a new musical at Lincoln Center Theater. That was certainly on my bucket list. I try not to plan. If COVID's taught me anything, it's that planning to do anything just doesn't work anymore, because plans will get canceled. So just be in the moment. I'm enjoying this right now and we'll see what happens. There are a few projects up in the air, which I'm very excited about, but they might not happen, so I'm very realistic about that now. And I think, for my sanity, that's a better way to be.