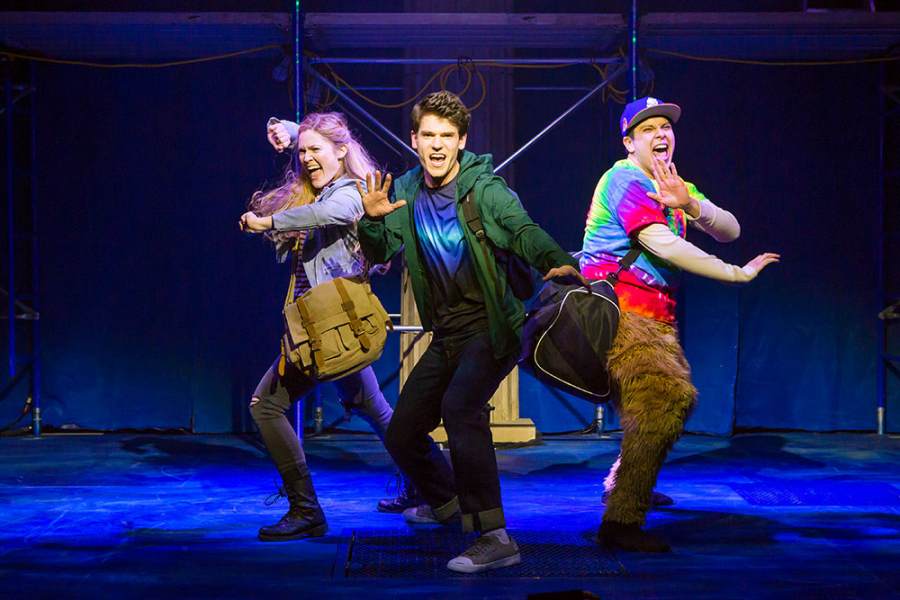 Once upon a time, there was a book that everybody loved. A short time later, this book got turned into a movie which everybody hated. Finally, the book got turned into an Off-Broadway musical which everybody loved, and everyone lived happily ever after (except that no one could ever quite forget that terrible movie).
The book is The Lightning Thief: Book 1 in the Percy Jackson and the Olympians series by Rick Riordan. The Musical is The Lightning Thief: The Percy Jackson Musical. The movie is best left unidentified.
Percy Jackson fans can rest assured that The Lightning Thief is the Percy Jackson adaptation they've been looking for. With a plot that follows closely the original story-line, all the sass and humor from Riordan's book, and a score that's electrifying (pun intended), The Lightning Thief: The Percy Jackson Musical delivers. And if you didn't get the chance to see it Off-Broadway before it closed, now you can experience the show through the newly released soundtrack, which captures all the humor, heart, and havoc of the play.
If you're looking for a quick listen-through or trying to decide whether or not to buy it (the answer is yes), here's StageBuddy's pick of the Top 5 songs from The Lightning Thief Original Cast Recording:
1. My Grand Plan
Also known as the song when Annabeth Chase (a.k.a. Kristen Stokes) totally steals the show, this song is so catchy you may just find yourself singing it in your sleep. But you'll never sing it as well as Kristen Stokes. Her voice oscillates from soaring pop vocals to beautifully tender notes that perfectly express her character's depth. A daughter of Athena, Annabeth "has always been a smart girl" but times are tough for demigods (offspring of a god and a human), and the poor girl always seems to slip under the radar (it doesn't help that her mom gave her a hat that makes you invisible). Despite that, Annabeth just knows that someday, she's going to make herself noticed. You may find yourself thinking of Idina Menzel when her voice gets up into that high register. But I think this song holds its own and then some in a stand-off with "Defying Gravity."
2. Good Kid
"Good Kid" is Percy's theme song. He'd like to be a good kid, and gods does he try, but for some reason, things never seem to work out the way he intends. Strangely enough, his "angsty" song is one of the most fun in the show, with a great electric guitar part and strong percussion. (You might find yourself singing this one in your sleep, too.) It's also a great song because it perfectly describes through music Percy's inner conflict and climactic turning point: all he needs "is one last chance to prove I'm good enough for someone." Oh yeah, and Chris McCarrell rocks this song.
3. Drive
This song is just so fun, it's impossible to leave off our list. To their own surprise more than anyone else's, our trio of heroes (Percy, Annabeth, and Grover - the latter performed wonderfully by George Salazar) "keep surviving every creepy, crazy thing" as they travel towards Los Angeles in search of the Underworld. The lyrics are hilariously clever, and the chorus is insanely catchy. ("Driiiive, just dri-i-ive....")
4. Put You in Your Place
Clarisse's song (daughter of Ares, god of war), "Put You in Your Place" highlights Sarah Beth Pfeifer's incredible sass -- "Your goose is cooked, I'm here to cook it" being just one of the lines she delivers to a popping melodic score. Kristen Stokes also features with some pretty crazy vocals, so what's not to love? We've got two awesome heroines (/singers) battling each other musically. And, not to be overlooked, the orchestra is also pretty great in this song.
5. Bring on the Monsters
The show's finale song raises the electricity in the room by about ten notches. Featuring the whole Lightning Thief Company (Carrie Compere has a brief but awesome solo), and a reprise of just about every song in the show thus far (see how many you can count), this song is all but impossible to stop listening to. The harmonies are on point. It's also a great self-motivator ("bring on the monsters, bring on the real world").  And let's hope that when Chris McCarrell sings, "I'll be back next summer," he means more than just Percy's return to Camp Half-Blood the following year. (Sea of Monsters Musical, anyone???)