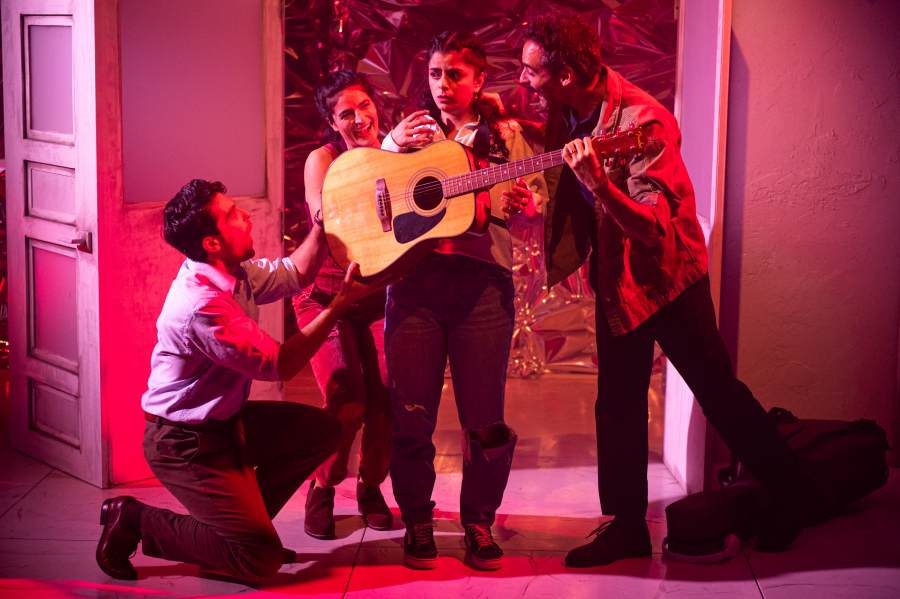 When a young musician returns to Turkey to care for her troublesome father, she gets a lot more than she bargained for--and so does the audience. Produced by Ars Nova and PlayCo at Greenwich House, Melis Aker's HOUND DOG is a trippy, often perplexing ride through the jumbled memories of a young woman adrift in a sea of indecision. If it doesn't always deliver what it seems to promise, it features plenty of fun and charming moments. The cast is on-point and the direction (by Machel Ross) smooth, and all in all it's an enjoyable, if not completely satisfactory, 90 minutes.
Hound Dog (the titular main character, played by Ellena Eshraghi) has just returned from a prestigious music program at Harvard. Now, she's been accepted into the Royal Academy of Music--but doesn't intend to go. Back in her hometown of Ankara, Turkey, she grieves for her recently deceased mother and struggles to get along with her baffling father, who goes into his room every night and emits a strange series of grunts. Then there's the problem of their neighborhood garbage collector, who's apparently rifling through trash to collect a series of secretive items for Hound Dog's father in preparation for his mysterious trip to "Graceland."
When Hound Dog ventures into her father's room to unravel the mystery, she finds herself caught in a psychedelic jam session featuring her best friend, former music teacher, and garbage collector as dancers. This triggers a series of mixed up memories from her past involving her relationship with her father and her uphill struggle to leave behind her problematic home and family. (Is she high? Possibly.) The soundtrack to all this is a series of mellow numbers by The Lazours, led by vocalist Maya Sharpe, that feel appropriately dreamlike. In fact, the whole show feels a bit like a disorienting dream: by the end of it, much remains unexplained and unresolved.
Then again, when HOUND DOG hits the mark, it's spot-on. For example, there's a hilariously awkward scene between Hound Dog and her former music teacher Mr. Callahan, whom she's secretly (or maybe not so secretly) crushing on. Olivia Abiassi is also delightful as Hound Dog's comical best friend Ayse, and as always, Jonathan Raviv (as Yusuf the musican/garbage collector) is a pleasure to watch. There are a few tender musical moments, such as when Hound Dog and Mr. Callahan improvise a duet, or when Hound Dog grabs a guitar and sings her mother's lullaby to her father--taking the first step toward patching their relationship the only way she knows how: through music.
While music is definitely key to the story, for a show called HOUND DOG, there's a noticeable lack of a concrete Elvis connection, and a similar lack of upbeat rock-and-roll numbers. But this could be easily forgiven if the show delivered on its other promises, which unfortunately, it doesn't always do. Credit where it's due: watching HOUND DOG is an entertaining and enjoyable experience. I just left with questions.