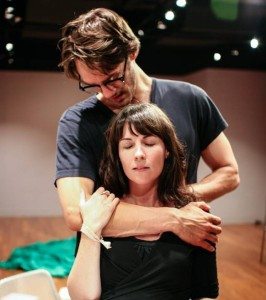 Walking into the Robert Moss Theatre to see the premiere performance of Catherine Yu's The Sun Experiment, presented by Helikon Rep as part of the New York International Fringe Festival, I understood next to nothing about the life and ideas of Ludwig Wittgenstein, famed 20th-century philosopher. After seeing intricately choreographed scenes depicting his private life interspersed with Shakespeare's Twelfth Night as well as a modern academic drama added for good measure, I left without having been captivated by who he was or what distinguished him from other philosophers.
The Sun Experiment is a drama about thinkers. It is reminiscent of some of Tom Stoppard's work but without the wit and passion for which he is known. There were moments that reminded me of Ann-Marie MacDonald's Goodnight Desdemona (Good Morning Juliet), namely the Shakespeare pastiches juxtaposed with a modern academic story. But again, these seemed to lack passion, wit or a sense of wonder. And while Stoppard, in his Shakespeare pastiches, has the humility to use (mostly) Shakespeare's own words, playwright Catherine Yu found a reason to completely rewrite the dialogue for Twelfth Night in a style that sounds stilted and overly contemporary at the same time. Not a word of Shakespeare is used; it seems as if Yu thought she could do it better. More disappointingly, even these scenes are not very engaging.
The actors do their best, and are often quite endearing. Lauren Currie Lewis delivers the most interesting performance of the evening. She portrays four characters: Laurel, an English student at a New England College, both Viola and Sebastian from Twelfth Night, and in an interesting move that mirrors Viola's gender-altering disguise, Patrick, the married lover of Wittgenstein during his Cambridge genius years. She moves from one role to the next with elegance and grace, slightly altering her voice and physical movements without overdoing it. It is a good performance, I just wish the play was better.
Also gracefully shifting from one character to another is actor Ben Chase, who also plays four characters: Nick, the attractive professor loved by Lauren, the brilliant Ludwig Wittgenstein himself, and Shakespeare's characters Orsino and Sir Andrew Aguecheek. Rounding out the main cast is Julia Watt. Although her part(s) are underdeveloped, she also plays two (three?) roles: Clara, Patrick's deceived wife, and Claire, the suspicious wife of Nick. Claire also steps in for Olivia during the explorations of Twelfth Night. Why? The reason is given, but it seems contrived, as if the playwright just wanted to rewrite Twelfth Night and hey, here is an opportunity, sort of.
Director Elena Heyman seems to have devoted all of her energy to choreographing stage pictures and elaborate scene changes instead of exploring the dramatic moments between the play's characters. These scene changes, elegantly done with four young dancers dressed only in white slips, are quite lovely. The ghostlike figures move effortlessly through the space, changing the actors' costumes and continuously transforming the acting space by manipulating just five wooden chairs and a large blue cloth. But completely lost is any depth to the scenes themselves. They are played earnestly, but without very much nuance or subtlety. There are no layers to them. The scene changes and stage pictures are actually the artistic highlights of the piece.
Plays about academics and ideas have become a fascinating genre in recent years. Not only the work of Stoppard, but plays such as W;t and 33 Variations have used the stage to explore contemporary penetration by modern academics into the ideas of past thinkers and artists. The Sun Experiment strives to find a place alongside those works, but it doesn't quite reach that summit.
The Sun Experiment continues its run at the Robert Moss Theater through August 22 as part of the New York International Fringe Festival.  For more on FringeNYC shows, click here.