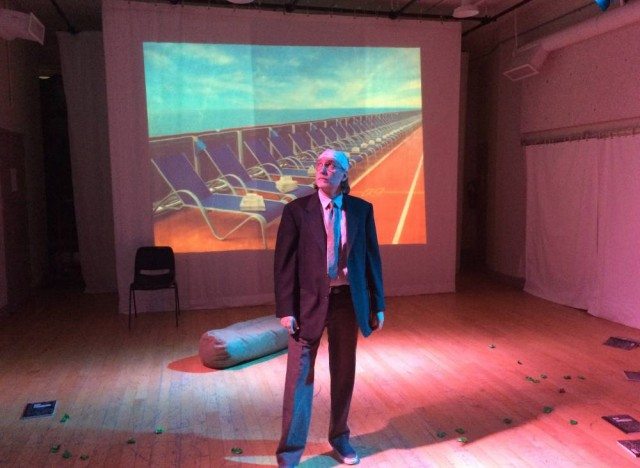 In 1995, author David Foster Wallace set sail on a seven-night luxury Caribbean cruise aboard the MV Zenith and wrote about his experience in Harper's Magazine, later republished as the essay A Supposedly Fun Thing I'll Never Do Again. Twenty years later, actor Christopher Duva is bringing Wallace's masterful travelogue to life once more in a solo show by the same name, which is currently playing as part of the New York International Fringe Festival.
Sporting David Foster Wallace's signature handkerchief tied around his head, Duva performs the essay accompanied only by a slideshow of projected images and various props that are scattered around the stage and retrieved as necessary. But this isn't a strict dramatic reading of the complete work; the 90-minute piece, directed by Suzanne Weber, condenses the essay into a livelier dramatic form. The adapted text retains the brilliance and thoughtfulness of Wallace's prose while constructing it into more of a narrative with a quick, engaging pace. This makes it a good introduction for those unfamiliar with the essay or with Wallace's writing—you won't lose anything by going in cold. The show doesn't sacrifice Wallace's descriptions, but also never lingers too long on one section, particularly the full day Wallace spends participating in cruise ship activities that range from Catholic mass to skeet shooting (which takes up 34 pages of Wallace's essay, but is recounted here with a calculated quickness).
Duva also slightly restructures the text. We spend much of the piece laughing along with Wallace's witticisms and the absurdities of his experience, including tales of the pool's overly zealous Towel Guys, getting beaten at chess by a nine-year-old girl, and the cruise's never-ending dining opportunities, including the trials and tribulations of Table 64 at the Five-Star Caravelle Restaurant. It's only at the end that the lights take on a blue tinge and Duva brings in Wallace's more affecting comments that examine the unbearable sadness of a luxury cruise and the choicelessness and manipulated pleasure it entails, giving the piece a more dramatic arc and saturated poignancy.
David Foster Wallace's writing is, on its own, very human and wholly complete, with a pervasive, colloquially intelligent voice and specific, comprehensive descriptions. That being said, Duva's engaging performance of the essay as Wallace still manages to add something to the work, making it into more of a conversation where we feel like we're sharing in the experience. This personal touch draws out the inherent humor of the text to incredibly entertaining effect, but also adds a depth and humanity that make the final monologues about Wallace's despair particularly emotional, especially with the added knowledge of how Wallace's own life story came to an end. Though the real star of A Supposedly Fun Thing I'll Never Do Again is David Foster Wallace himself, Christopher Duva's performance makes this classic essay not only one to read, but one to see as well.