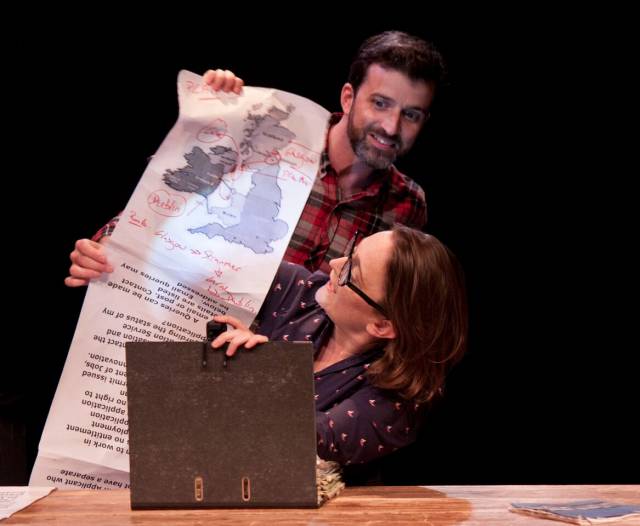 The Irish Arts Center's How to Keep an Alien is a laugh-a-minute kind of show. In this one-woman romantic comedy, presented as part of Origin's 1st Irish theater festival, love must be proven through endless paperwork, collectable moments kept in a binder for the elusive end goal: a visa.
Writer and performer Sonya Kelly tells the story how she met Kate from Queensland while rehearsing for an apparently ridiculous play (one in which a troupe of Irishmen pretending to be Russians speak in British accents to show that it's the olden days). What begins as a flirtation sparked by existential dread becomes a fling turns into love, but Kate from Queensland's visa soon whisks her back to Australia, leaving Sonya heartbroken and alone. The resulting love affair becomes a paper trail of bureaucratic nightmares, as Sonya and Kate have to prove to the Irish government that they're in love so that they can be together.
Kelly occasionally interrupts her love/paperwork story to read the letters of Ann Flannigan, Kate's great-great grandmother who emigrated from Ireland to Queensland. These letters add a great layer to the show, though Kelly's attempt to merge the two stories towards the end is somewhat awkward. Still, Ann Flannigan's story adds a sense of universality to Kelly and Kate's experience by transcending their story to discuss traveling for love on a broader scale.
Sharing the stage with Paul Curley, the stage manager, Kelly delivers an absolutely hilarious summation of her courtship with Kate, which was shadowed since the beginning by the looming threat of immigration laws. Directed by Gina Moxley, Kelly's performance is funny to its core. The audience was kept in stitches as Kelly colors each moment of her bureaucratically-challenged romance with hilarious insights into the process of falling in love, and she and Paul bounce off each other with excellent comic performances. Even in the show's more serious moments, such as when Kelly nervously faces the prospect of traveling to Australia to meet Kate's family, she maintains the hilarious tone that makes it such a success.
Sound designer Carl Kennedy matches that tone perfectly through musical interruptions and transitions that helped to establish a new atmosphere for each scene despite the simple set. Like everything else in the show, the music also added humor, as each cue had excellent comedic timing.
Despite the unending success of the show's comedy, some of its emotional moments could have been more developed. Each of the major milestones in Kate and Sonya's romance landed well, and their circumstance makes it easy to root for them as a couple. However, it would have been nice to develop a few more personal moments between them. Kelly does a great job of this in their initial courtship, as they rehearse the play together, but in other moments, she details her hilarious frustrations with the paperwork surrounding their love, but glosses over the actual development of their relationship itself. In the show's final moments, a touching review of their application binder makes it clear how much they love each other, and it would have been great to see a little more of this throughout.
Performed with comedic aplomb and wry freshness, How to Keep an Alien makes for truly fantastic theater.