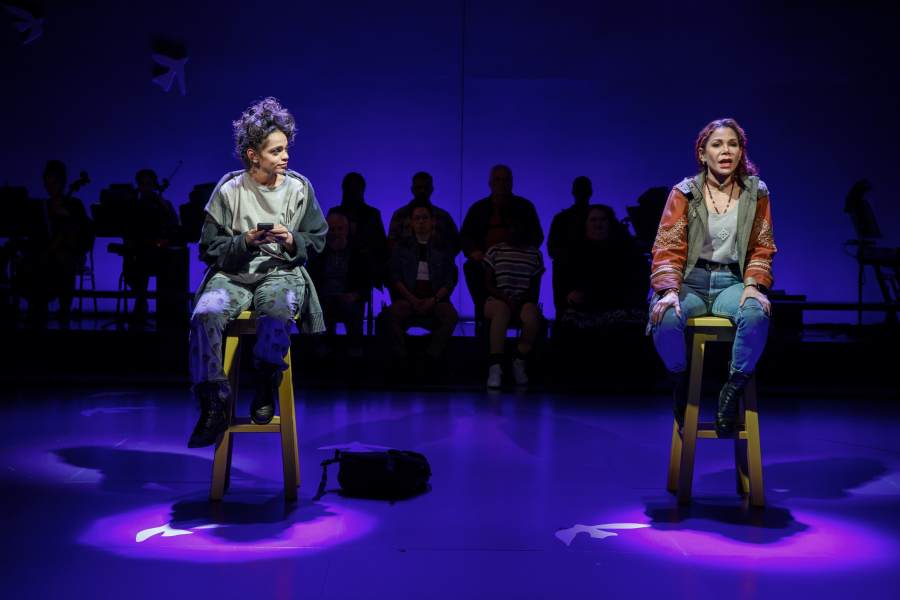 In terms of its political and cultural resonance, Miss You Like Hell might be the most important musical running in New York City at the moment, and yet you wouldn't know it, judging from the lukewarm notices that recognized the power of Daphne Rubin-Vega's performance, and pretty much nothing else. The problem is that most, if not all, of the pieces and reviews on the musical have been written by white people, and as lovely as they can be when they're allies, many forget that aesthetic authority is only half the job when it's lacking in cultural competency, which is often the case when they review works by and about people of color.
Take the premise of Miss You Like Hell for instance, which has undocumented immigrant Beatriz (Rubin-Vega) go on a roadtrip with her estranged teenage daughter Olivia (Gizel Jiménez) on the eve of the court hearing that will decide her future in the States. Stories about people like Beatriz are usually relegated to ominous 60 Minutes specials, Republican cautionary tales, or sappy programs where undocumented immigrants are transformed into an homogeneous mass of saintly creatures whose worth is based on their lack of imperfections. The effect of seeing a joyous musical in which the undocumented immigrant in question curses, smokes pot, has sex and leads a happy life must strike as some sort of dissonance for white audiences expecting another tale of martyrdom.
Yet it's in its undeniable alegría de vivir where the musical, with book and lyrics by Quiara Alegría Hudes and music by Erin McKeown, sets itself apart from the tired narrative of 24/7 suffering that has shaped the way in which the country speaks about undocumented immigrants. White people seemed to want a story to go with their limited awareness of immigration, and to see characters as allegories rather than people, but Miss You Like Hell, gave them more than they bargained for.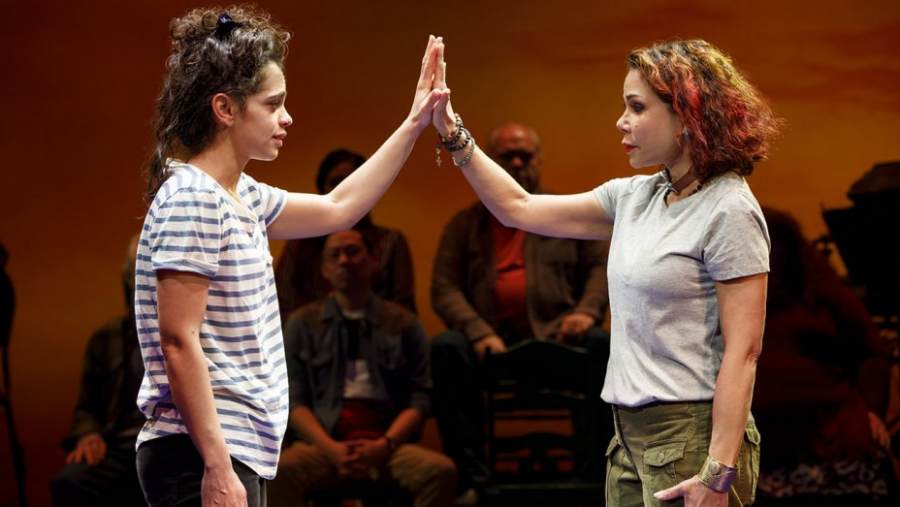 Here's five other things about the musical that white people didn't get:
We Share Because We Care
Read any review of the musical and you will find accusations of its book being over-stuffed with unnecessary subplots. Yes, besides Beatriz and Olivia, we also meet an elderly gay male couple (charmingly played by David Patrick Kelly and Michael Mulheren), an African American blogger (Latoya Edwards) who has a cyber crush on Olivia, and a widower (Danny Bolero) who sells tamales. Take a closer look at the characters in the subplots and you will find they all have something in common: they're minorities too. Unlike their white counterparts, people of color tend to want to carry more of the oppressed with them. When a door opens and we are allowed to tell our stories, we can't selfishly focus on one protagonist, because we understand that unfortunately we are all united by lack of opportunity. This is why you will find that pieces focused on the experiences of people of color tend to be ensemble based, rather than obsessed with a single character.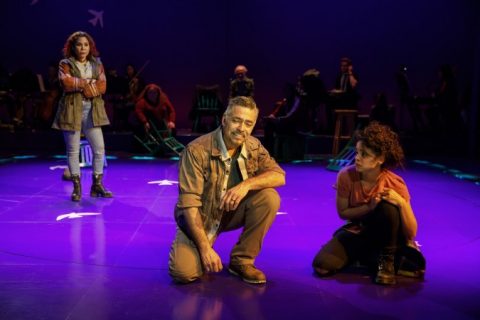 The Tamal Song
The beautiful "Tamales" sung by Danny Bolero's Manuel, as he recounts his life with his late wife seen through their preparation of the title dish, is a little gem that could warrant a musical of its own. Hudes' sensual lyrics and McKeown's unintrusive score transported me to being five years old in my great-grandmother's kitchen, surrounded by the aroma of boiling plantain leaves, fresh corn meal, and salty pork. The beauty of the song is that if you listen attentively you will also notice the recipe Manuel sings of is unique to a specific kind of tamal, meaning that people coming from different parts of Latin America will leave with a different take. My Honduran tamales would have olives and raisins, Mexican tamales would be filled with cheese and rajas, while Puerto Rican pasteles are made from green bananas and potatoes.
You Are Not Your Green Card
I was saddened, but not surprised, to read reviews that commented on the musical's light-heartedness and accused Beatriz of not seeming like she worried too much about her court hearing. The truth of the matter is that in Beatriz's apparent indifference I saw not carelessness but resignation, aware of the unfairness of the immigration system, she decides to lead a fulfilling life within the parameters of her status. It's not that Beatriz doesn't care whether she's deported or not, it's that she knows that it's no longer in her hands, and in the musical we see tiny, but effective moments, that criticize the system's tendency to value bureaucracy more than humanity.
People of Color Tend to Like Their Families
Unlike all the Lady Birds of the world, most teenagers of color tend to like their moms, even moms who had to leave them behind to seek a future elsewhere. Tales of Latinx women leaving their children in the care of their parents or a significant other as they seek employment in the US are part of the fabric of Latin America, and with that comes the kind of mother-offspring bond that plays about white people have never understood. Rather than August: Osage County-like resentment, mother-daughter tales in Latin American fiction tend to navigate the line between profound love and melancholy for the time spent apart. So when Beatriz shows up to take Olivia on a road trip after years of not seeing her, not only do I understand it, I've witnessed it in real life.
Who Am I if I Don't Speak My Mother's Language?
Asking for an all-Spanish musical would've been too much, but I appreciated that we see Olivia battle with the notion that she is half-Mexican and doesn't speak Spanish. Stories about second and third generation immigrants denied their parents' native tongue in the hopes of being more "American" abound, and the musical's awareness of this slow cultural eradication is of extreme importance. The sorrow of this realization was beautifully contrasted by moments during the show when you hear a giggle or two in the audience, when characters speak in untranslated Spanish. It shouldn't feel like a secret code, but in this era I'll take my one-on-one dialogue with a piece of art in whatever shape it comes.
---