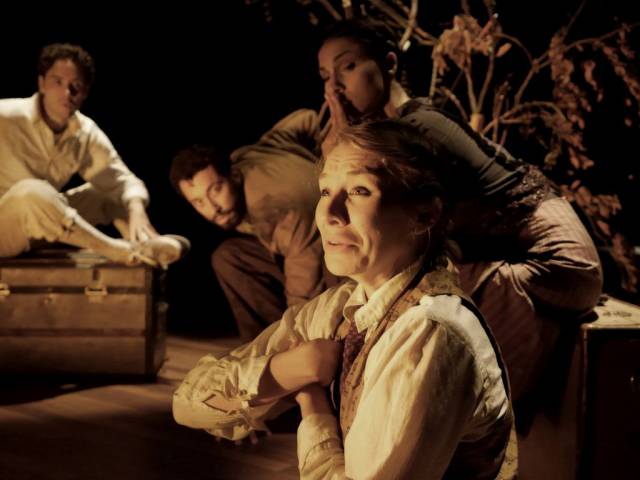 Before tonight, I classed myself as a Neil Gaiman agnostic. The English author, whose stories are being adapted by OldSoundRoom in their newest production, October in the Chair and Other Fragile Things, always struck me as simply competent. I found it tough to get a grasp on his mythology and difficult to divine what exactly he was trying to say with his macabre or mystical yarns. I must have been reading the wrong stuff, cause now, I'm a believer. I will be buying his latest book and his collection Fragile Things (from which these scenes are lifted), and I will be seeing everything OldSoundRoom does. And so should you.
The tales on display here are framed by a convocation of Months personified and chaired by, you guessed it, October (the commanding William DeMeritt with antlers, a duster coat, and a West African accent -- it's kinda like the seasonal UN). The other vocal months are May (a perfectly flighty Laura Gragtmans), the brash and angry August (Jackson Moran), elegant February (Elia Monte-Brown puffing on imaginary cigarettes) and our "tune-maker", the trollish March (director and scorer Michael McQuilken). Our stories include: an account of a tenant, his reclusive old landlady and her cat (the less said of this one, the better); a modern riff on Harlequin and Columbina (with much mime and superb foley art from shotgun mics and pumpkin guts) that'll make you think differently about what it means to give your heart to someone; a parable of writerly angst where a young man of literary pretensions resists the call of the Gothic (the broadest the comedy gets with a pianola style-soundtrack and silent film staging); a satiric window into the expensive tastes of wastrel Epicureans (who've eaten *everything* but a bird that roosts in the sun); and the final, affecting, sweet and haunting fable of a boy who runs away from home.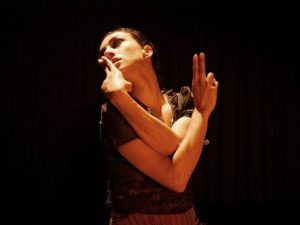 The stories are thematically and aesthetically diverse, and are staged as such, but they have a unity in Gaiman's signposts. We feel the interests in mythology, a kind of shopworn foppery from the upper class and an abiding obsession with the way we tell our stories. And rarely have they been told so well.
There is a kind of alchemy at play on that stage. Anyone with an interest in direction, performance, design or any part of theatre should take heed of what OldSoundRoom is doing. The way onstage quick changes and kinks of physicality and accent swell the cast of five to twenty. The way traveling cases become barn houses, escritoires, barred doors and ketchup renders gouts of blood. The way Solomon Weisbard's lights, like Caravaggio's oils, create form in the contrast of shadow and light. But over and above all the merits of these moving parts is how well they all work together. Old Sound Room is getting the ensemble dynamic in a way so many well-meaning collectives are failing to. The work, the ambition, and the goal is on the stage, not cribbed in a mission statement. For that alone they should have your support, for the gem of a play they've given us, they deserve a standing ovation.
---
October in the Chair and Other Fragile Things will run from Wednesday, October 29 through Sunday, November 2 at The American Theatre of Actors (314 West 54 Street). The cast includes William DeMerrit, Laura Gragtmans, Elia Monte-Brown and Jackson Moran, with original music written and performed by Michael McQuilken and Ms. Gragtmans. Lighting is by Solomon Weisbard, costumes and puppets by Elizabeth Barrett Groth and sound design by Michael McQuilken. Tickets are $20, and can be purchased by visiting www.oldsoundroom.com.