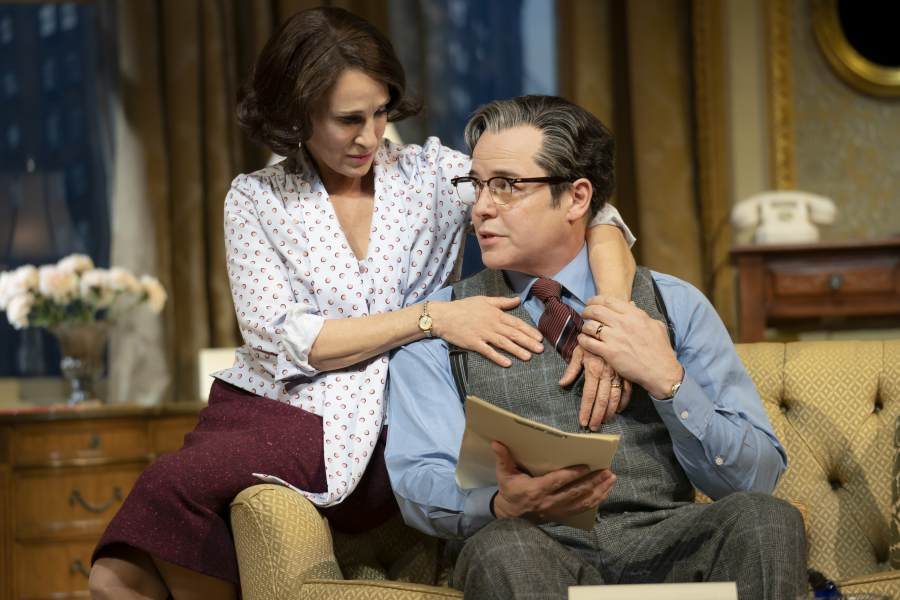 When we see married actor couples working together on stage, we feel a special connection. It's as if we are in on the joke. We expect chemistry and smile when they kiss and caress because we believe the gestures are honest.
It's even more satisfying when the couple is one we've known forever. This season Mathew Broderick and Sarah Jessica Parker are appearing together in a revival of Neil Simon's comedy "Plaza Suite" at the Hudson Theatre. Mathew Broderick will forever be the insouciant Ferris Bueller and Sarah Jessica Parker visited our homes weekly as fan -favorite Carrie in " Sex and the City." We 'know' them well and appreciate that they have been happily married for almost 25 years and have three children.
As a result, the audience came prepared to laugh at every comic line and gesture.The play is presented in three scenes, each with a different couple staying in room 719 at the iconic Plaza Hotel. The performers assume different personas during the course of the production, and every time Parker and Broderick entered as new characters, the audience erupted into tumultuous applause, as if they appeared for the first time
In Scene One, a married couple comes to celebrate their anniversary. Karen claims they've been married for 24 years but Sam disagrees. She says they stayed in suite 719 while he says they were on a higher floor. Karen has a problem with numbers, even forgetting her own age and the only woman who makes herself older. This is a cute premise until things turn a bit darker. Karen is quirky yet adorable, trying hard to rekindle their relationship. Sam is easily the bad guy, resistant and detached, more concerned with maintaining his weight than his marriage. In the second scene, Jesse, a famous Hollywood producer visiting New York, contacts Muriel, his high school sweetheart. He's obviously looking for a sexual encounter and she's starstruck by all the famous people he knows.
Although they are married and share equal billing, Parker is a far better actress than her husband. She's funny, delightful and charming. As the ditzy Karen, she is endearing. Broderick is wooden and two-dimensional. He is stodgy and has little variation of voice or body. He's slightly better in the second scene as Jesse, reminiscent of Austin Powers, a bit smarmy and unctuous, but Parker is still better as the slightly tipsy Muriel. Flipping her hair and giggling, she is humorous as she changes the time she must return home.
The third scene is my favorite of the three. The Plaza was often a site for upscale weddings. Today is Mimsy's wedding but there's a problem; she won't come out of the bathroom. Although it's Mimsy's day, the scene is about her parents, Norma and Roy. Broderick gives his best performance here. At moments he harnesses Jackie Gleason, especially when he blames his wife for their daughter's reluctance to get married. Parker gives a great impersonation of Joan Rivers, a tough, straight shooter. The scene offers the most slapstick and Broderick shows some physicality, trying to break down the bathroom door and later climbing out the seventh floor window.
Director John Benjamin Hickey made no attempt to modernize the play and many of the pop culture references don't resonate. Some comments about Joyce Brothers giving advice in Scene One and all the celebrities Muriel asks about in Scene Two may be unknown to younger audiences. So when Muriel asks about Otto Preminger and Yvette Mimieux, some may be wondering "who?"
The scenic design by John Lee Beatty is a lush and lavish two room suite, sitting room and its adjoining bedroom. The bathroom door figures prominently in the third scene. The costume design by Jane Greenwood is typical of the '60s especially the clothing worn by Jess and Muriel (flared pants and short skirt.
Simon, an acknowledged master of quip and humor, is at his best mocking people's foibles and idiosyncrasies. Yet underlying all three scenes, there's a serious view of marriage and broken and disintegrating relationships.
Yet Plaza Suite is still a lively comedy filled with one-liners and quips. As far as our audience was concerned, Broderick and Parker could do no wrong. So what if the marriages onstage in the play were falling apart? We still had faith in theirs.