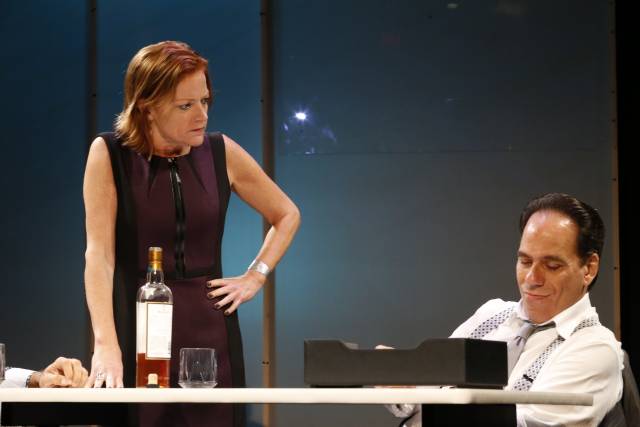 "They said it wasn't like this anymore." So observes the protagonist of Theresa Rebeck's play What We're Up Against as the endless misogyny of her workplace prevents her from utilizing her formidable talents. With this timely and deeply relevant production, the June Havoc Theatre and Life Force Arts look at the struggles women still face in the modern workplace, and the biases that can keep them from succeeding.
What We're Up Against follows Eliza (Lesley McBurney) as she struggles to succeed at the architecture firm where she works. Her struggles aren't based in her inability to do the work, but rather, her inability to get any. In a male-dominated workspace, where the mediocre and complacent Janice (Cherie Mendez) is the only other woman, talent and willingness to work aren't enough to get Eliza noticed by her superiors. Instead, Stu (Vince Bandille), the alcoholic and angry boss, brushes her concerns aside, insisting that she just has to pay her dues – even though Ronald Weber (Bones Rodriguez), who started at the firm after her and has half her talent, already gets the opportunity to work on big projects. However, when Eliza tries to get noticed, she gets shot down as the men nitpick the problems in her ideas despite her obvious talent. Even when Ben (Ean Sheehy), the firm's top architect, takes notice of Eliza's talent, it's not necessarily enough to make her fit into the "boys' club" atmosphere that defines the workplace.
Watching the show was, for the women in the audience, a deeply frustrating experience, testament to the play's success in portraying the sexist practices that all-too-often dominate male-centric workplaces. As the firm's sexist boss, Bandille does a great job of building the frustrating tone of the show through his case against Eliza. His performance alternates between anger at her behind closed doors, contrasted with a patronizing condescension during her presentations, capturing the various forms in which sexism can be expressed.
Though the play's themes are explicitly portrayed, lending itself to a black-and-white discussion of the women's struggles in the workplace, Rebeck's nuanced writing, aided by the skill of McBurney's performance, develops a more profound understanding of those women's experiences. In particular, McBurney's interactions with Mendez, the only other woman in the show, complicate the show's view of women in the workplace through their increasingly antagonizing attitudes towards each other. Under Lorca Peress's direction, the performances avoid the obvious stereotyping that their characters' relationships to each other might invite, allowing the show to arrive at powerful conclusions about the lingering presence of sexism in modern offices.