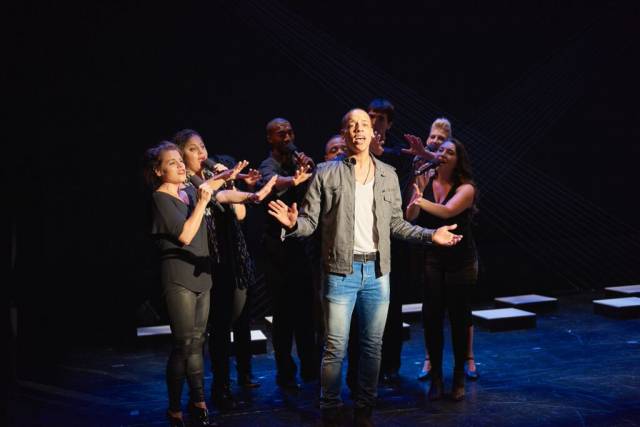 The biggest problem with Acappella is that it seems to believe so little in itself that it thinks the best thing about the show, and the selling point, is that it's performed without musical accompaniment, every song done just with human voices. Perhaps in the era of Pentatonix and Pitch Perfect this makes sense, but the show also has so much more to offer. Conceived by Greg Cooper, with a book by Vynnie Meli, and music and lyrics by The Acappella Company, the show is a fascinating retelling of "the prodigal son", as we see pop star Jeremiah (Tyler Hardwick) come back to his hometown, thanks to a delayed flight, not choice, only to realize that things have changed without, and perhaps despite, him.
He no longer feels a connection with the town, but he craves the attention he thinks he should be granted and tries to win back the love of Sarah (Darilyn Castillo), his former romantic interest, who is now with his best friend Simon (Anthony Chatmon) who has always envied Jeremiah. It's interesting to see how the plot unfolds because nothing turns out to be exactly as one expects, the show makes choices that feel more truthful, without ever losing any of its dramatic urgency.
The songs are performed beautifully by the entire company (Cheryl Freeman as Jeremiah's aunt is a true standout), and some of the lyrics linger in one's mind long after the show is over ("a lifetime's not too long to live as friends") but it's difficult not to think of how much more the show could've achieved if it had wanted to see past the whole "a cappella" thing. It's clear that very much like the people left behind in Jeremiah's hometown, this show has nothing to envy from more popular enterprises.