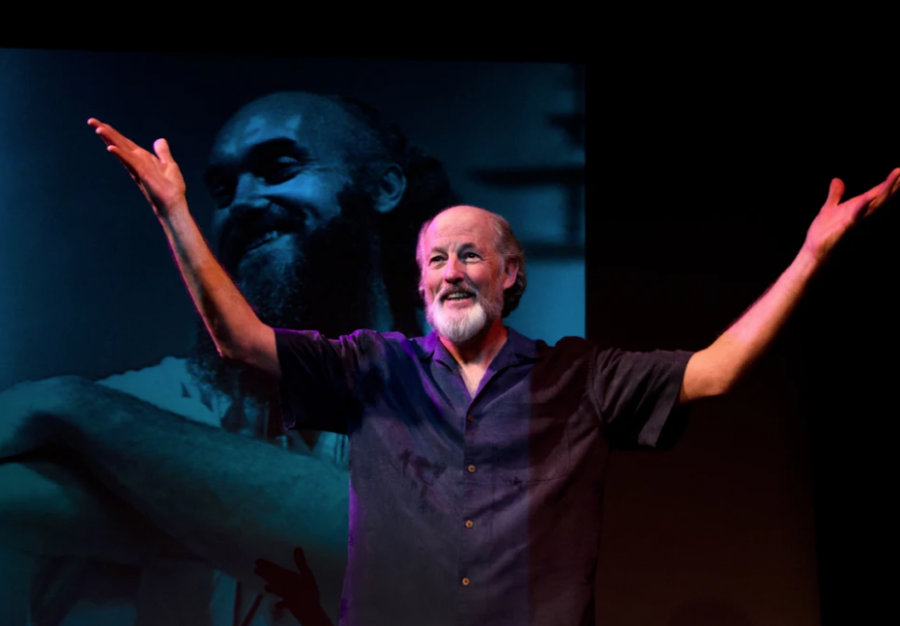 You'd think that pretty much everything that could be said about the '60s has been already been put in print, on film, or staged. But you would be mistaken. Acid Test, written by Lynne Kaufman, now playing through November 4th at The Marsh at 1062 Valencia Street in San Francisco, explores the life and times of Ram Dass, ex-Richard Alpert, a pioneer of the psychedelic revolution and a mover in the evolution of the American psyche. This one-man show stars Warren David Keith as the avuncular and aging new age guru as he recounts his long strange trip from heir to wealth to Harvard professor, to tuning-in and turning-on, and finally his transmogrification into Ram Dass, a spiritual teacher who, despite having made many discoveries about himself and the world, still has an axe or two to grind.
Mr. Keith gently rules the stage for the 80-minutes long show, directed by Nancy Carlin. The small stage, with only one chair, a table, a rug with a meditation cushion, a stool downstage right, and occasional projections, functions as an ideal venue for witnessing the story of how a son of wealth from a prominent New York Jewish family, became part of what really kicked off the sixties: Timothy Leary, Alpert, their experiments with hallucinogens at Harvard, and ensuing imbroglios with the university administration that resulted in Alpert dropping out, heading to Mexico for sun, more drugs, baseball and tequila, all the time examining his personal development as a human being.
It's not all orange sunshine and patchouli dreams. Keith deftly portrays a professional, a psychologist who pretty much has it all, who one day realizes he has nothing. Swayed by Leary, communal living, young men and expanding his consciousness, Alpert becomes Ram Dass by following a magnetic young, blonde Southern Californian from Kathmandu to the Himalaya of northern India. His former self melts away in Rishikesh as, tripping his brains out, his Maharishi sees through him, opening Alpert up, offering him a road to enlightenment. But however Ram Dass he might now be, the old Richard Alpert still tags along, leaving him unable to completely forgive and love—especially if you happen to be Andrew Weil.
The show moves at its own pace, sometimes a little to languidly, but to impose dramatic structure on Ram Dass' life would be to shove him, and this show, back into the conventions and formulae that he spent his life—from Harvard onward—seeking to surpass. Mr. Keith brings great warmth and humor to the proceedings, dealing with the almost inevitable cell phone in the audience with kindness, never missing a beat. It's a show that needs to be seen, if only to realize that though the 60's seem like a very distant, fuzzy memory now, we sorely miss that time of independence, love, and the yearning to break away from the consumerist snares of the US, a thought that in the not-so brave new world of tech titans, we all need to consider.