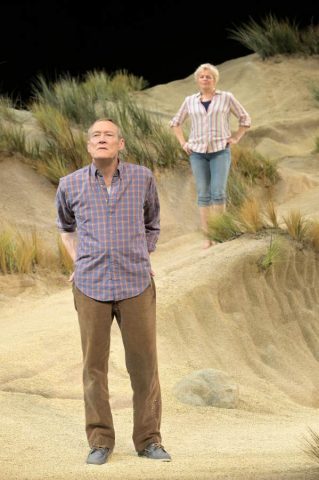 James Carpenter and Ellen McLaughlin in ACT's production of Edward Albee's Seascape, January 30th 2019 at the Geary Theatre, San Francisco.
Or so Nancy would have it, in the American Conservatory Theatre's exceptional production of Edward Albee's 1975 Pulitzer Prize winning Seascape, running now through February 17th at the company's Geary Theatre in downtown San Francisco. The highlight of ACT's 2018/19 season so far, Seascape defies easy categorization. Funny, yes, but not a comedy; absurd, but not absurdist; and at times an intense dissection of a marriage, à la Albee's Whose Afraid of Virginia Woolf, but ultimately not a Strindbergian battle of the sexes, Seascape forms a unique, challenging, enjoyably weird work, one of keen intellect and razor-sharp observations on relationships.
In director and long-time Albee collaborator Pam McKinnon's vision, Nancy and Charley, married retirees, spend the play talking, arguing, lounging, pacing, going up and down and gazing from the towering sand slope, tufted with seagrass and a weathered fence at the top, a trail zigging, then zagging, then zigging again to a view of the breakers at the top. The set design by David Zinn is both functional and stunning. Stressing meta-theatricality, McKinnon, rather than encasing the set with a blue-sky scrim, chooses to leave open the stage behind the set, lighting rig, walls and all, including graffiti. Stunning, with the accent on basic elements—sea and especially the earth—the set initially is reminiscent of Beckett's Happy Days, as Nancy, marooned in front of the dune dominates the initial dialogue, with her partner minimally participating. But soon enough, after initial truculence which he never totally abandons, Charley enters the fray as the two bicker about the future: she wants to bounce around from beach to beach, be it Florida, California, Rio or Hawaii while Charley wants to do … nothing. She's all for action; he's embracing inertia. They interrogate each other, dredging up the past with humor and acrimony, and things teeter in the balance until, at the end of Act One, they are visited by two human-sized sea lizards.
Yes, sea-lizards, who have taken Darwin by the horns and decided to make the great evolutionary leap forward and make terra firma their new domain. Or have they? Before we can find out, the two couples must negotiate this first encounter of different species, though happily enough Leslie and Sarah, the husband and wife from the depths, speak English, though many basic words and ideas leave them flummoxed, such as hand, seagulls, emotions, airplanes, love and breasts, the last a hilarious digression as both of the denizens of the deep examine Nancy, much to Charlie's chagrin. Thematically, the play explores the many facets of human relations, and existence, ranging from memory and love, action and inaction, to evolution, progress and, perhaps central to the play, language and communication, and what happens when the latter break down. The cast excels in every aspect, from James Carpenter's reluctant Charley and Liz Diamond's middle-class diva Nancy to Seann Gallagher and Sarah Nina Hayon as the sea lizards, the latter especially physically expressive as she, wide-eyed and apprehensive, takes in this squabbling new world. This is a production that cannot be missed, a rare chance to witness a director who knows Albee, and a superb cast (and set) in a play that by embracing the theatrical, shows us life in a profound and, ultimately, hopeful way.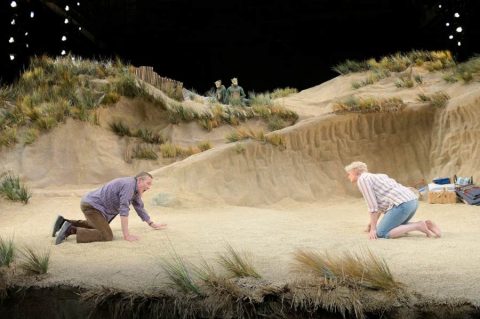 James Carpenter, Sarah Nina Hayon, Seann Gallagher and Ellen McLaughlin (from left to right) in ACT's production of Edward Albee's Seascape, January 30th 2019 at the Geary Theatre, San Francisco.