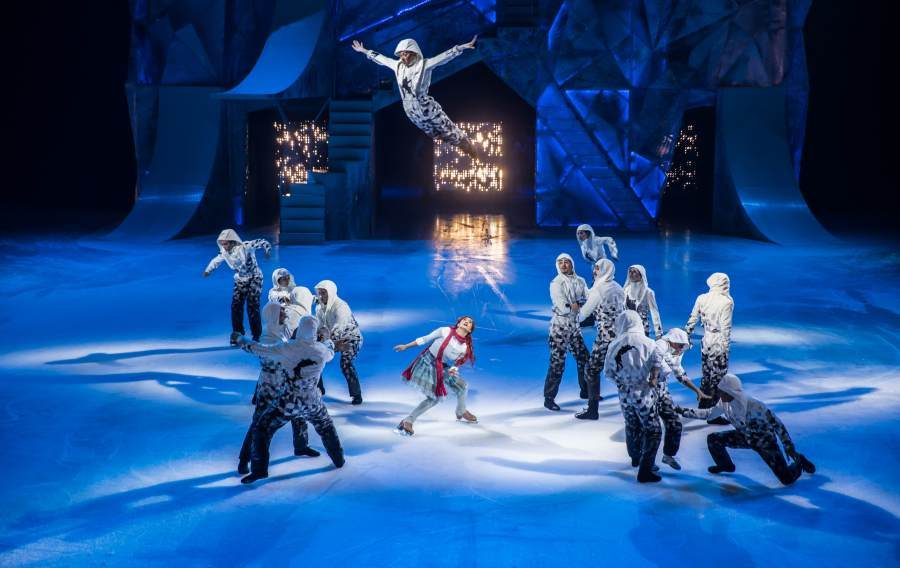 By now in their over 30-year history, Cirque du Soleil needs no introduction. Sui generis, they are the largest theatrical company in the world, combining circus traditions from around the globe with spectacle, unique narratives, an international phenomenon. But their latest offering, Crystal: A Breakthrough Ice Experience, currently playing here in the Bay Area at the SAP Center through April 1st, reminds us of their unique theatrical heritage. A riveting spectacle (something the Cirque can probably do in their sleep by now), Crystal follows the eponymous heroine as she escapes her humdrum home life, and stultifying school, by falling through ice while skating, tumbling into a land of dreams and nightmares inside herself, resurfacing only when she has rediscovered her identity, a Jungian journey on skates.
After almost 40 shows, the Cirque du Soleil in Crystal mounts their first ice-skating spectacle. Think Ice Capades meets Pink Floyd's The Wall, with not just ice-skaters, but also acrobats, jugglers, hockey-players, extreme skaters, rope artists, chair stackers, and other circus performers, all in a light and sound extravaganza. The SAP Center is transformed into a surrealist winter world, a particularly Francophone Canadian one with a somewhat steampunk twist to it (sorry, no poutine available at the concession stands), with a klezmer band (salud Mile End), an Acadian fiddler, hockey, blizzards, and more universal themes centering upon the family, conformity, and the need to escape.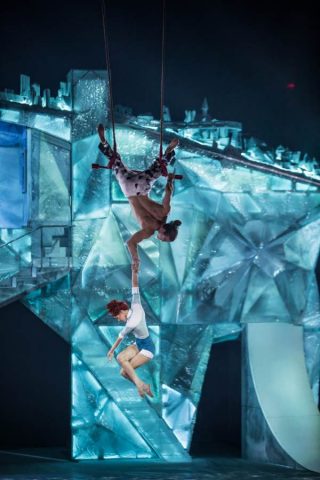 The magnetic Nobahar Dadui embodies the flame-maned titular character, while Madeline Stammen plays Reflection, Crystal's doppelganger. Both skaters are superb, especially Dadui, who carries the bulk of the two-hour show, skating and performing acrobatics, graceful and statuesque. The cast of skaters and acrobats hails from many countries — Canada, France, the UK, the USA, Japan, Chile, Ukraine, Austria and others — all performing at speed, with precision and dexterity, complicated group choreography and individual stunts, including chair stacking (featuring Ochir Lakhagva from Mongolia) and trapeze artists including Danica Gagnon-Plamandon and Anne-Marie Godin of Canada and Jérôme Sordillon of France.
The narrative works through six scenes in Act One and nine scenes in Act Two, sweeping Crystal into a world of the imagination presenting distorted versions of her every-day life with family, at school, in the big city, and her small town. Initially confused in this alternative reality, Crystal soon rejoices in her newfound power to write, and pens her life on ice through the exploration of her new dream-realm. There's a backyard swing, a neighborhood hockey game on a frozen pond, a labyrinth of dehumanizing office cubicles, and a ball, until Reflection convinces Crystal that she needs to ascend to reality, above the frozen pond, and reunite with her family, and community.  Throughout the entire show, behind the skating area, taking up about two-thirds of the SAP Center hockey rink, a giant, crystalline elephant sits, two stories tall, with slides, trap doors, and entrances and exits to the sides and between the pachyderm's legs. What exactly it has to do with the show never becomes clear. But it matters little, as it serves as a springboard to launch skaters into the playing area. Unique and moving, Crystal revels in the possibilities of the body, of using space, ice and time to carry the audience off into another realm, leaving the viewer at the end wanting more.