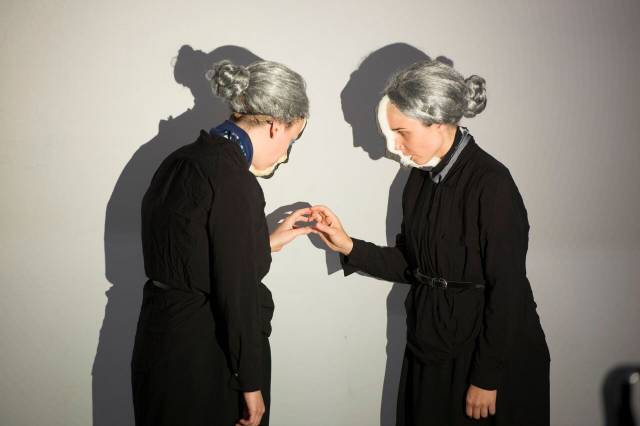 Film and theatre are traditionally considered two distinct art forms, only capable of merging through adaptations or filmed stage productions. This notion, however, is being challenged by Chicago-based shadow puppetry troupe Manual Cinema, whose piece ADA|AVA is currently playing at 3LD Art & Technology Center as part of The Tank's Flint & Tinder series. It is a masterful production whose imaginative intricacies transcend its two-dimensional resources.
Set in New England, ADA|AVA tells the story of Ada, an elderly woman who must navigate a new life following the death of her twin sister, Ava, and embarks on a journey that takes a supernatural turn. The collectively-devised production is brought to life courtesy of four overhead projectors that project a series of shadow puppets and settings. Combined with the silhouettes of Julia Miller and Kara Davidson as Ada and Ava, respectively, the final projections are broadcast on a screen above the stage, creating a simultaneous cinematic and theatrical event.
Having seen productions that used similar filmed puppetry techniques, what makes ADA|AVA particularly spectacular are the complex visuals Manual Cinema use to tell the story. Their thoughtful cinematography gives the piece a heavy cinematic element through its striking imagery and carefully constructed montages, allowing the piece's more surreal elements to be captured in a way that traditional theatrical techniques cannot. Despite the simple (yet beautiful) handmade shadow puppets, the ingenious uses of the overhead projectors, which blend and layer images to create outstanding visual effects, result in a sophisticated production with seemingly endless visual possibilities. The stillness of the puppets gives the piece a thoughtfully controlled and understated style, but this visual choreography ensures that the dialogue-free storytelling is also consistently engaging and easy to follow.
Of course, for all the nuanced effects appearing onscreen, what sets ADA|AVA apart from traditional films are the outstanding efforts taking place down below. As the piece's only human "puppets," Miller and Davidson bring a nuanced poise to their depictions of Ada and Ava; despite having no dialogue and only appearing onscreen in silhouette, their emotive portrayals make their relationship and Ada's navigation of loss deeply moving. This emotion is helped by Kyle Vegter and Ben Kauffman's score, which blends immersive soundscapes and jazz to enhance the production's haunting and fantastic tone.
The most spectacular view onstage, however, is the expertly-timed choreography of the puppeteers as they construct the supernatural world onscreen. The final product is thoroughly cinematic, but the visibility of the live process makes the technical feats far more impressive than simply watching the resulting film on its own, and the live puppetry establishes a connection with the audience in a way that only live theatre can achieve. By creating this complex and surreal world right in front of our eyes, Manual Cinema's blend of theatrical liveness and cinematic storytelling makes this compelling and awe-inspiring production a true must-see.