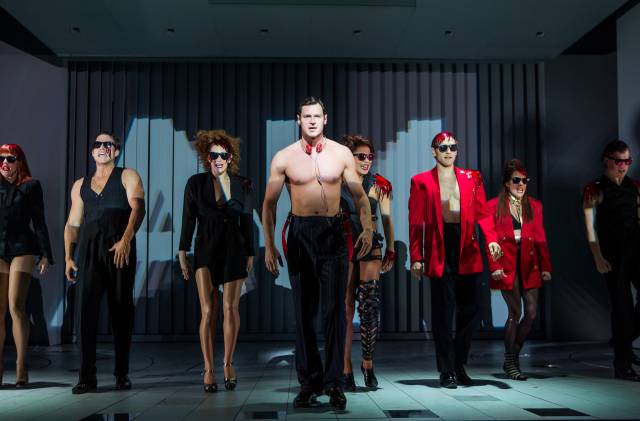 New York has the rare quality of being a city where everything seems to be constantly changing, and also a place where things remain immovable. From the corner bodegas and cafes that are here one day and gone the next, to the towering skyscrapers that for ages appeared to be indestructible, each of these perceptions can cause anxiety or relief on different individuals, and each of these perceptions is manipulated for dramatic effect, with absolute brilliance in American Psycho. The 80s set show about a yuppie serial killer will prove to be a satire to those who see the characters and mentalities as ancient artifacts, relics of an era we've more than left behind. And yet for those who will undoubtedly see a reflection of the very same shallow, materialistic New York they still inhabit, the show will be the most terrifying experience they've had on Broadway in quite some time.
American Psycho is an adaptation of Bret Easton Ellis' eponymous novel which centers on Patrick Bateman (Benjamin Walker) a very successful investment banker in 1987 New York, who craves a "new sensation" (no INXS pun intended). Not only does he have an enviable physique, a sleek gorgeous apartment, and a dream job, but he is also exclusively surrounded by people just like him. The difference between him and someone like his girlfriend Evelyn (a scene stealing Heléne Yorke) is that he is aware of the vacuum he lives in and wishes to escape it. In order to be able to regain his feelings, he decides to try murder - first a cat, then a homeless man, later prostitutes he picks up in the street - but little does he know that by taking lives he might very well in fact just be ascending into a level of apparent omnipotence that will make him even emptier.
The electro infused music and lyrics by Duncan Sheik (the show has a book by Roberto Aguirre-Sacasa) become a metaphor of Patrick Bateman himself, they're stylized notes and infectious beats aching to find the soul within the machine. Sheik also allows Bateman a glimpse at enlightenment by subverting popular songs by Phil Collins and The Human League and turning them into electrifying choral pieces that elevate them from "light music" into moments of communal expression. Quite the statement given how often 80s music is dismissed by serious critics as being fluff.
As directed by Rupert Goold, the show also becomes a provocative character study, rather than have the audience study, judge and dissect Patrick and company, we are invited to develop empathy for them, something which proves to be challenging, discomforting and ultimately quite moving. We see the world through Patrick's eyes which might explain for instance why Alice Ripley plays three characters, Patrick's mother, a sensual neighbor and a real estate agent. Through a deceivingly simple touch as that, the show expresses Patrick's narrow view of womanhood; he can only see women as madonnas (again, not a pun) or whores.
The show's biggest asset is of course Walker who loses himself inside the complex Bateman. Rather than, or actually shortly after, focusing on how many hours he must spend at the gym to keep in shape to do eight shows a week - a big part of which he spends in nothing but white briefs - Walker hypnotizes us with his droll sense of humor, chilling facial expressions and powerful voice. Sometimes making use of robotic motions, he's at times the innocent Pinocchio seduced by a world of pure joy, and at others he's the Stromboli asking others to join him in the ride. It's a subtly powerful performance that will most likely leave many quite cold. Like New York itself, his Bateman can be a mirror or a gateway.