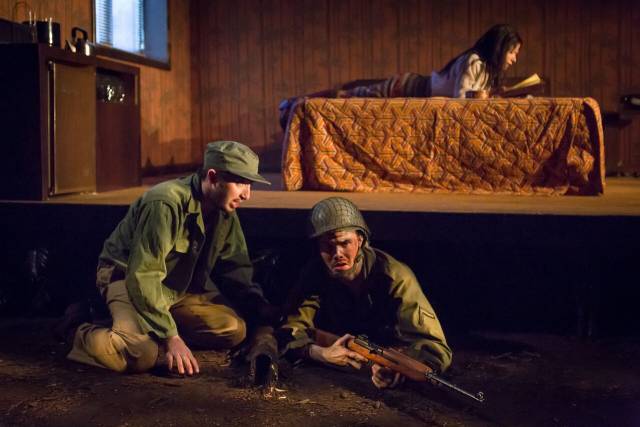 The Ma-Yi Theater Company's Among the Dead has officially raised the bar for all theater productions.
I write this review knowing there are not enough words to do justice to playwright Hansol Jung's masterpiece. The writing, the direction (by Ma-Yi Artistic Director Ralph Peña), the acting, the lighting and sound design, the set all combine for an unparalleled theatre-going experience.
The play is set in three time periods simultaneously: A hotel room in Seoul, South Korea in 1975, the jungle and US encampments in Myanmar in 1944, and the Hangang Bridge in Seoul on the eve of its bombing in 1955. The direction and use of space ensures the audience knows who is saying what in which time period with no additional explanation needed.
It not only works, but is a wonder to behold.
In 1975, Ana Woods (Juliennne Hanzelka Kim) has traveled to Seoul from Kansas with the ashes of the father who raised her alone. A man from the hotel delivers a journal that is from her deceased father -- yet no one knows she is in the city. It is the first of many appearances of Jesus (the hilarious Will Dagger), the constant throughout the time periods.
In 1944, Private Luke Woods (Mickey Theis) is about to leave Myanmar when Number Four (a mesmerizing Diana Oh), the "comfort woman" with whom he has a baby, thrusts the child on him and tells him to raise her. She tells him to meet her in one year at the Hangang Bridge. Luke agrees and leaves.
In 1975, Ana reads the journal to learn what happened both before and after the pivotal moment her unmarried parents separated, leaving him to raise her far away from her mother. The journal entries come to life as Jesus and her father, in 1944, appear in her hotel room in 1975 and make her live out the 1944 journal entry.
Meanwhile, the audience sees the story of Number Four as she waits on the Hangang Bridge for years. She tells Jesus of her life afterwards, and the effects of the post-traumatic stress disorder from the torture she has endured are evident as she tells a story that belongs to thousands of women from that time and place.
The set has entrances and exits in the most unexpected places to weave the three time periods together. The momentum as Ana learns about the past of a father who never talked to her about it builds into moments of understanding that are almost painful to witness, so great is the emotion driving it. Yet there is a lot of comedy interspersed throughout the dark moments, just like life itself.