Anne Washburn's plays are not timid about big ideas. In Mr. Burns: A Post-Electric Play she wrangled with the nature of received storytelling; in The Internationalist she meditated on the foibles of human communication with the conceit of a fabricated language. In her newest work, a momento mori called Antlia Pneumatica at Playwrights Horizons, she's tackling the great beyond and then some.
A kind of chillier Big Chill, the play focuses on a group of forty-something friends gathered together at sisters Nina (Annie Parisse) and Liz's (April Matthis) family ranch in Texas Hill county to scatter their friend Sean's ashes. Most of them have fallen out of touch. "We're a reassembled memory of a community," says Liz, objecting to the obscene amounts of communal food being prepared. There's distance and occasional hostility within the core group. Unlike Kasdan's film where Kevin Kline and co. enjoy a schmaltzy reunion over Kevin Costner's cadaver, in Washburn's play, the characters feel like they're burying a stranger. At its most compelling, Antlia's concern is with mortality and what happens, at a certain age, when death becomes a normal part of life. Death is so incidental to all involved that the fate of Nina's husband and several other unseen characters are simply implied. By contrast, to Nina's children (there in audio only), the death of an ant warrants a choral elegy.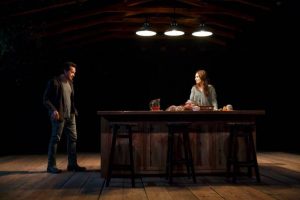 There's a quality of menace to the proceedings as Nina's ex, Adrian (Rob Campbell), appears out of the blue (he walked an hour from where his car broke down) and sneaks into her cabin at night. These sequences, like many in the play, occur in darkness with roomy, sibilant off-stage voices courtesy of Leah Gelpe's eerie sound design--part of a "listening" feature Washburn mentions in her program note. In one evening encounter, he takes her outside and the kitchen island set (a woodworked number by scenic Rachel Hauck) is replaced with a canvas of stars with which he paints her her own constellation; Tyler Micoleau's lighting paints some gorgeously haunting stage pictures. When the themes turn cosmic, though, Antlia loses its way a bit.
Under the crisp direction of Ken Russ Schmoll, the play has the usual lived-in dialogue and lyrical tangents that color most of Washburn's work. The rhythms are mostly seamless and segue well into songs (written by Washburn and Daniel Kruger) and there's a rare joy produced by listening to Len and Ula (the wonderful Nat DeWolf and Maria Striar) rattle off ideas for their epitaphs or Bama (Crystal Finn) give a run-on monologue that ends in revelation. There's so much good here, but maybe too much. By wrap it seems like it could have gone with one less metaphor or one less body. Like the food being prepped for the wake it all looks appetizing, but one wonders about the waste.