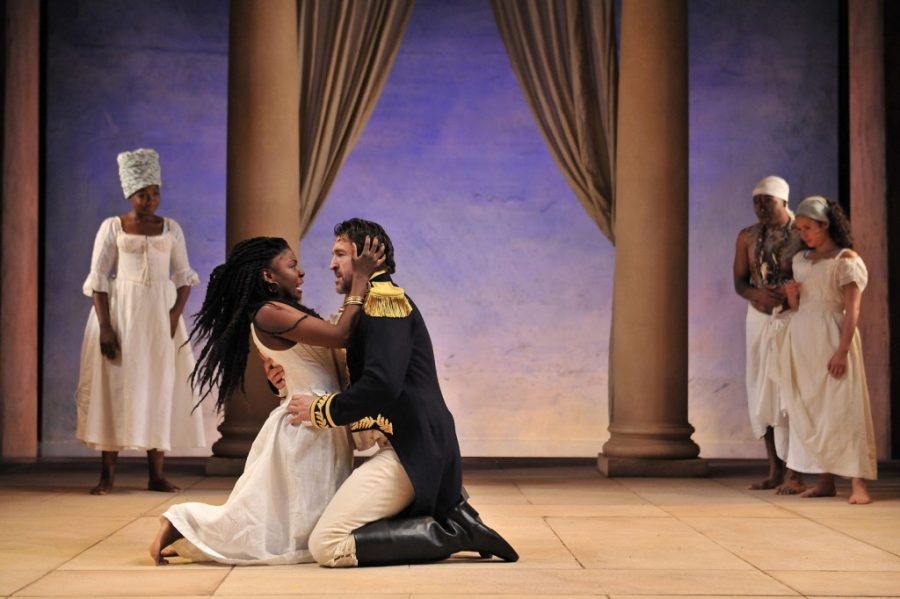 "Antony and Cleopatra" is a story of love in the time of war. As much of the world descends into conflict, it seems appropriate that this story should come to the New York stage: the Public has done so with great bravura and solid theatricality. Tarell Alvin McCraney's sumptuous production may not be particularly exceptional, but beautiful staging, a great soundtrack and stalwart performances make this Shakespearean venture thoroughly entertaining.
McCraney has decided to take this story of Classical Rome and Egypt and transport it across time and space to the 18th-century Caribbean. Cleopatra is an island queen and Mark Antony a captain in the British navy. The setting of Shakespeare's work is always a question hanging over directors: how can this story be updated, altered, brought new life? Mr. McCraney has done an admiral (malapropism intended) job here of transforming the play while maintaining its true essence. The trope works well and alludes to both the imperial nature of the Elizabethan era and the legacy of British colonialism, the remnants of which are still very much a part of American life. Given recent events in Egypt, the idea of setting the play in contemporary Cairo might have been interesting; however, this Caribbean recontextualization is certainly effective.
The adaptation relies to a large extent on a number of thrilling production elements. The live music is particularly effective in transporting us to the Caribbean coast, with calypso beats and wonderful live singing from Chivas Michael, whose Soothsayer provides both musical accompaniment and delightfully camp comedic relief. The centerpiece of the performance is a large pool of water at the back of the stage: anyone involved in theater knows how complicated it is to have water on stage, and thus there is always something thrilling about having its presence in performance. Stephen Strawbridge's lighting works wonders with this watery set piece, with lights of different colors reflecting marvelously onto the back wall. Tom Piper's set and costume design is effective in the construction of period, down to the last detail. Less effective is the choice of fake blood on stage (it creates an unnecessary and awkward mess), and the choreography from Gelan Lambert, too, is often awkward to the point of being distracting. Despite these clumsy glitches, however, the play is beautiful to watch and hear.
The standout of the production, however, are the performances of the cast. This production was created in conjunction with the Royal Shakespeare Company, and had its premiere in Stratford-upon-Avon. A number of the actors are British and, as much as I hate to admit it, the Brits really showed that when it comes to Shakespeare, brilliance lives across the pond. Jonathan Cake's Antony was a proud, imposing presence undercut by profound emotion. Samuel Colling was sensational as Octavius: I could have listen to his dulcet tones speak verse all day. And Chukwudi Iwuji as Enorbas was thrilling to watch and even more brilliant to listen to: his charisma and presence truly carried the show. The one exception to the rule was Joaquina Kalukango as Cleopatra; her Juilliard-trained voice was entirely pitch perfect and kept up with her British counterparts with ease.
We often associate Shakespeare in New York with the Public, and with good reason: their latest venture demonstrates why this company is so integral to the Manhattan cultural scene. While some clumsy bits of staging hold it back from being truly exceptional, "Antony and Cleopatra" is nonetheless a thrilling journey across Caribbean coasts.