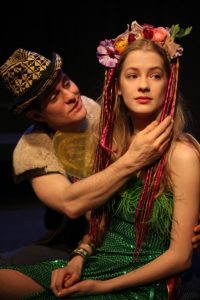 "The Winter's Tale" is one of Shakespeare's least performed plays, and, as with most of his romances, it is not difficult to see why. The play can often seem oddly unbalanced, with the first half playing out much like a tragedy and the second half being much more of a comedy. It is commendable then that WorkShop Theater Company has taken on the task of bringing one of Shakespeare's final works to the New York stage. While unfortunately the production does indeed suffer from some imbalance, excellent performances from cast members allow for an entertaining production.
The first half of the play takes place in Sicilia, where King Leontes (Ethan Cadoff) is convinced that his wife Hermione (Laurie Schroeder) has been unfaithful to him with Polixenes, King of Bohemia (Jeff Paul).  The drama results in the banishment of the king's counselor Camillo and the death of both the Queen and her young son. Schroeder is remarkable as Hermione, and her London drama school training is clear: she handles one of the most well-known monologues in the canon with aplomb. Cadoff, too, is strong as Leontes. However, all performances could have used with somewhat more restraint: had director Ryan Lee insisted less on the intense tragedy of the first two acts, the odd comedic turn in the latter half of the play may have seemed less jarring.
Likewise the set and costume design serves to construct two different worlds. Sicilia is constructed in a background of what looks like black plastic and strips of dark fabric, curtained off by the sort of blinds that haven't really been in use since the late 80s. The effect is an odd sort of dark, derelict 80s horror flick. By contrast, Bohemia seems to have been interpreted as taking place somewhere between Aladdin's Arabia and Jonathan Larson's New York City, with punjabs, bright colors, wigs, tutus and fairy wings. While it serves the comedy, again the contrast is a little bizarre and often feels like we are watching two very different worlds. Similarly Robert Meksin's Autolycus is so grotesque and clownish he seems to have wandered from a Molière play and found his way into this tale.
However, once again solid performances save the show. Jon-Michael Miller is stellar as Florizel with both the authority and naivety necessary for a love-struck prince. Likewise, Tess Frazer has a Heather Graham-esque innocence that works great for Perdita. The comedic reconciliation in the final act is, as often in Shakespeare, terribly farfetched but in the hands of a strong cast, quite believable.