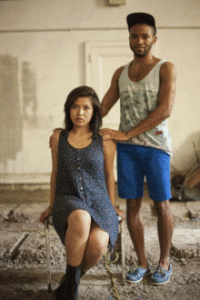 Masha, Olga and Irina want more than anything to go to Moscow. But this is Chekhov and sadly no one gets what they want. Except the audience who get to choose their own adventure in this production of Three Sisters by Highly Impractical Theatre (HIT). Billing the show as a 'fully immersive production,' HIT have taken over a historic church in Clinton Hill to present this Russian masterpiece.
The production attempts to innovate on numerous levels, and certainly succeeds at providing an entertaining evening. However, the clear constraints of an indy budget mean this production falls just short of greatness. The power of immersive shows like Sleep No More is their ability to totally transport the audience to a different time and place. Unfortunately the lack of detail in décor mean that this space is not so much transformed as it is adapted, and thus we never quite forget that we are, in fact, in an old church in Clinton Hill. The show also billed itself as taking place in 'Brooklyn 2040'; however, costuming and language choices posited it clearly back in in 19th century Russia, and thus the addition of 'vodka pong' becomes especially jarring.
The problem too lies in the fracturing that is necessary of a play when it becomes part-installation. The drama in Chekhov builds slowly, brewing over four acts. Here, when the audience is forced to roam around and find different scenes and attempt to piece them together, that sense of epic drama is lost in the fragmentation. The reason other immersive performances have found success is because they have completely simplified the text and used it more as an inspiration for the aesthetic or the general atmosphere rather than adhering strictly to chronology or scene structure. Thus while the immersive angle is certainly courageous, wandering around a church trying to piece the play together from fragments of dense Chekhovian text becomes somewhat frustrating.
The conceit of different ticket prices for different roles is an enticing one: those who pay 99c are serfs and made to work in the production, while those that paid $99 are treated as Tsars and live in utmost luxury. In between are levels like 'Aristocrat,' 'Bourgeoisie,' and 'Proletariat,' with corresponding ticket prices. While the idea is certainly effective in elucidating the class system of turn-of-the-century Russia, other than the short meal interlude when the Tsars and Aristocrats were served food and drink, there didn't seem to be a huge difference in audience experiences. However, kudos to the company for launching the idea and making us think context before even entering the theatre.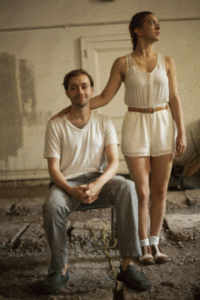 The experience was greatly bolstered by some courageous performances from the ensemble. Thomas Muccioli as Kulygin brought some incredible off-beat humor to his part, easily countering some of the melodrama that other cast-mates occasionally fell into. Eliza Simpson was exquisite as Masha, certainly the most courageously heartbroken of the sisters. And while the choice to have Andrey played by a woman was confusing and unexplained, Stacy Salvette did a remarkable job and showcased a serious set of pipes.
Overall, HIT must be applauded for its courage in taking on such a mammoth production. The elaborate dining hall that is the basis of the work certainly had the echoes of imperialist Russia, while the cast kept us constantly entertained from playing soccer to making beautiful music. Though falling just short of amazing, it was certainly a refreshing adaptation of a beloved classic.
For more information on HIT productions, visit https://www.highlyimpracticaltheatre.org/