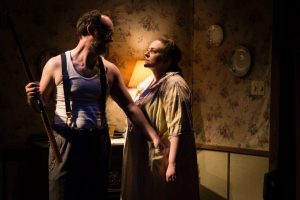 Although "An Appeal to the Woman of the House" depicts a fictional account of four Freedom Riders trying to survive the night on the Alabama-Tennessee border in 1961, the play is about the intimate evolution of a childless married couple who have been biding day-to-day life removed from the instability of the broader world. The setting and story are familiar and, therefore, incite no palpable suspense. But the show is chock-full of characters with different motives and fears — enough to make its audience wonder what will happen next and why.
The drama begins when four college students appear at the farmhouse of Gideon and Rose Walker (Ric Sechrest and Heather Cunningham), a white couple in their thirties. It's the middle of the night, the riders have just been released from jail following a violent encounter with local racists, and they beg their way into the home for refuge. Gideon's reluctance to help stems from concern about retaliation by his community while maternal instinct drives Rose's insistence on letting the foursome in. The gentle push-pull between the Walkers — especially as the outside world infiltrates their physical and psychological space — reveals the design of the couple's loving, if tentative, relationship.
Playwright Christie Perfetti Williams keeps the action within the Walkers' tidy and modest living room, and she depicts the marriage between Gideon and Rose as a genuine partnership unlimited by gender lines. Directed by DeLisa White, Sechrest and Cunningham deliver graceful performances that are quietly powerful.
Unfortunately, most of the ancillary characters are underdeveloped. One of two standouts, however, is Russell Calvert (John Graham). Gideon's racist half-brother, Russell asserts himself because he can — he's a man, and he's white. Not physically intimidating by appearance alone, Graham never once bows his head or changes his tone of voice, thereby amplifying the one note of his character into a chilling presence. As the opposite of Russell, Claire Tyson (Shaun Bennet Fauntleroy) also delights. She's the most demographically vulnerable of the four Freedom Riders (she's a young black woman from New Jersey attending college in the South) and an unusual character because she lacks courage but is still likeable. Bennet Fauntleroy plays Claire with believable maturity — without the brio many other young actors today can't shed.
"An Appeal to the Woman of the House" seems tailor-made for middle- and high-school students learning about racism in America or, more specifically, the American Civil Rights Movement. But the play also offers a richness in two characters that allows for serious discussion about intra- and interpersonal relationships. Further still, there are enough social and cultural references — as well as a couple of laughs — to keep a general audience interested.