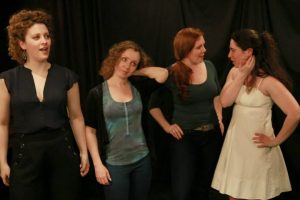 A play goes right when it's both written well and performed smartly. As for "Much Ado About Nothing" at the 133rd Street Arts Center, check one for the playwright, Mr. William Shakespeare, and check two for the company, What Dreams May Co.
The challenges of interpreting any of the Bard's plays in the 21st century include moving beyond the language barrier, making the characters and their experiences relatable, and holding an audience's interest longer than 90 minutes. For those who've never read or seen this comedy, sex, love, loyalty, lies, and expectations make "Much Ado" a playground for adults. It's very funny. This current offering, which uses the original text, succeeds because the cast shares a common understanding of the original story while each actor turns his or her individual character into someone we probably know already. For example, Hero and Claudio become the beta couple not only because Beatrice and Benedick are the alpha couple (in terms of dramatic construction) but also because Hero is bland and slightly awkward and Claudio is boyish and a little schlubby (at a party today, they would be the quiet ones who eventually notice each other in opposite corners).
And, yet, something more deliberate happens within this play that renders it accessible: Bawdy gesturing and other types of physical comedy, careful costuming, foreground and background action happening simultaneously all provide complementary and contemporary meaning. And numerous laughs. Much of the credit for the collective performance must go to director Nicole Schalmo and dramaturge Christina Sheehan, whose guidance ensures a consistent energy, rhythm, and style.
With a running time of two hours and a ten-minute intermission, this "Much Ado" economizes. Unfortunately, some scenes are moved through too quickly to understand what is being said (the plan to uncover Hero's alleged betrayal) or are muted by background action or music (the verbal sparring between Beatrice and Benedick at the party). The greatest casualty, however, is the playful and poetic language, a character itself in this work about what words can do. Despite the occasional incoherence, What Dreams May Co entertains thoroughly by delivering an overall comprehensible and laugh-out-loud "Much Ado About Nothing."