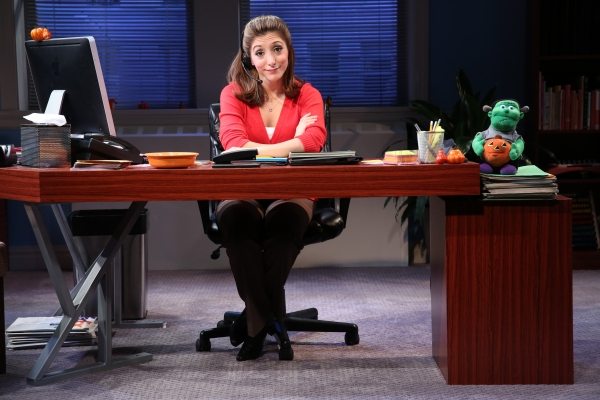 Parents of prospective private school students, take note: even recommendations from George Clooney or Pope Francis will not guarantee you a spot at the school of your choice. The world of New York private school admissions is notoriously competitive, exhausting, and unpredictable, and Application Pending, directed by Broadway producer Andy Sandberg, captures it on the smallest scale: preschool admissions.
This sensational new play, co-authored by Sandberg and writer Greg Edwards, is a roller coaster of laughs complete with a poignant emotional punch. Single mother and aspiring teacher Christine has found herself abruptly promoted to the role of pre-primary admissions officer at the prestigious Manhattan primary school Edgely Preparatory Academy, on the final day of application submission, no less! Her first day turns out to be like nothing she could have imagined, and she deals with parents veering on the brink of insanity at the prospect of their precious children being rejected, malicious gloating from the admissions officer at a rival private school, and the possibility of disappointing her four-year-old son by failing to meet the demands of her new job.
The shining star of the production is, unsurprisingly, its sole actor, Christina Bianco. Bianco is equally as comedic and compelling as the script - truly a perfect match made in theater-goer heaven. Bianco, primarily a musical theatre actor who has gained Internet fame with her exceptionally accurate musical impressions of various divas, flawlessly navigates over forty different roles. She shows off a wide variety of accents and physical characterizations as she plays the people in Christine's first day, switching between the characters in less than a second and inviting the audience into the mind of each person orbiting around Christine and her deluge of phone calls. Bianco's performance energy and stage presence contribute to a brilliant performance that encapsulates the absurd as well as the real.
Application Pending develops into more than just a comedic romp satirizing the privileged elite of Manhattan, encouraging us to think about how race, ethnicity and culture are discussed and perceived in the framework of private education. While one mother tries to bribe Christine to admit her "heritage-rich" adopted child, another mother attempts to convince Christine that the child's upbringing in a distant jungle would be harmful to other children, and so her precious son should be admitted instead. The tribulations of these parents are juxtaposed with Christine's very apparent difficulties raising a child on her own in the wake of divorce, raising the question of who "deserves" a chance at education.
Fans of Bianco's viral YouTube videos will be happy to hear that the script allows Bianco a few chances to display her musical chops, and it also includes plenty of theatre references for the Broadway buffs in the room. New Yorkers, especially anyone who is or knows a parent with a child who has undergone the admissions process, will have a delightful time laughing at (absolutely) everyone's expense. The question of what goes on behind closed admissions office doors is a topic too juicy to ignore, and this play is a tour de force in solo performance and comedy that is absolutely not to be missed.