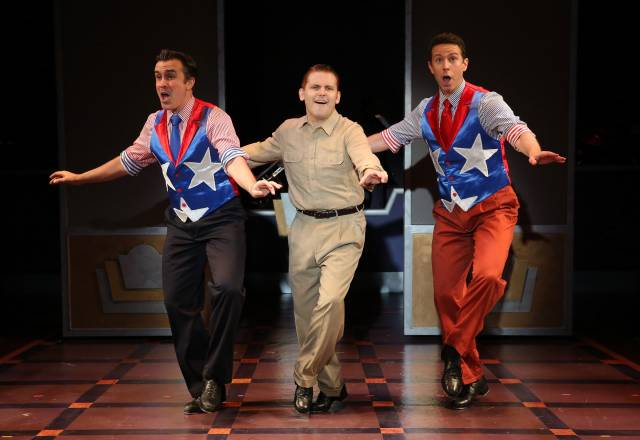 York Theatre Company's production of the new musical Cagney, directed by Bill Castellino, is a wonderfully compelling biographical piece of theatre. Choreographer Joshua Bergasse works magic with the actors' tap shoes, throwing the audience back to the golden age of entertainment, and the dynamite cast of six performers bring everything that they can to the stage while telling the story of the legendary star James Cagney.
Robert Creighton shows off all his talents in this piece, most notably his acting skills in the title role, though he is also credited with two of the songs in the production (additional music/lyrics are written by Christopher McGovern). He nobly expresses the underdog attitude that followed Cagney throughout his life and into movie stardom playing a "tough guy." Ellen Zolezzi brings what dimension she can to the character of Willie, a showgirl who falls in love with Cagney. Their courtship duet "Falling in Love" (composed by Creighton) is as touching as it is comical - a vaudeville performance with roots in the awkward reality of flirtations.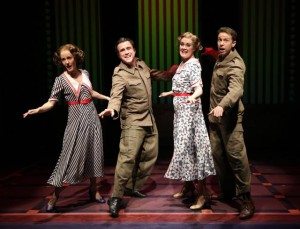 For all of the strong performances and entrancing song-and-dance moments, Cagney lacks the polish that one would expect to see after so long in the incubator. This musical has had numerous workshops over the years, and its two-and-a-half hour run packs a lot of material into one showing. At one point Mr. Warner (Bruce Sabath) tells a writer over the phone that his scripts are too full of cliches; one has to wonder if book writer Peter Colley has been told the same about Cagney. Mr. Warner's secretary is infatuated with him, for example, a subplot that is absolutely extraneous to anything else - it does nothing except showcase Danette Holden's multiple talents and allow Creighton and the other actors a bit of a break from the stage. In a lengthy show that's otherwise well-paced, this particular distraction becomes tired and frustrating. In addition to this, Sabath has a tendency to visibly flub his lines, the fight choreography comes off as comically amateur, and the technical elements of the production are shaky -- one hopes that these instances are due to preview jitters.
Despite these minor drawbacks, the Cagney is especially appealing for those who grew up with the movies that created this star - the references will cause more than a few chuckles and grins out of sheer nostalgia. While this new musical is by no means a timeless masterpiece, there is an abundance of enjoyment and nostalgia to be found at the York Theatre Company.