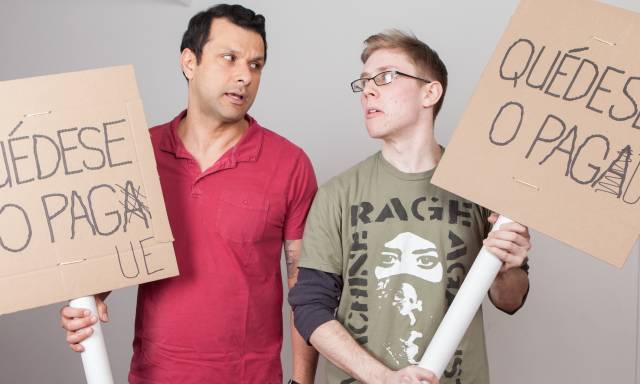 Many pieces of theater, dance, and multimedia performance effectively target social issues and open an audience's eyes to their privilege and personal social responsibility. In Quit the Road, Jack, Jerry Polner sets out to commentate on the negative effects of international trade organizations in contemporary North America by telling the story of a divorced couple chasing their sixteen-year-old son across North America as he attempts to lead an American student movement against NAFTA and the loss of jobs in Mexico. Unfortunately, Polner's unpolished writing causes the production to fall flat.
While Quit the Road, Jack is advertised as a comedy, laughs are too rare. Polner inserts full-on speeches clearly outlining his own thoughts and aims on the issues - he might want to try his hand at communicating his views more subtlety. The characters become paper-thin vessels for his dogma.  Jonathan Warman's direction doesn't help things as the actors often didn't move around during their scenes. In fact, it seemed to be a trial to get Ronnie (Rosemary Howard) and Virgil (Rob Skolits) to even look at each other for the first twenty minutes of the play. While this could very well have been a directorial tactic to demonstrate their emotional distance, it's far more likely that the actors were struggling to just be present onstage. Multiple members of the cast seemed to be merely reciting their lines, and stumbled over them far too often to be engaging or believable. The most engaging performances were that of Jay Reum as Jack, who was often gifted with somewhat witty one-liners, and the brief appearance of Jes Dugger as Jack's foreign love interest. Dugger's charisma and surety in herself illuminated the stage in a happy respite from a slow-moving plot. Connor Jonston also quickly became an audience favorite as the true embodiment of teenage naïveté and friendship.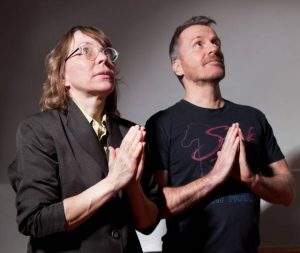 Polner tries to alleviate the profound and heavy subject matter with a clunky subplot involving the boy's parents and their lack of romance. The parents and their search drive the movement of the play, so when you stop caring about their interactions and they're still onstage, interest wanes. Between the lack of character development and the very loosely connected story lines, this play is thriving on its thrilling premise of exposing the fallacies of American white millennial idealism faced with trying to instigate social change. If Polner can figure out how to execute his characters and main plots efficiently, the next production of this play may have a shot at being the catalyst for social change that he desires it to be.