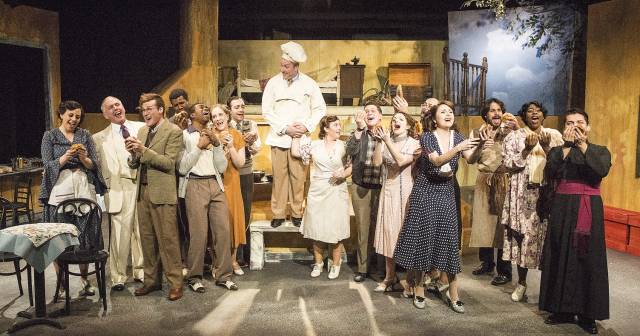 The Baker's Wife is a lesser known musical written by Joseph Stein (The Fiddler on the Roof) with music by Stephen Schwartz (Pippin, Wicked) that enjoyed only a brief run in London's West End in 1989 and has yet to be produced for a Broadway stage, though it has managed to breed a loyal cult following, and this production by The Gallery Players will charm old and new fans alike. The story takes place in the 1930s in the small provincial town of Provence, France, which is full of characters of varying personalities. The town has been without bread since their sole baker died in a drinking-related happenstance and as the show begins we find the townspeople anxiously awaiting the arrival of their new one. Through the musical number "If It Wasn't For You" the citizens express their bitter hatred toward one another, some refusing to even acknowledge the other's existence. Once the baker arrives with his wife Genevieve - mistaken at first to be his daughter - gossip abounds about how the old man managed to wed someone so young and beautiful. One man, Dominique, takes a particular interest in her, and his promises of a life filled with adventure entice her. This seduction threatens not only the baker's marriage, but the entire town as well when he loses his ability to bake his bread.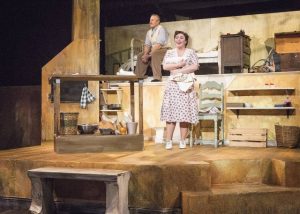 Comedy is rampant throughout this musical, themes of adultery aside. From the leads to the ensemble, every character is given a unique personality and a moment to shine, and the cast put together by director Barrie Gelles makes excellent use of Stein's writing. They say there are no small roles on stage, and every actor followed this to a T. In fact the citizens of Provence were my favorite parts of the show, particularly the portrayals of Barnaby (Adrian Rifat), The Priest (John Cardenas), The Teacher (Eddie Carroll) and Antoine (Angelo McDonough). Joe Joyce was wonderfully sleazy and commanding as Le Marquis and Erin Maya brought a combination of classy elegance and biting humor to the role of Denise, the mistreated wife of cafe owner Claude (Anthony Michael Lopez), as well as a beautiful singing voice. As the baker Aimable, Charlie Owens portrays a man with a seemingly unshakable sense of joy that is sadly tested before the end of the show as his perfect life is turned on its head, and through actress Alyson Leigh Rosenfeld his wife Genevieve is played wonderfully as a flawed woman trying to put her sordid past behind her and settle down, all the while fighting temptation. The standout performer of the show however is Jesse Manocherian as the young and seductive Dominique, who threatens to make a cuckold of the baker. His show-stopping number "Proud Lady" displays the actor's captivating vocal range and his commitment to character in his body movements. He'll almost make you sympathize with the young man trying to break up a marriage.
The Gallery Players puts on a charming production of The Baker's Wife with a cast of eager and convincing character actors, all hitting their marks and beats with precision and earning every laugh. Schwartz's music isn't particularly memorable or toe-tapping, but the show's book by Stein is littered enough with interesting characters and snappy dialogue to pull an audience in and keep them engaged. To support local theatre and have an enjoyable night or afternoon out, The Gallery Players is the place to be.